The 2023 Blue Jays, Position by Position: Toronto has an embarrassing amount of depth for their bullpen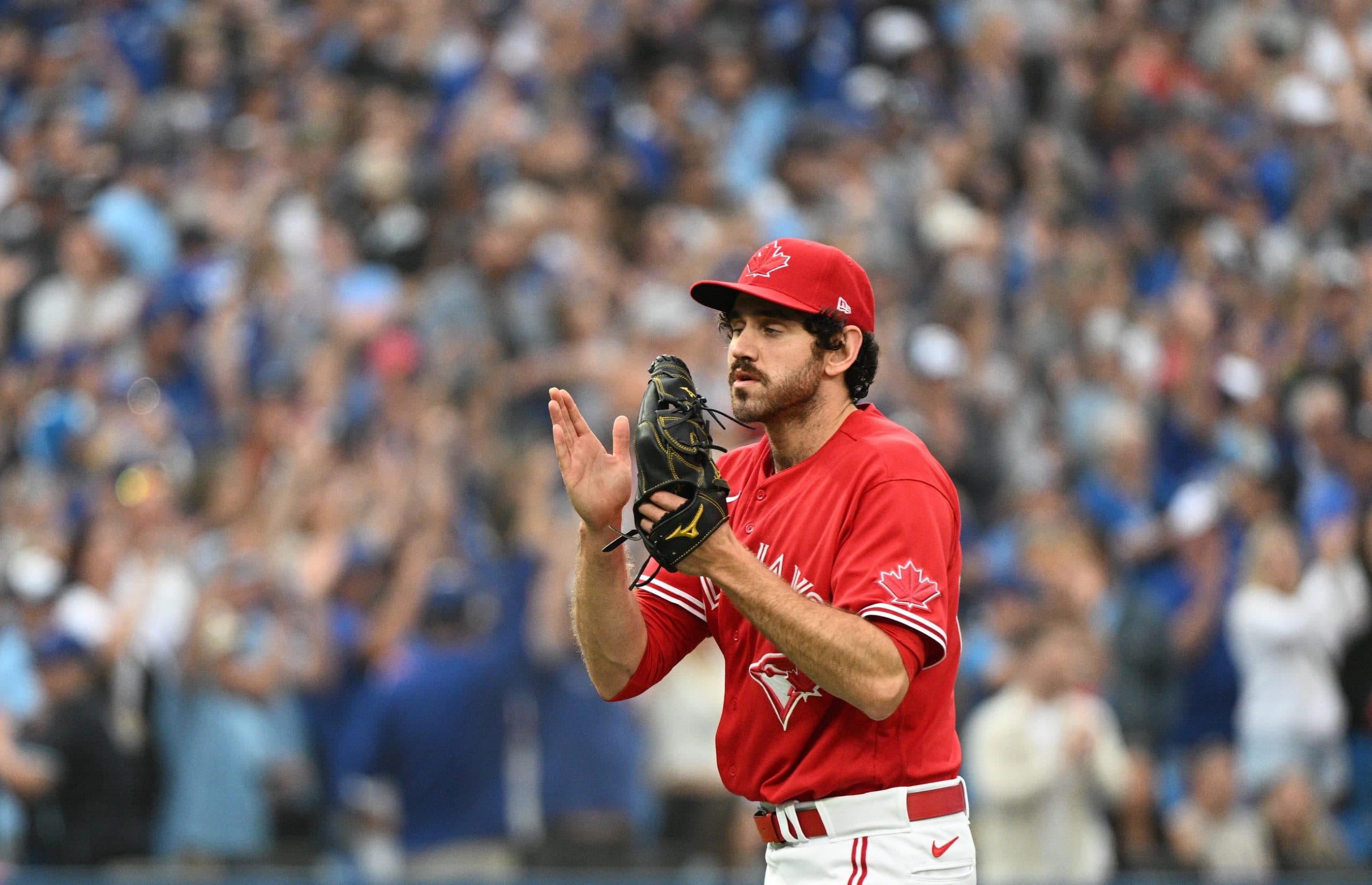 Photo credit:© Dan Hamilton-USA TODAY Sports
The Blue Jays' bullpen has gotten better since the 2022 season but has also barely changed.
In fact, the Blue Jays have so much bullpen depth, that their Triple-A team's bullpen is starting to look like a solid MLB team's bullpen
In this article, we'll look at the seven locks for the bullpen, pitchers who could fill the eighth spot, as well as the depth in the minor leagues… There are a lot of notable pitchers, so buckle in.
The locks:
Here we'll look at the seven locks, as well as Chad Green who is rehabbing from Tommy John.
Jordan Romano:
The undisputed Blue Jays closer. Last season, Romano had a 2.11 ERA and a 2.82 FIP in 64 innings pitched, which was his best season overall. Moreover, he had a 28.3 K% (down from 33.6% in 2021) and an 8.1 BB%. Romano also registered 36 saves in 42 attempts. 
I'd expect him to have an even better season in 2023.
Anthony Bass:
The 35-year-old was re-acquired by the Blue Jays at the 2022 deadline along with Zach Pop for Jordan Groshans.
Between the Marlins and the Jays, Bass had a 1.54 ERA and a 3.00 FIP in 70.1 innings pitched. To go along with this, he had a career-high 26.5 K% and his 7.3 BB% was one of the lowest in his career. Overall, he had a 19.3 K-BB%, the highest in his 11-year MLB career.
His role is to be determined, but the addition of Bass was great.
Tim Mayza:
Mayza could potentially be the only left-handed reliever in the bullpen to start the season.
In 2022, he had a 3.14 ERA and a 3.98 FIP in 48.2 innings pitched. While his FIP took a hit (it finished at 3.09 last season), his ERA in 2022 was his best to date. However, it's also worth noting that his K% dropped from 27.1% to 22.8% in just one year. It's something to monitor heading into the 2023 season.
Erik Swanson:
The 29-year-old was the main piece coming back in the Teoscar
Hernández trade.
Last season with the Seattle Mariners, Swanson had a 1.68 ERA and a 1.85 FIP in 53.2 innings pitched. Moreover, he had a fantastic 34 K% with only walking 4.9% of batters. This led to a K-BB% of 29.1%, one of the best in the league.
While he only sits in the mid 90's, his fastball is elite at the top of the zone, and that's balanced out by one of the best splitters in the league. My guess is that he'll be used in a setup role.
Adam Cimber:
The 32-year-old submarine pitcher eats innings like I eat full sleeves of cookies.
Cimber pitched 70.2 innings last season, posting a 2.80 ERA and a 3.47 FIP. He wasn't as good as in 2021 (2.26 ERA, 3.07 FIP in 71.2 innings), but Cimber is still a very valuable piece to the bullpen.
The man has a rubber arm, as he only averaged 86.4 mph on his heater. One thing to look out for is the drop in his ground ball percentage. In 2021, it sat at 53.8%, but plummeted to 41.8%. He pitches to contact (19.8 K%), so it's important that the ball stays on the ground.
The good news is that Cimber doesn't allow free passes, as he had a pretty fantastic 4.4 BB% last season.
He may not be used in high relief as he was in 2021, but Cimber is still a very valuable piece to the bullpen.
Yimi García:
The 32-year-old was signed ahead of the 2022 season and posted solid numbers with the Jays in 2022.
García had a 3.10 ERA and a 3.47 FIP in 61 innings pitched. His 23.5 K% was below his career average of 25.5%, while his 6.5% was higher than his career 5.8 BB%.
With that being said, García was an important piece of the bullpen as he had 22 holds last season. In fact, García has experience as a closer, as he had 15 saves in the 2021 season. 
He was used as the setup man for the early part of the 2022 season, but with Bass and Swanson joining the Jays, García may be used more in medium-leverage situations.
Yusei Kikuchi/Mitch White:
I included both of these two in the Position by Position article on Monday, but it's worth going over some more interesting stats for these guys.
Starting with Kikuchi, the 31-year-old looked much better pitching out of the bullpen in 2022. He had a 4.91 ERA and a 4.15 FIP in 18.1 innings in relief. It's also worth noting that he had a crazy 39.8 K%, with a below-average, but not terrible, 10.8 BB%. Overall, his K-BB% sat at 28.9%, which is fantastic.
Mitch White has quite impressive numbers pitching in relief. In 53 innings pitched, he had a career 3.57 ERA and a 3.32 FIP.
It seems possible that Yusei Kikuchi will win the battle for the fifth starter role, while Mitch White will pitch in long relief.
Chad Green (eventually):
It's likely White won't be ready until August at some point, but when he is, the Blue Jays bullpen will get even stronger.
In 15 innings pitched with the Yankees in 2022, Green had a 3 ERA and a 2.85 FIP, along with a 25.8 K% and an 8.1 BB%.
His last full season was even better, as he had a 3.12 ERA and a 3.59 FIP in 83.2 innings pitched (an insane amount for a reliever) with the Yankees in 2021. Moreover, he had a 31.4 K% and a 5.4 BB%, fantastic numbers.
Competition for the final bullpen spot:
Everyone listed above is a lock for the bullpen, barring any injuries or trades. With 13 available pitchers on a staff, there is only one more bullpen spot available, with plenty of deserving candidates.
Nate Pearson:
Nate Pearson spent much of the 2022 season battling injuries but looked solid when pitching. He had a 3.55 ERA and a 4.38 FIP in 12.2 innings pitched with the Triple-A Buffalo Bisons. What's more impressive was his 36 K%, although he struggled with command (14 BB%).
He pitched 11 innings in the Dominican Winter League, where he had a 36.6 K%, a 9.8 BB%, and a 0 ERA. He also had an insane 43.6 whiff %.
Although the results were okay in his first spring training game, Pearson was up to one hundred and one miles per fucking hour in February. His knuckle curve was also disgusting, and he even got swings on his slider!
Interestingly, Jon Schneider on the broadcast said that Nate Pearson is going to pitch "as a reliever, with an option to build up."
Nate Pearson has one more option year left, meaning he can jump between the minors and the majors when needed.
Trevor Richards:
The only player without options in the section, Trevor Richards is my pick for the last bullpen spot.
On the whole, his 2022 was quite poor. He had a 5.34 ERA and a 4.07 FIP in 64 innings pitched. Interestingly, his 29.2 K% was the highest of the Blue Jays regulars in the bullpen. However, his 12.5 BB% was well above his career average of 9.8%.
Richards missed a few weeks in June but returned as a better(ish) pitcher afterward. In 35.1 innings pitched after the next strain, he had a 4.33 ERA and a 2.69 FIP. His K% jumped to 32.2K%, but his BB% stayed at the high mark of 12.5%.
Who knows why Richards struggled in the first half? However, if he can pitch as he did in the second half, there could still be a good reliever in Richards.
Zach Pop:
The Canadian was acquired via a trade with the Miami Marlins at the trade deadline. WIth the Jays, he posted a 1.89 ERA and a 3.11 FIP in 19 innings pitched. His ground ball percentage sat at an impressive 50%, but this was a rather sharp decline from the 63.1% he had with the Marlins.
The 26-year-old had an average fastball velocity of 97 mph with sinking action, and paired with his slider, could offer a higher K% in the future.
Pop absolutely deserves to be the eighth man in the bullpen, but his available options may allow the Jays to start him in Triple-A.
Hagen Danner:
The 24-year-old flame-thrower may not make the majors out of camp, but there is a possibility he will see the majors as soon as 2023.
He missed the majority of the 2022 season due to an elbow issue, but posted a 2.02 ERA, a 29.4 K%, and an 8.4 BB% in 35.2 innings pitched with the Vancouver Canadians in 2021. This is even more impressive considering the fact it was his first season in professional ball as a pitcher.
Danner had a good Arizona Fall League, posting a 3.52 ERA, a 28.6 K%, and a 3.6 BB% in 7.2 innings pitched.
Trent Thornton:
My old adage goes: "Trent Thornton is Trent Thornton."
The 29-year-old really didn't have a bad season in 2022, posting a 4.11 ERA and a 4.66 FIP in 46 innings pitched. While that obviously isn't great, Thornton's potential remains intriguing. The spin he has on his pitches is elite, his velocity is solid, and he doesn't walk a ton of batters (9 BB%).
He just has to put it all together, and a change in his mechanics, which has happened in spring training, could be a start to unlocking that potential.
At the very least, Thornton in 2023 is a guy with options, who'll eat innings for you whilst being mediocre at worst.
Depth in the minors:
This section could've been called prospects, but that just shows how much depth they have in terms of relievers in the upper minors. There are a few names that have been left off this list, such as T.J. Brock and Troy Watson, but that's because this article is already rather long as I write this.
Junior Fernández:
The 25-year-old was selected off waivers from the Yankees.
He pitched 18.2 innings for the St. Louis Cardinals and the Pittsburgh Pirates, where he posted a 2.41 ERA and a 5.79 FIP. Despite throwing a fastball that averaged 99 mph, he only had a 16.7 K%.
There's definitely an intriguing arm here, but he'll need to put it together.
Julián Fernández:
Another Fernández who also throws hard. They are not related.
Jul. Fernández spent all of the 2022 season with the Colorado Rockies Triple-A team, where he posted a 6.63 ERA and a 7 FIP in 57 innings pitched. He had a solid 24.9 K% but struggled with a walk rate of 12.3%.
Yosver Zulueta:
I could have probably included Yosver Zulueta and Jimmy Robbins in the starter article, but alas, the 25-year-old flame-thrower was included here.
Since the plague hit, Zulueta missed two seasons due to Tommy John and a freak knee injury, but he stayed relatively healthy in 2022. The righty pitched at all four A levels, registering a 3.72 ERA in 55.2 innings pitched, along with a 33.9 K% and a 12.9 BB%. The latter makes sense but will need to be cut down in his second full season in affiliate ball.
It's to be seen if Zulueta will be stretched out to start, which is the ideal option in my opinion.
Adrián Hernández:
The 23-year-old righty has a wicked changeup which is arguably an 80-grade pitch already.
It was a tale of the half-season for Hernández. Prior to a shoulder injury, it appeared that he'd get a call-up in the summer. After returning, he struggled hard.
Overall, he finished his season with a 4.96 ERA and a 4.76 FIP in 32.2 innings pitched with the Triple-A Buffalo Bisons. While his 32.1 K% was impressive, he struggled with the walks as his BB% sat at 11.7%.
If he can pitch like his first-half self in 2022, he could be in contention for a call-up in 2023.
Bowden Francis:
At first glance, the 26-year-old struggled in 2022, posting a 6.59 ERA and a 6.02 FIP in 98.1 innings pitched. While that's true, he had an impressive second half, which continued in the Puerto Rican Winter League.
With the Criollos de Caguas, he had a 1.51 ERA in 35.2 innings pitched. This included a 34.6 K% and a 6.6 BB%.
Francis features a mid-90s fastball (as a starter), along with a nasty breaking ball, and a sharp slider. Moreover, his changeup isn't half bad either!
It's to be seen if he pitches as a starter once again, but there's a chance Francis gets an opportunity with the Jays next season.
Brandon Eisert:
Although Eisert only sits 91-93 mph with the fastball, it's a fantastic pitch for the 25-year-old lefty.
Pair that with an above-average changeup and slider, and you get a reliever that posted a 3.41 ERA and a 3.57 in 60.2 innings pitched with the Buffalo Bisons. Moreover, he had a fantastic 31 K% (again, he sits 91-93 mph on the fastball), while limiting the walks to 6% of the time. That led to a fantastic 25 K-BB%.
If the Jays need a left-handed reliever to replace Matt Gage, Eisert is their guy.
Hayden Juenger:
The 22-year-old was a quick-rising prospect in the Blue Jays minor league system. Despite being drafted in 2021, the righty has already seen action in Triple-A Buffalo.
Overall, he had a 3.76 ERA for the season, along with a 27.7 K% in 88.2 innings pitched between Double-A and Triple-A.
Juenger's main role is that of a bulk reliever, and he's touched 98 mph on his fastball while throwing impressive secondary stuff.
Jackson Rees:
The 28-year-old righty missed much of the 2021 and 2022 seasons due to Tommy John surgery. 
However, he looked solid in his brief stint with the Triple-A Buffalo Bisons, posting a 5.79 ERA and a 2.33 FIP in 9.1 innings pitched. During his tenure there, he had a solid 22.2 K% and a 6.7 BB%, for a good 15.6 K-BB%.
Fellow Blue Jays Nation writer Tyson Shushkewich recently interviewed Rees, which you can read here.
Jimmy Burnette:
The last prospect on this list is a hard-throwing left-handed reliever who received an invitation to spring training.
Between High-A and Double-A in 2022, Burnette had a 4.31 ERA and an insane 37.6 BB%. His 14.4 BB% was a bit of an insane, but the 24-year-old is an intriguing reliever, as he touched 97 mph on the left side. Can't go wrong with that.
So who occupies the eighth spot in the bullpen come the start of the season?:
To be honest, I have no idea. My best guess is Trevor Richards, but any one of these guys could get the opportunity if they pitch well.
All I know is that if there are injuries in 2023, the Blue Jays have a ton of depth to maintain their elite bullpen.
As always, you can follow me on Twitter and Instagram @Brennan_L_D.
---