The 2023 Toronto Blue Jays Report Cards: Infielders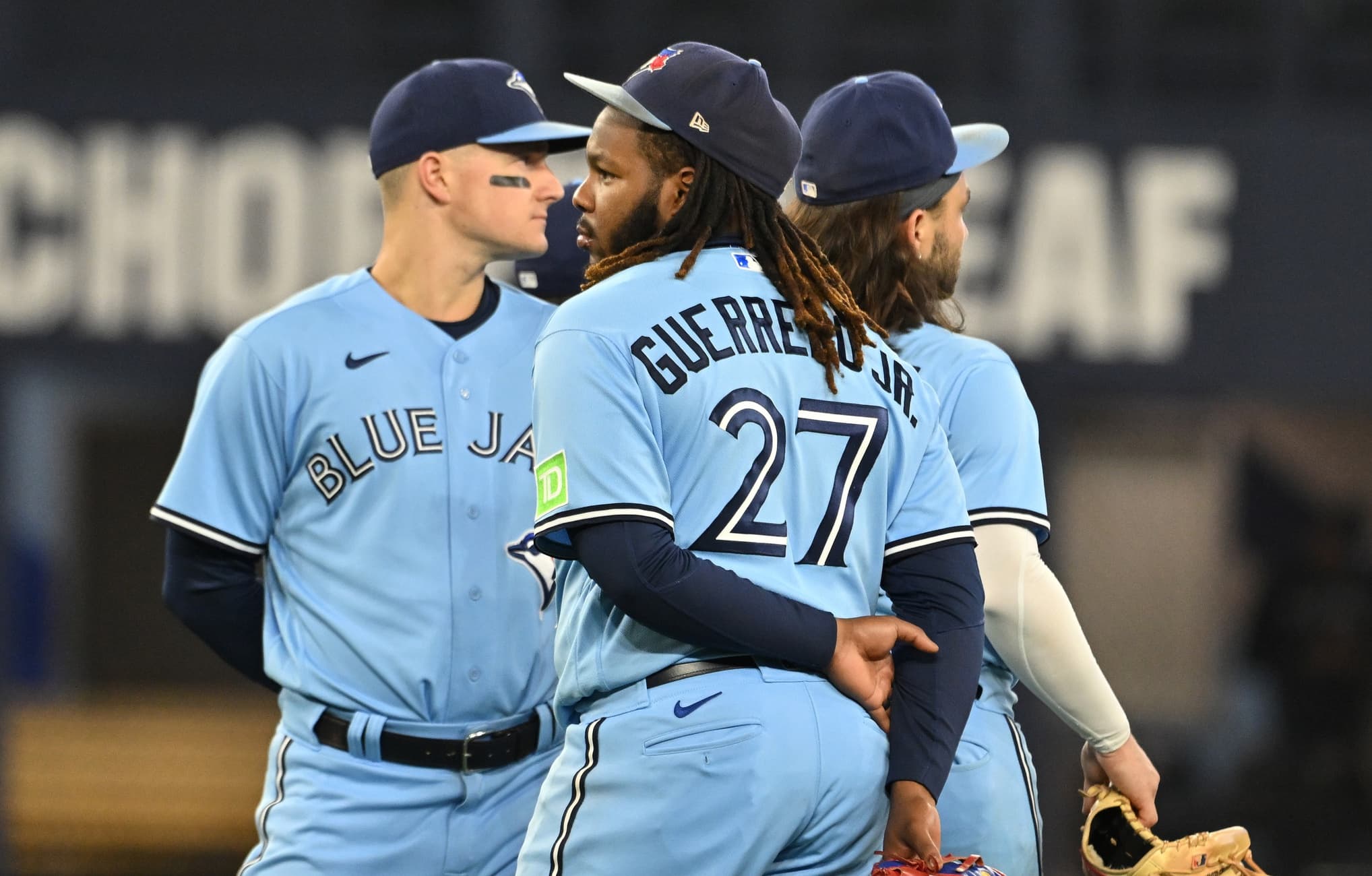 Photo credit:© Dan Hamilton-USA TODAY Sports
The Blue Jays infield will need some work this off-season with some pieces departing and a few prospects fighting for their opportunity to make the big-league club. Toronto's infield was great on paper, offensively and defensively. How did the first line of defence pan out at the end of the year?
Gradings:
A – Exceeded expectations with a significant contribution. This player was among the most valuable on the team.
B — Contributed to the overall success of the club. This player excelled offensively or defensively at a level around what was expected.
C – Contributions were satisfactory. This player was around league average and didn't make the team worse but didn't reach expectations.
D – Contributions were minimal. This player did not hold the weight of their position and considerations for next season must be reviewed.
Vladimir Guerrero Jr – Grade: C
Toronto's face of the franchise did not pull through as a stand-out player this season. The "this is our house" demeanor was soft and unsatisfying from an offensive standpoint. His numbers were down from 2022, and his batting average is the second career lowest to 2020. Guerrero did lead the team in home runs at 26, which says a lot about the club's overall offensive performance. His percentile rankings were also up in the 80-90s, however this included strikeouts which he did 100 times. His defensive game was his best value, with a .991 fielding percentage, however his baserunning abilities were not evident.
Guerrero's overall contributions were minimal to a very quiet 2023 club offense. His poor plate discipline and approach diminished his true potential; therefore, his grades are satisfactory at best.
Cavan Biggio – Grade C
Toronto's utility infielder grinded with the spotty playing time he received. The beginning of the season was very unstable for his with a slump that spread beyond 10-games, questioning his future status with the team, and as a big-leaguer. Overall, Biggio improved his numbers from the 2022 season. With 35 more at-bats this season, he recorded 16 more hits, scored 11 more times, hit three more home runs, drove in 16-more runs, and stole three more bags from last year. He's improved a ton, however only put up a .235 batting average with the time he was given.  His fielding was above satisfactory, putting up a .993 fielding percentage at second base, and 1.000 at first-base. His overall grade is satisfactory for the mere fact of improvement but lack of contribution to a poor club offense.
---
May 30, 2023; Toronto, Ontario, CAN; Toronto Blue Jays shortstop Bo Bichette (11) reacts after completing a double play against Milwaukee Brewers catcher William Contreras (24) and left fielder Christian Yelich (not pictured) during the third inning at Rogers Centre. Mandatory Credit: John E. Sokolowski-USA TODAY Sports
---
Bo Bichette – Grade: B
"All-Star" Bichette showed his value this season despite playing in 24-less games than 2022. His season numbers compared to 2022 were down for that exact reason, however he put up a .306 batting average, the second highest of his big-league career. He hit 20 home runs with 73 RBIs on 175 hits. Bichette was a bat you wanted at the plate, however his approach and reliability was hit or miss as his discipline was not good nor was his game plan. He only walked 27 times this season compared to 41 free bags last year, while striking out 115 times.
What's also to blame for his decrease in numbers was an injury that sidelined him, which resulted in 24-less games, and interfered with projections for better numbers. On the defensive side, his gruesome fear of the wild throw was not so much of an issue this season as his fundamentals have cleaned up and he's looked smoother and more calculated with the leather and the arm. His offensive capabilities did contribute to the competition of the team, and he batted a .500 in postseason play with four hits, and one run.   There's still a ton of work to do for the all-star shortstop.
Matt Chapman – Grade: C
This is another Blue Jay whose offensive performance really hurt his grade. Despite his phenomenal ability to play his position defensively, Chapman disappointed any set of expectations to do work with the lumber in 2023. He batted just .240 with a .330 on-base percentage with 17 home runs, that's 10 less than the last two years where he put up 27 back-to-back. He struck out more than he hit, at 165 strikeouts to 122 hits.
His first two months of the season showed great results but he fell off after that period of time. Chapman is now a free agent and won't return to Toronto.
Danny Jansen – Grade: B
Low-key silent but effective is Jansen, who's battled his way from injury and put up the best offensive season he's ever had. Jansen sat out some time, which could have helped his numbers even more. However, 17 home runs and 53 RBIs was not expected for him, for most analysts. His at-bats were quality and he was an asset to many of the arms employed by the Jays, calling important games and assisting them in controlling the running game.
Alejandro Kirk – Grade C
Although Kirk gave quality at-bats, his performance was under the microscope as he was retained to be the Blue Jays main backstop in the departure of Gabriel Moreno. His performance was very average and contributions did not match the tools and athleticism alone from Moreno. His bat was silenced at eight home runs and 43 RBIs on only 93 hits, scoring only 34 times with a .334 on-base percentage. He struck up 45 times, only walking 42 with no real running value.
---
Previously:
---