The arrival of Gabriel Moreno and the case for rostering three catchers
After visa issues caused Gabriel Moreno to arrive late for spring training he got off to a slow start in AAA. However, Moreno went on to hit
.380/.433/.479 in 18 games in May
and put himself on the precipice of the majors. Despite lingering concerns about his overall stat-line, .324/.380/.404 with a 115 wRC+, being buoyed by a .391 BABIP and only having one home run
he has been called up by the Blue Jays
.
In reality that stat-line may be a reasonable picture of what he is. Not a BABIP mirage, but a hitter who uses his elite bat-to-ball skills to get on base, accesses extra-base power if not HR power in-game, and plays strong defence behind the plate with a strong arm. His
Double-A power may have been inflated
and made him appear as more of a power hitter than he is.
But a projected 60 future value or all-star level catcher who can make contact at a spectacular level and further contribute as an above-average runner and fielder behind the plate is tantalizing. Moreno still holds the potential for above-average power as he matures and fine-tunes his approach. Even if the power never gets there, the complete package holds some variance around the all-star projections, with some areas still in need to development holding. Those factors hold the key to that all-star package. An environment that can foster those developments may be the first reason why the decision was taken now to call up Moreno.
When Vladimir Guerrero Jr. was called up in 2019 as one of the top prospects in baseball it felt like people had already been waiting for him to arrive for a while. With that came high expectations that Guerrero Jr. was unable to meet initially. To move past that, it required him to make changes to his routines and adjust to the realities of major league pitching. It was not good enough to be able to make contact with everything, as major league pitching meant a targeted approach and the athletic base for a repeatable swing was necessary for success at the highest level. Ultimately that process took two seasons, one cut short by the pandemic, for Vlad Jr. to arrive at a place where he could meet the expectations others had for him and he had for himself.
For some elite prospects, the minor leagues were not able to prompt these changes because success at those levels was plentiful. Especially when you share the preternatural ability to make contact and do damage that is unfair for lower-level pitching. Moreno has been
spoken of highly as a professional and has reportedly made strides behind the plate
. But arriving in the major leagues will allow Moreno to begin to acclimate to what major league pitchers will do to him and what major league pitchers will require of him behind the plate.
A specific thing to watch for is if Moreno has to adjust his ability to make contact with almost anything pitchers have offered him in the minors and narrow his approach to do damage at the major league level. As we have seen with Vladimir Guerrero Jr. in 2022, MLB pitchers are quite good at limiting pitches batters can drive. If this year features some hiccups from Moreno at the plate and behind it, it is good to get those reps in while contributing to a playoff contender. Acclimation to the majors would also bode well for the Blue Jays as they are in a 3-year window of clear contention, and the sooner a fully operational Moreno can be added to this core the better. That process starts now and is exciting. We also have a precedent of a few bat-first catchers continuing to develop a ton at the major league level.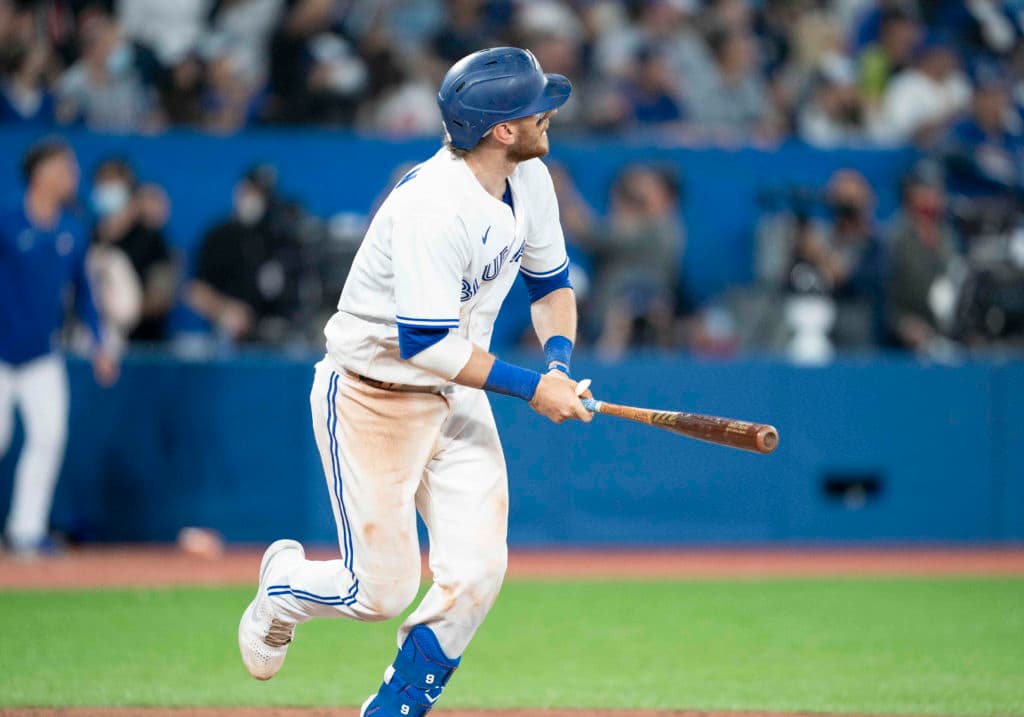 Mandatory Credit: Nick Turchiaro-USA TODAY Sports
It is easy to forget that Danny Jansen was seen as a bat-first catcher as a prospect and his defence was more of an open question. Despite his bat struggling for years, he quickly became a really strong defensive presence and a leader for a pitching staff that was in a constant state of flux. Alejandro Kirk was rushed through the minor leagues and brought to the majors with an understanding that he still had a long way to go behind the plate. This year he has not just hit incredibly well, but he has also added strong framing (especially on low pitches) and his arm is now passable. Kirk also made these major strides despite having periods where he was hardly catching.
It is interesting to consider how instructive the cases of Jansen and Kirk may have been for the Blue Jays' management in deciding to promote Moreno now. It seems like if Moreno's bat is able to contribute to the Blue Jays this year, the remaining development he needs to make may come from adjustments to major league pitching that may necessitate refining his approach. This could also unlock further power by Moreno being more selective and avoiding pitches that induce weak contact. Seeing major league standards and having access to major league resources (data, meetings, training, financial security) could also give him the platform and impetus to take further steps to fine-tune his defending too. He clearly has the athleticism and arm to become an elite defender, accessing major league stakes and resources may be that final push to fully form Moreno. Plus, Jansen and Kirk also stand to gain something from Moreno's arrival too.
Moreno's call-up may signal that Danny Jansen's injury is worse than initial prognostications. However, if Moreno sticks it may also mean that when Jansen is healthy, the Blue Jays may return to rolling with three catchers on their roster. Something we have seen before this season, to some consternation amongst observers. Now a three-headed monster of Jansen, Kirk, and Moreno is more dangerous than a triumvirate involving Tyler Heineman and Zach Collins. But it also would appear to reduce roster flexibility as Jansen, Kirk, and Moreno do not have a lot of recent playing time at other positions.
This may mean they cut into the playing time each player gets individually, but for catchers that may not be such a bad thing. Jansen has had horrible luck with injuries, most of which have occurred while he was not catching. But generally, catching wears players down physically and this can make it harder for them to produce at the plate or stay in the lineup. The way Kirk is hitting, keeping him in the lineup should also be a high priority. If all three are catching regularly this could spread the physical tole the Blue Jays catchers are taking on.
In turn, this could allow Charlie Montoyo to regularly hit two of them at a time. This could mean fewer at bats for Raimel Tapia, Cavan Biggio, and Bradley Zimmer and allow the Blue Jays to routinely field a very deep lineup, albeit one that is very right-handed. Keeping two of them in the lineup regularly may ultimately prove a challenge as George Springer needs to be managed with DH days, but improved lineup depth and the added ability to protect some of your best hitters (who happen to be catchers) may make the seeming inflexibility of rolling with three catchers valuable. Either way, looking only at this moment Gabriel Moreno has arrived. The possibility of the Blue Jays having three strong hitters behind the plate is exceedingly rare and offers exciting opportunities now and hopefully in years to come.
(All data and images were found on
Fangraphs
using their wonderful player profiles and prospect rankings)
---