The bad times continue as Blue Jays kick off series in Tampa with a 6-4 loss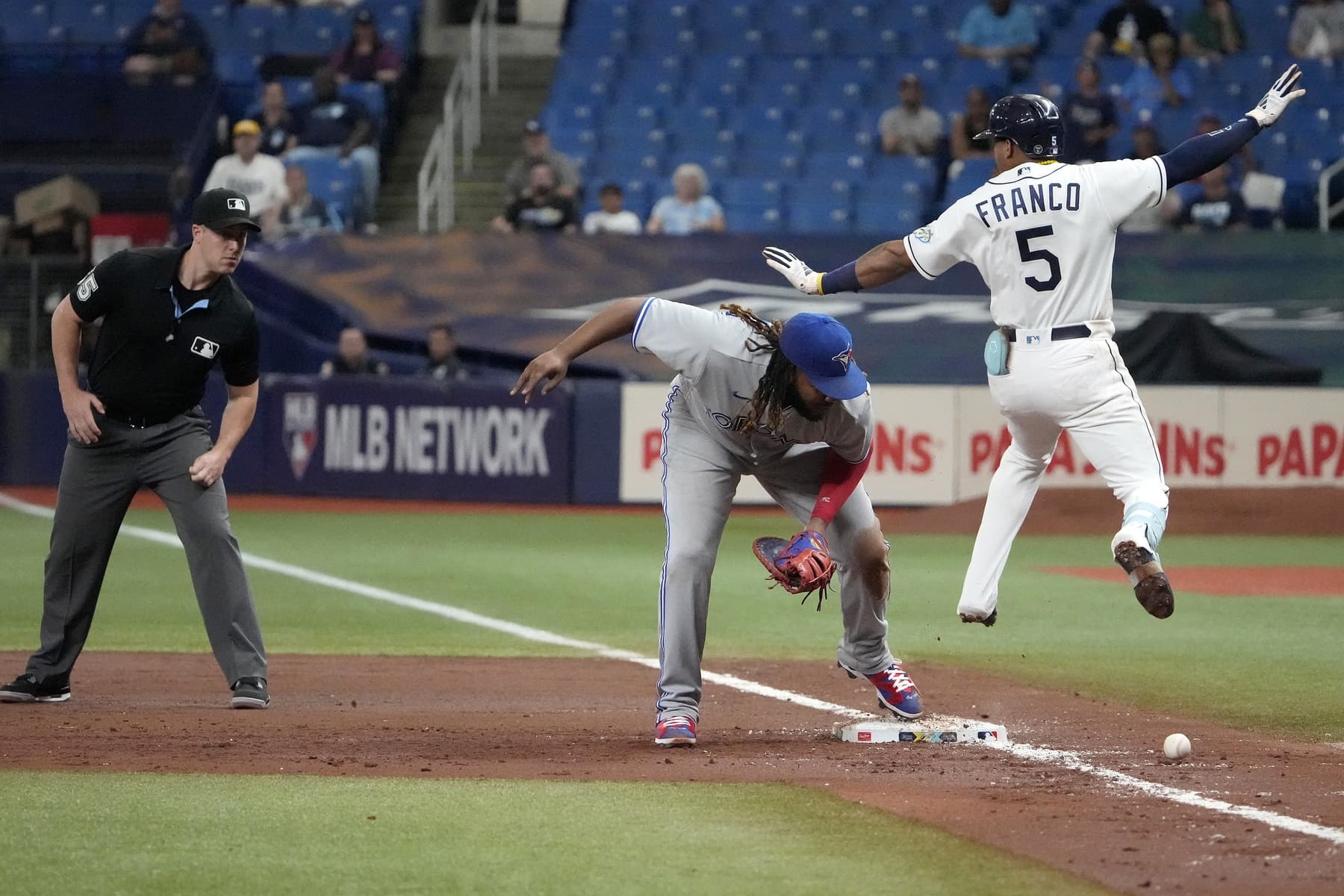 Photo credit:Dave Nelson-USA TODAY Sports
On the heels of a four-game losing streak and losing six of seven overall, a four-game set in Tropicana Field is not the most ideal place for any team to hit the refresh button. Nor is it an ideal spot for a pitcher to carry a scoreless innings streak.
The Blue Jays found themselves in both of those ordeals, and they came out on the losing side of them both so to speak. The Rays broke Chris Bassitt's scoreless innings streak in the second inning en route to defeating Toronto 6-3 tonight in the series opener from St. Petersburg.
Bassitt pitched a clean first inning to get his streak to 28 frames, but a critical error from Vladimir Guerrero Jr. led to three runs from the Rays in the second inning to put them safely ahead and in control of the game from there. Toronto trailed 6-2 entering the final inning, but they were able to drive in a couple runs on an RBI single from Brandon Belt and a solo home run from Daulton Varsho. They were able to load the bases with two outs with Bo Bichette at the plate – a very ideal situation – but he grounded out to the pitcher to end the game.
Blue Jays Nation's Player of the Game: Whit Merrifield
Close your eyes and picture this. A runner stands on second base with two outs, and Whit Merrifield steps to the dish. If you thought that this scenario was going to end in a groundout to second base or a strikeout swinging to abandon the runner, I can't blame you, but you would be wrong.
Merrifield was in this very situation tonight in the 4th inning, and he made the most of it by smoking a two-run home run off of Josh Fleming to left-center field. That home run was part of a 4-for-4 night for Merrifield that included a trio of singles. It was also his 10th career home run against the Rays in 42 games against them.
Things worth mentioning
Before we dive into the bad, it's worth noting that Kevin Kiermaier made a spectacular throw to nab Wander Franco at home plate tonight in the 5th inning With one out and Franco at third, Brandon Lowe drilled a ball to fairly shallow center field. Kiermaier made the catch in stride and threw a perfect ball to Alejandro Kirk, a throw that was flawlessly one-hopped so that it wouldn't hit the pitcher's mound.
This was Kiermaier's first game back at Tropicana Field since he signed with the Jays this offseason, so he has had plenty of familiarity with the outfield at the Trop. He also boldly stated before the game that once he found out that the Rays weren't going to pick up his option, he said "I'm going to make you guys (Rays) miss me." Despite Kiermaier going hitless on the night, making a defensive play like that had to feel really good for him.
George Springer also made a couple of outstanding plays in the outfield tonight. He robbed Luke Raley and Randy Arozarena of hits tonight, with Arozrena's being a near home run that Springer caught leaping against the wall in the 3rd inning.
Okay…now for the less-than-impressive. After a scoreless first inning, Arozarena doubled to lead off the second for the Rays. Bassitt was able to retire the next two batters which included Arozarena advancing to third. Rays catcher Christian Bethancourt grounded softly to Merrifield at second, but was hustling down the line. Merrifield's throw to first required Guerrero Jr. to stretch to make the catch, and it went off of his glove allowing the run to score and for Bethancourt to reach. One batter later, Jose Siri nailed a home run to center field, and the Rays led 3-0 after the error.
Tampa added another run in the 3rd inning that included another Guerrero Jr. error. Bassitt walked Yandy Diaz to lead off the inning, and Franco was able to reach after smoking a ball that ricocheted off Vladdy back to Bassitt. Bassitt tossed the ball to Guerrero, but he couldn't collect the throw. It also looked as if Franco had stepped on Guerrero's foot when the two intersected, so that only added insult to injury. Isaac Paredes singled in Diaz later in the inning, and the Rays led 4-0.
Bassitt allowed a pair of solo home runs during the rest of his outing, but he was able to grind into the seventh inning before he was pulled. His final line: 6.1 IP, 7 H, 6 R, 2 ER, 1 BB, 4 K's.
I think it's only fair to mention that despite the errors, Vladdy did make a nice play fielding a throw by Bichette to put out Franco in the 5th inning.
There were several "what ifs" from tonight's game, but it counts as a loss in the loss column. They look to even the series tomorrow with Jose Berrios on the mound against Taj Bradley. Berrios was the winning pitcher back on April 14 against the Rays, a start that assisted in ending their 13-game winning streak to start the season.
---