The Best For The Blue Jays Is Yet To Come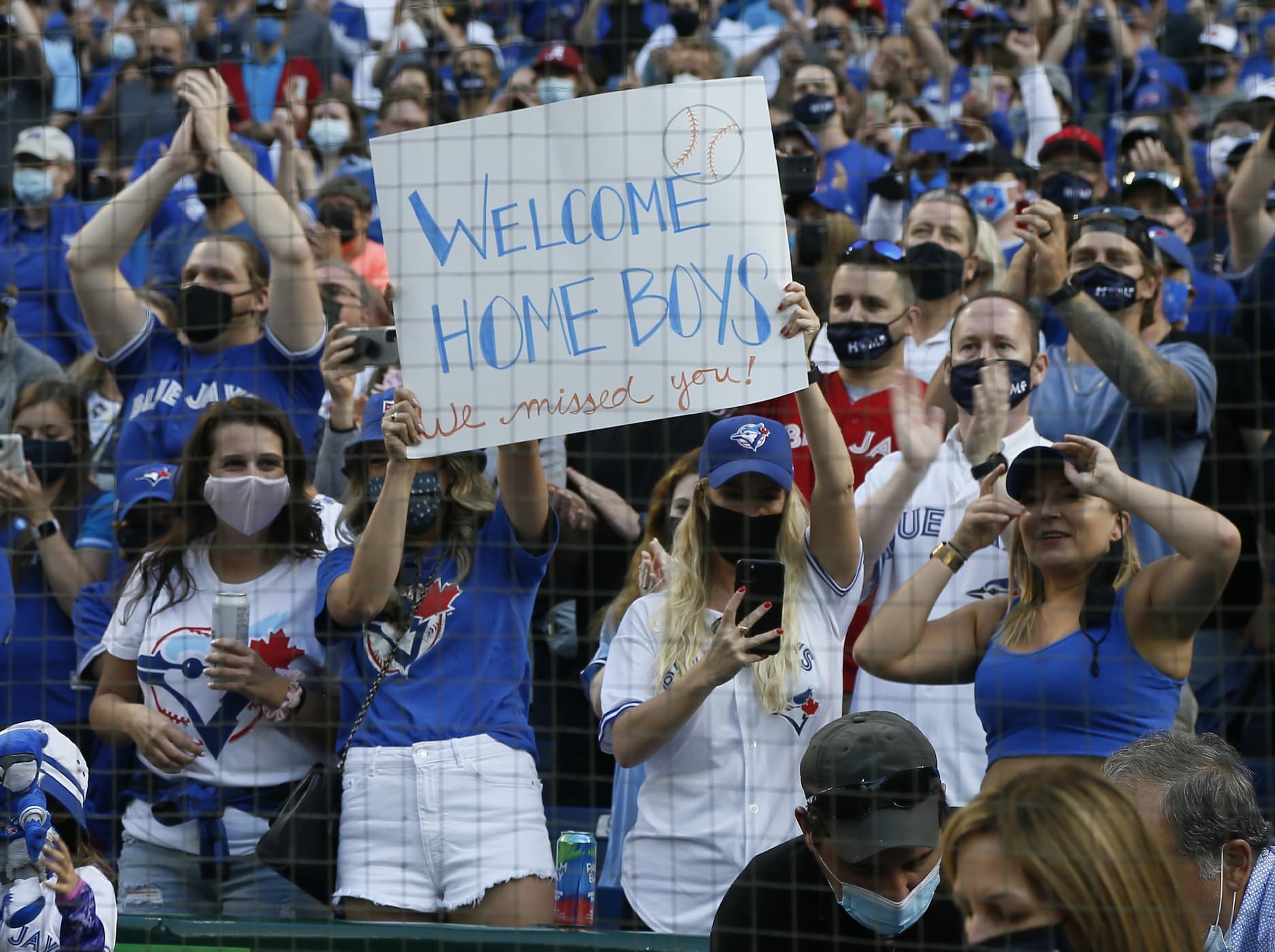 Photo credit:© John E. Sokolowski-USA TODAY Sports
If you clicked this article using Facebook, you probably haven't seen this tweet. If you're on Twitter, you may have seen me arguing with a Yankees fan about prospects which originated from one of the worst takes I have ever seen. Fun times. This one bad tweet got me thinking about "can this season be repeated" and quite frankly, I think it can be one-upped.
Before the tweet:
The season sucked, but there are some built-in excuses. For example, the Jays didn't play in front of home fans until arriving in Buffalo and even then, Yankee fans invaded Sahlen Field. The early part of their season was played in Dunedin, Florida, which is hostile territory. Upon arriving back in Toronto on July 30th, the team finished 40-23. 
When Charlie Montoyo says he is proud of them because they played despite playing on the road for the first half of the season, he is correct. There is one other good Toronto franchise, the Raptors, who had the same fate in their most previous season. When a team doesn't play their home building it could easily derail their season. 
Secondly, I've seen the notion that they were healthy all season and while that is true for Vlad, Bo and Semien, it really couldn't be further from the truth. People scapegoat Charlie Montoyo's bullpen management as the reason this team failed to reach their goals; when in reality, many high leverage relievers went down early in the season.
 Furthermore, their 150 million dollar man, George Springer, had three different stints on the IL. Teoscar Hernandez missed significant time early in the season. Alejandro Kirk and Danny Jansen also missed time leading to the Jays having a catching duo of Riley Adams and Reese McGuire. There's even a case for Cavan Biggio playing injured all season.
Starting pitchers didn't survive the injury bug either as Ray, Matz, Ryu and Stripling also missed a few starts at certain points in the season.
They lost winnable games:
All teams do. It obviously sucks, but I've seen people pointing to one particular moment on August 22nd where Semien missed a routine throw. Yes, that would add an extra win to their record, but we're dealing with if's. If Semien completes that throw, maybe they go on a five game losing streak as they have a lack of urgency. Maybe a player gets injured. I don't think it's an unfair argument in the slightest, but I think it has some flaws. When we deal with reality, we can see that key players went down to injury, the team missed playing in Toronto and the bats had issues with consistency, something you'd expect from a young team.
Anyway, let's cover the tweet in question.
The inspiration for this article:
First and foremost, that is a Mets fan tweeting that, which is hilarious. You have an owner that tweets and makes terrible decisions basically on a daily basis, congrats lolmets.
While this tweet is bold, its one example of "Jays won't ever be good again" is that Vlad won't ever put up this season again. For any potential employers reading this article, excuse my language, but this is a dumb fucking tweet. 
Vlad Jr was born in 1999, he is younger than me. He finished the season with a .311/.401/1.002 slash line including the league lead in home runs with 48. It's by far been his best season. It seems to slip past many people's minds, but Vlad was a top prospect for two seasons. This was expected and while he underachieved in his rookie and sophomore seasons he came into this season differently. He lost weight and he had fully transitioned into a first baseman.
To believe he'll "never have a better season than this" is just an awful take.
A common take amongst fans is that a lot of these players had career years and never will again. We'll look at the free agents first. It's fair to be skeptical in regards to potentially losing both Robbie Ray and Marcus Semien, and while that isn't in the tweet, I think we have to address this topic as well. We can even throw in Steven Matz in this section.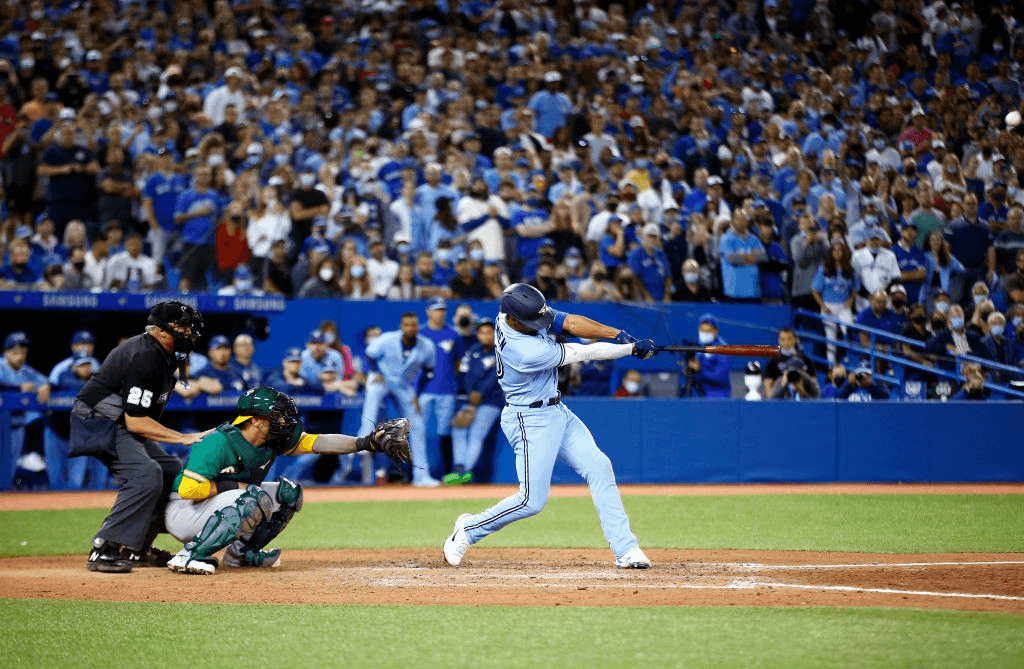 Marcus Semien:

Despite Vlad hitting like a mad man, I believe Marcus Semien was the MVP of this Jays team. While he didn't hit for the average that Vlad did, he put up a respectable .265/.334/.873. The second baseman also hit a record 45 home runs. Not only is this the most ever for a second baseman in a single season, his 45 home runs would rank him tied for fifth in home runs by a shortstop in a single season (behind three seasons of A-Roid). That's impressive and all, but he is also likely to win the Gold Glove for a 2B as well.
I touched upon this in the article here: https://bluejaysnation.com/2021/10/09/lets-take-a-moment-to-appreciate-marcus-semiens-season-which-was-one-of-the-best-in-blue-jays-history/ but to put it simply, Marcus Semien will be a Gold Glove nominee at the very least. He's played the majority of his career at shortstop and he may want to play there next season. In my mind, you have to move Bo to second if that's what it takes to re-sign Semien. 
Marcus will be given a qualifying offer, meaning that if he signs elsewhere, the Blue Jays will receive a pick.
Robbie Ray:
People seem to believe Robbie Ray came out of nowhere, which is far from the case. He'll likely win the Cy Young this season as he registered a 2.84 ERA and a 3.69 FIP (his xFIP decreased to 3.36, but expected stats at the end of the season is dumb). This just beat his previous career-best season in 2017.
In that season, he registered an ERA of 2.89 and a FIP of 3.72. In 2017 he was an all-star and received NL Cy Young votes.
We all know about his struggles in 2020, his ERA inflated to 6.62 with a FIP of 6.50. He also had a league-high 7.84 BB/9 which is awful. If you disregard this season, however, he had never had an ERA above 5 other than his rookie season. Ray's next highest was his 2016 season where he posted an ERA of 4.90, but his FIP was 3.76, this is to say his defense let him down.
In his 1035.2 innings pitched, his ERA is 4.00 while his FIP is 4.04. While this indicates he's a third or fourth starter in the rotation, keep in mind he's had a few rough seasons. A big reason for the probable Cy Young award this season is that Robbie Ray kept his walk rate down to 2.47. If you remove his first two starts, his BB/9 drops down to 2.16.
Furthermore, for a time this season, he led the all-time record for K/9, so yeah, this wasn't a fluke. He connected with the right pitching coach (Pete Walker) and he made the adjustments to become an ace. 
Like Marcus, the worst-case scenario is that he signs elsewhere after the Jays extend a qualifying offer.
Steven Matz:
Matz quietly put together a fantastic season which I believe will result in him receiving a qualifying offer. Despite contracting COVID, Matz finished with a 3.82 ERA and a FIP of 3.79. He averaged his usual K/9 around 8.60, but dropped his BB/9 to 2.57 (the lowest since 2017. This is to say he recorded his best season since 2016.
He was a fantastic back end of the rotation starter and it is my belief that the Blue Jays should re-sign him. It's also possible that the Jays extend him a qualifying offer.
What about the non-free agents?
It is without a question that three key players may be lost to free agency, but what his tweet ignores is the fact that the Blue Jays are very young.
Alek Manoah is only 23-years-old, only a few months older than me, and he just posted a 3.22 ERA (3.80 FIP) in 111.2 innings pitched. This is after only pitching 35 innings in the minor leagues. He'll get better.
I've already alluded to it, but this notion that Vlad will never produce another season like this is pure stupidity. First and foremost, he's only 22-years-old, if he falls off that hard it'll only be to injuries. 
Secondly, the tools to do what he did were always there. He was always destined to hit for average, he always had the power to put up 50 home runs, he always had fantastic strike zone discipline. His issue for the first two seasons was the weight and playing a difficult position. It only made sense that he had his first breakout season after dropping a lot of weight and moving to first base.
Vlad will only improve and while he may not win the MVP this season, he'll have his time soon.
Alejandro Kirk is turning 23 later this year. He finished the season with a slash line of .242/.328/.764 as a catcher. His statistics took a hit because of his last 25 plate appearances where he only had one hit. Want to know his BABIP during that stretch? 0.53. That means while he failed to get a hit, he also rarely struck out (3 times).
Despite thinking he is a logger in the forest trying to chop down a bunch of trees, Bo Bichette put up fantastic numbers with a slash line of .298/.343/.828, which included 29 home runs. In fact, this was his first full season. Much like everyone else mentioned in this section, Bo Bichette is in his early 20s. As he continues to get MLB at bats, he'll improve his strike zone discipline.
I could go on about Teoscar Hernandez, Lourdes Gurriel, Nate Pearson, Adam Cimber, Jordan Romano, Jose Berrios and any of their top prospects, but you get the point.
The capital to trade and sign free agents:
Despite being young, this team has a ton of talent locked down for many years.
Not just that, but the franchise has the ability to sign free agents. When Ross Atkins spoke about gaining 42 years of control, it was in fact that they don't need to pay heavily for their top players.  Instead, they can disperse that on free agents such as George Springer, Marcus Semien's one-year contract or Hyun-Jin Ryu. 
Not just that, but the Jays have had the ability to find cheap free agents and churn out value. Marcus Semien obviously comes to mind, but even trading Eric Sogard for two minor leaguers proved valuable.
Who's to say that the Jays don't make another Marcus Semien type of signing and that player becomes an all-star as well?
It doesn't just stop there, however, as the Jays have a pretty deep farm despite trading Austin Martin and Simeon Woods Richardson. In fact, there was a report that the Jays made a run at Jose Ramirez, meaning that they are looking to improve.
The Front Office noticed the sold out buildings upon the return to Toronto. Rogers noticed the income flowing into their pockets. Without a doubt in my mind, the team will get the green light to spend above the luxury tax as the prospect of a dynasty is on the horizon.
Until next season:
Maybe it was the Met fan in him that led to that erroneous tweet. Maybe he expects the worst in a franchise, but unlike the Mets, the Jays have the farm system, the right players and the right front office to return to become contenders next season and beyond.
As always, follow me on Twitter @Brennan_L_D. I'll be keeping everyone up to date with Jays news, but as we transition to basketball, hockey and soccer, I'll be tweeting about that a lot as well.