The Blue Jays brought up the idea of a contract extension with Bo Bichette, but no offer has been made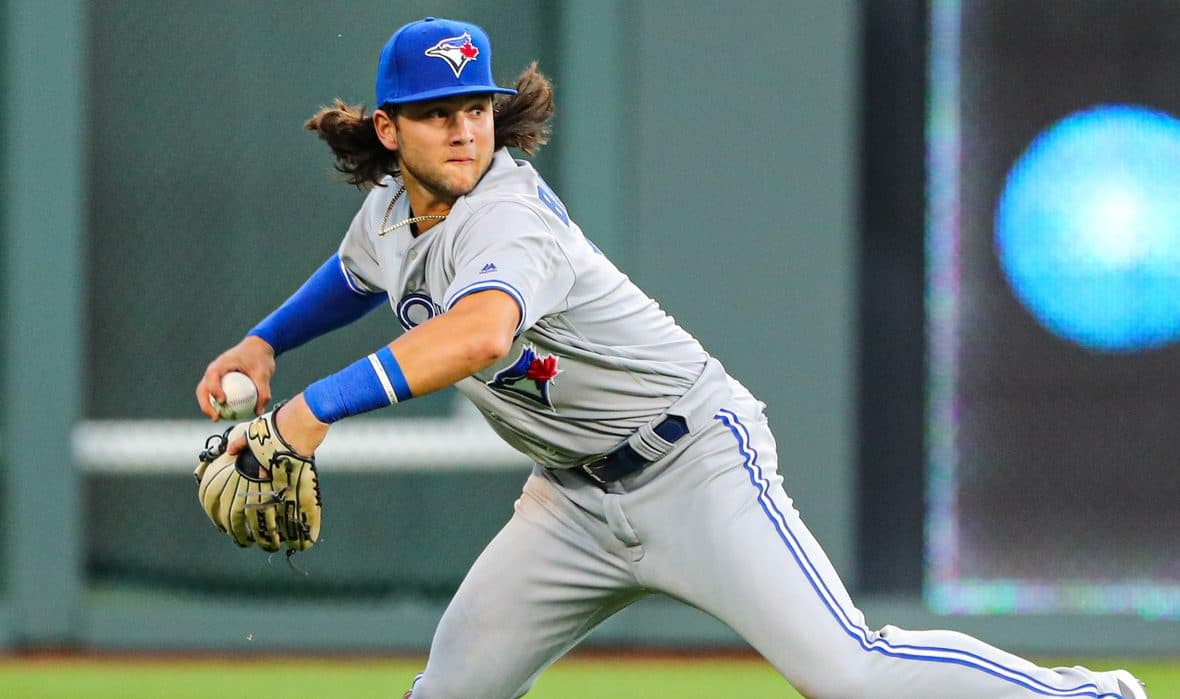 Photo credit:Jay Biggerstaff-USA TODAY Sports
Welcome to the era of pre-arbitration, long-term contracts.
Over the past few years, we've seen more and more teams opting to hand out guaranteed dollars to players with short track records in order to save money on free agency years down the road. It was a fairly unique concept over a decade ago when the Rays signed Evan Longoria long-term just days into his major-league career, but now there's talk about handing an extension to just about every young star in the game after their rookie season.
The big example this off-season, of course, is Fernando Tatis Jr., who signed a massive 14-year contract with the San Diego Padres worth $340 million. Tatis has only played 143 games at the major-league level but, based on his trajectory as a player and the steady rise of free-agent salaries, the Padres are more than likely going to have a bargain deal in a few years.
The Blue Jays have two young franchise cornerstones, Vladimir Guerrero Jr. and Bo Bichette, who could end up with a mega extension sooner rather than later. Bichette said on Monday that the organization discussed a contract extension with him this off-season, but no actual offer was made.
"I'm happy for Fernando,"

Bichette said

. "I've always admired the way he plays from the minor-leagues until now. He's an exciting player. I think it's really powerful that an organization believed in him enough to put the commitment they did. Obviously he's probably still not going to get paid what he should have, but I think it's good for Fernando and I think it's good for the Padres. It's good for baseball."

"It was brought up, but no offer. I'd rather focus on spring training and the season ahead, but we'll see what happens."
Though it feels like he's been around for longer, Bichette has only played 75 games at the big-league level. During that time, he's slashed a .307/.347/.549 line, which is damn impressive coming from a shortstop, but there also isn't a guarantee that he sticks at that position.
If Bo keeps hitting like he has early in his career and he can establish himself as a legitimate major-league shortstop, he'll be in line for a huge contract extension. But it's a completely different animal if he's hitting well but playing second base.
It's the same story for Vlad. His bat hasn't come around at the level you'd have expected based on what he accomplished in the minors and we don't yet know where he fits on the diamond. If Vlad can hack it at third, he's going to command more salary than he would as a first base and designated hitter type.
With that in mind it really isn't all too surprising the Blue Jays haven't been more aggressive in locking their two young cornerstones up long-term.
Vlad is eligible for arbitration for the first time in his career after the 2021 season while Bo is one year behind him on the service time calendar. Breakout seasons offensively will inevitably lead to discussions about how the Blue Jays should ink both players long-term like the Padres did with Tatis, but the team needs to know where both players fit on the diamond before doing so.
You can see why both Bo and Vlad very adamantly want to stick at short and third respectively.