The Blue Jays have apparently offered Marcus Semien a contract extension and plan to do so with Robbie Ray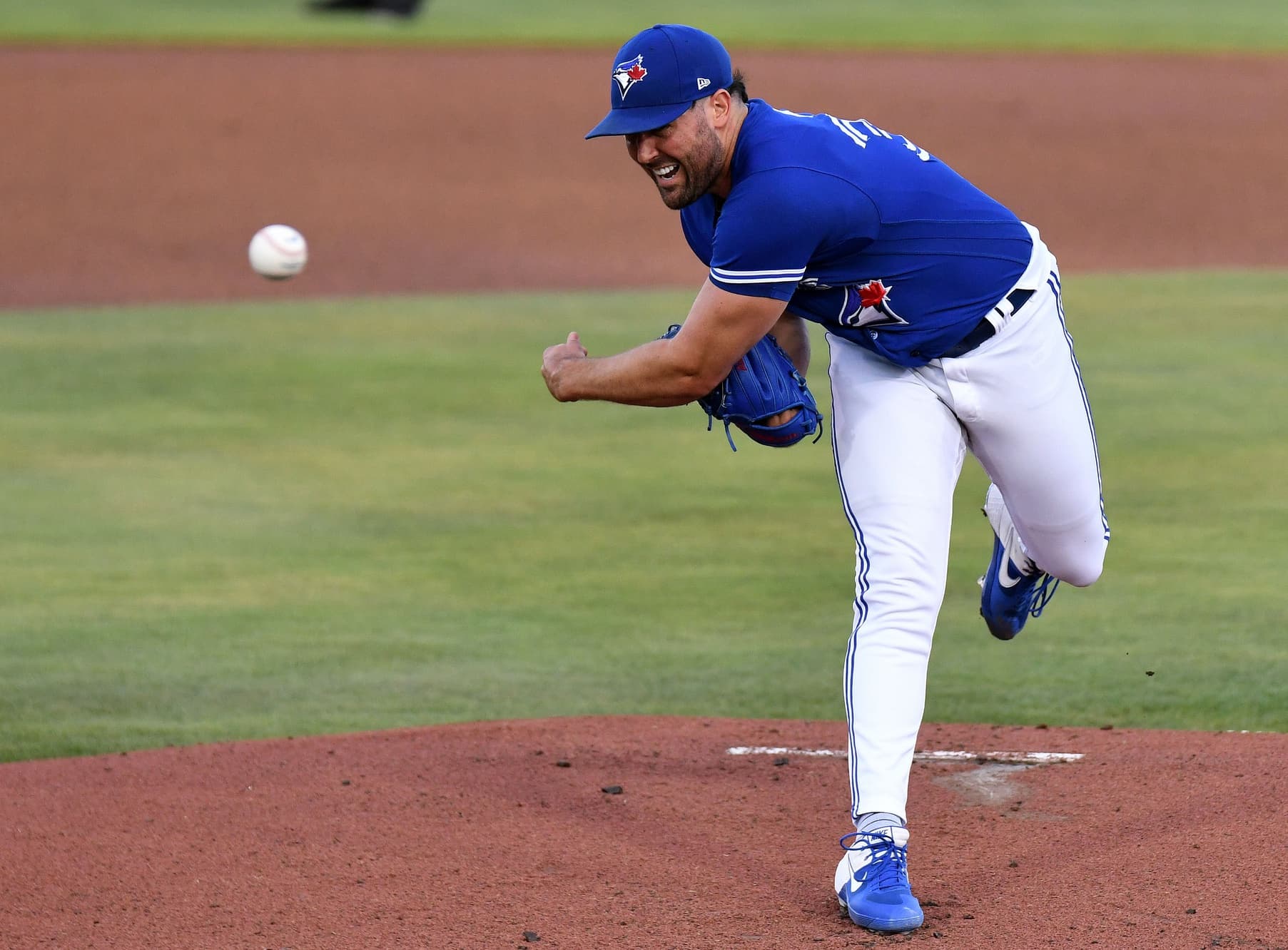 Photo credit:© Jonathan Dyer-USA TODAY Sports
Marcus Semien and Robbie Ray have been two of the three most important Blue Jays this season and they've only cost the team $26,000,000 combined. They aren't going to be that cheap next year.
After Sunday's excellent start, Ray leads the American League with a 2.60 ERA and he's second in all of baseball with 212 strikeouts. There's a very decent chance he wins the AL Cy Young this season and it's a given he's going to cash in and get a massive contract this winter.
And then there's Semien, who reminded the A's how hilariously stupid they were to not offer him a qualifying offer last winter when he smashed a three-run walk-off bomb on Friday night in what was likely Oakland's worst loss of the season. Semien, like Ray, is going to get paid.
According to sources, they've attempted to sign Semien to an extension, without success to this point, and plan to approach Ray about a new deal this offseason. General manager Ross Atkins would not comment on negotiations but said, "We are so impressed by both players and feel as though the organization and team have benefited greatly from their contributions on and off the field."
The comparable mid-way through the season was Dallas Keuchel, who inked a three-year, $55 million deal with the White Sox after a good, rebound season in Atlanta. Now that Ray is legitimately in Cy Young talks? The comparable becomes Zack Wheeler, who signed for five years and $118 million.
Ray has all of the peripherals that teams care about, like the ability to throw hard and strike guys out, plus he has some pedigree before this breakout season, as he was an All-Star back in 2017. The starting pitching market doesn't feature many great still-prime-aged names, so Ray is poised to get a big cheque.
And then there's Semien, who's in a bit of a different situation. While Ray is one of the few marquee starting pitchers out there this winter around the age of 30, Semien is going into a free-agent infield class with the likes of Carlos Correa, Kris Bryant, Javier Baez, Trevor Story, and Corey Seager.
That being said, Semien might honestly be the best name on that list. Between 2019 and 2021, Semien leads all qualified position players in
WAR per FanGraphs at 14.7
. That's incredibly impressive, especially considering the disaster that was his 2020 season that ultimately resulted in Oakland not bothering to give him a qualifying offer.
The $150 million deal that George Springer signed last winter with the Blue Jays might be the number that Semien winds up with this winter. Semien will be the same age in his free-agent winter that Springer was when he inked that deal.
Now, all of this is pretty obvious. We all know that Ray and Semien have been great and they're going to get paid a lot because of it. The question now is whether the Blue Jays will be the ones paying them.
A little while ago, Ross Atkins appeared on Bob McCown's podcast and was asked if he could foresee a $200 million payroll for the Blue Jays in the not-so-distant future, to which he gave a fairly standard Atkins answer…
Yeah, I hope so. I hope so. The thing is, you don't want to — I don't want to commit to numbers and dollars over the course of when that happens and how that happens. We'll see. But I certainly hope so. And you have to be careful not to do too much at once, and we've talked a lot about that. I know that can be frustrating for fans, and to say 'why not?' to go all-in all at once, it's hard to do based on the talent that is available and with the two avenues to do that, by using money or by trading prospects away. So doing that all at once is exceptionally difficult. We want to make sure we're on a steady climb to maintain a fun and exciting and contending team.
The reality here is that Atkins doesn't control how large the payroll is, that's more of a Mark Shapiro thing, and, even then, Shapiro wouldn't be able to say fully at this stage that Rogers will give that kind of investment. This front office has always said the dollars will be there as the team gets good and the stadium sells out, and they've been true to their word with signings like Hyun Jin Ryu and Springer, but it's hard to say just how high Rogers will go.
The Blue Jays don't have many financial commitments as of right now, as Ryu, Springer, and Randal Grichuk are pretty much the only three who have determined salaries for 2022 and 2023, but a whole bunch of guys are going to get more expensive right away.
Teoscar Hernandez is eligible for his second go at arbitration this winter, Vladdy is going to be eligible for his first time, and Bo Bichette will be next winter. We could see any, or perhaps all, of those three names locked up to long-term deals this winter. Still, there's a way to keep Ray and Semien around, and it involves Rogers ponying the cash we all know they can. Deals for young players can be back-loaded so that Ray and Semien can be paid up-front to spread the money around to make it work.
Keeping both Ray and Semien around won't be easy, as many, many teams around the league will be calling them this winter, but both are critical to this team having success in the short-term future. The team is good right now. Keep them together and run it again next season.