The Blue Jays have signed José Berríos to a seven-year contract worth $131 million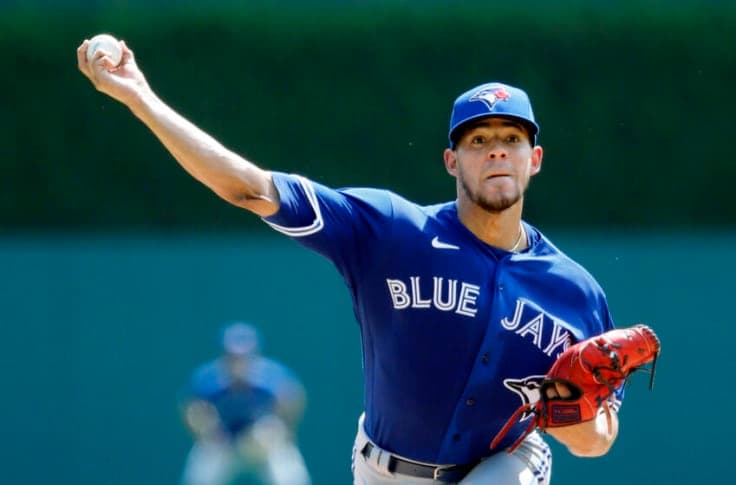 Photo credit:Duane Burleson/Getty Images
So much for a slow off-season!
Word about Berríos signing a long-term deal broke early on Tuesday morning, when Hector Jose Torres Donato, a Twitter account that Berríos follows, said that the right-handed pitcher's seven-year contract with the Blue Jays would be announced as early as Wednesday.
The Blue Jays acquired Berríos, a two-time All-Star, from the Minnesota Twins back in late July in exchange for top prospects Austin Martin and Simeon Woods Richardson. Berríos came exactly as advertised. Known as a work-horse who consistently puts up solid outings, Berríos posted a quality start in nine of 12 outings with the Blue Jays after the trade, including seven in a row to finish the season.
All told, Berríos tossed 70 1/3 innings for the Blue Jays over 12 starts, posting a 3.58 ERA with 78 strikeouts and just 13 walks.
Berríos was eligible for his final go-around at arbitration this winter, where he was projected to earn $10,900,000. Though it isn't yet confirmed, Berríos will likely make $11,000,000 on the first year of his contract and then the final six free-agent years of the contract will average out to $20,000,000 annually.
This contract will be the second-largest in Blue Jays history behind only the $150,000,000 deal that George Springer signed last winter. It's the largest in team history for a pitcher, eclipsing the $80,000,000 deal signed by Hyun Jin Ryu by a wide margin.
That's an incredibly team-friendly deal for a guy who was set to become one of the better starting pitchers on the free-agent market next winter. Berrios is only 27 years old (his birthday is in May) and it seems he has plenty of good years ahead of him.
Though it's incredibly difficult to gauge how good a player will be over the course of a deal this long, especially a pitcher, the ultra-durable Berríos is a better bet than pretty much anybody. Over the past four seasons, Berríos ranks behind only Aaron Nola in terms of starts with 108. He has a 3.71 ERA over those four seasons.
Another interesting note…
A big reason why the Twins opted to trade Berríos was that they sensed he was "going to want to see through" his final control season and test free agency. The hope for the Blue Jays when they paid such a high price to acquire Berríos was getting him locked up before he was eligible to hit the open market.
Also, don't expect that the Blue Jays are finished here…