The Blue Jays hit the road to Kauffman Stadium, a place of shadows, to deal with the Royals
It's been quite some time but watching baseball in Kansas City fills me with a combination of anxiety and dread. I get flashbacks to bloops singles, random overachievers hitting dingers, and runners getting stranded on third. As always, fuck the Royals.
How they're doing…
This is obviously a very different team than the one we, unfortunately, knew from 2015. That's the case on both sides.
The only major Royal left from that World Series team is Sal Perez. Jarrod Dyson left for a few years and is now back, the same goes for Wade Davis. Danny Duffy is also still around, though he wasn't a big part of the 2015 team. Nobody from the 2015 Blue Jays is still around, but one player on the roster faced Kansas City in the playoffs. I'll let you guess who it is.
Anyways, enough about the 2015 Royals, let's talk about the 2021 Royals, a team in purgatory.
Kansas City is 6-4 this season and there aren't really any real expectations for them to compete with Minnesota and Chicago for the American League Central. They have OK pitching and a ho-hum offence. The Royals rank above league-average in terms of runs scored, but that has a lot to do with the fact they put up 25 runs on the Rangers in their first two games of the season. In eight games since then, they've scored a total of 24 runs.
Kansas City's offence is driven by three guys, Perez, Whit Merrifield, and Michael A. Taylor, and the rest of the team is hitting at below Joe Panik level. Four of their regulars, Jorge Soler, Andrew Benintendi, Kyle Isbel, and Nicky Lopez, have an OPS below .600.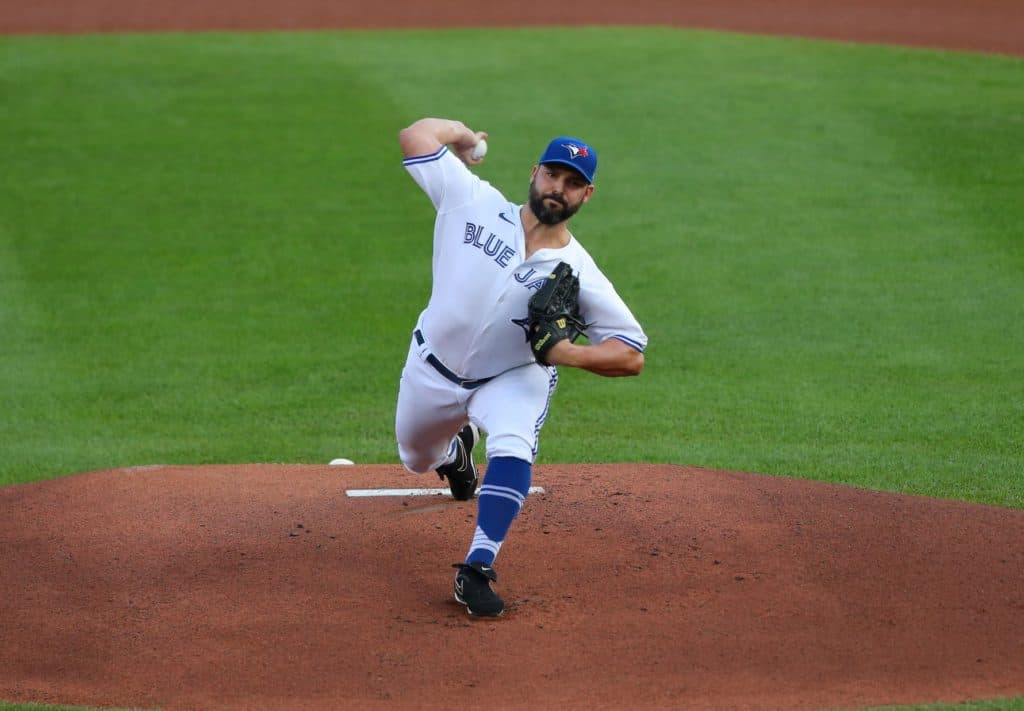 The head-to-head…
??? vs Jakob Junis
This was supposed to be T.J. Zecuh's spot in the rotation but he started on Wednesday against New York because Ross Stripling was dealing with an arm issue. I doubt that Stripling is going to be ready to go today so that would leave the Blue Jays with some combination of a bullpen game or a spot start.
You'd think this would be the time to chuck Tanner Roark out there, given the Royals are a fairly light-hitting team and Kauffman Stadium is pitcher-friendly. If you can't trust Roark to go out and log four or five innings in a situation like this, I'm not really sure why he's on the roster.
Anyway, going for Kansas City in the opener will be swingman Jakob Junis, who hasn't allowed a run across seven innings this season. His first two outings were one-inning relief appearances and then he tossed five shutout innings against Cleveland over a week ago.
Steven Matz vs Mike Minor
Mike Minor is a weird one given he was good enough to earn Cy Young votes in 2019 and then completely fell off a cliff in 2020. He saw a dip in velocity from 92.5 mph to 90.4 mph between 2019 and 2020 and he's back up slightly to 91.7 mph. Minor has made two starts this year, in one he allowed four runs over six innings and, in the other, he allowed one run over four innings.
Going for the Blue Jays will be another lefty, Steven Matz. As we know, Matz has been excellent this year. Pete Walker's reclamation project has allowed just two earned runs over the course of 12 1/3 innings and he's only allowed one dinger, which is important given the fact he allowed 14 in 30 2/3 last year.
Matz is also the only player on the Blue Jays roster who faced those goddamn 2015 Royals. He did so in the World Series with the Mets.
Robbie Ray vs Brady Singer
Saturday's game will feature the Blue Jays' first look at one of their former draft picks — Brady Singer.
Singer was the team's second-round pick in the 2015 draft but he didn't sign and opted to go to the University of Florida. Three years later, Singer was selected with the No. 18 overall pick by Kansas City, a few spots behind Toronto's top pick, Jordan Groshans.
Through 14 starts between last year and this year, Singer has a good-not-great 4.33 ERA, is striking out 8.9 batters per nine, and is walking 3.2 batters per nine. He got clowned in his first start of the year against Texas but was better in his second outing against the Angels.
Going for the Blue Jays will be Robbie Ray, who had a nice debut last week against the Yankees. Ray didn't allow a hit until the fifth inning but then allowed a two-run bomb to Blue Jay Killer Kyle Higashigaoka which ended up being the difference in the game. Regardless, it was an encouraging start for Ray as he averaged 94.7 on his fastball and navigated a very tight strike zone effectively.
Hyun Jin Ryu vs Danny Duffy
Finally, Sunday's finale will feature a battle of aces.
Danny Duffy, one of just a few players left from the 2015 team (though he didn't play much of a role), will start for the Royals. Duffy has been with the Royals for 11 seasons now and owns a career ERA of 3.99, though he's been pretty mediocre over the past three seasons, sporting a 4.68 ERA across his last 62 starts. He's off to a great start this year, though, with back-to-back six-inning outings with only one total earned run allowed.
On the other side, Hyun Jin Ryu, who, as we know, has been absolutely excellent, will start for Toronto. There isn't much to be said here — Ryu is a boss.
Thoughts…
This looks like a very, very winnable series for the Blue Jays given they have their best three arms going. The team is riding high after a series win over the Yankees, but, of course, that was the same case after opening weekend and then they went into Texas and laid an egg. Let's hope they can capitalize on the momentum this time and take three of four.