The Blue Jays may head into the 2023 season with three catchers, which isn't a bad thing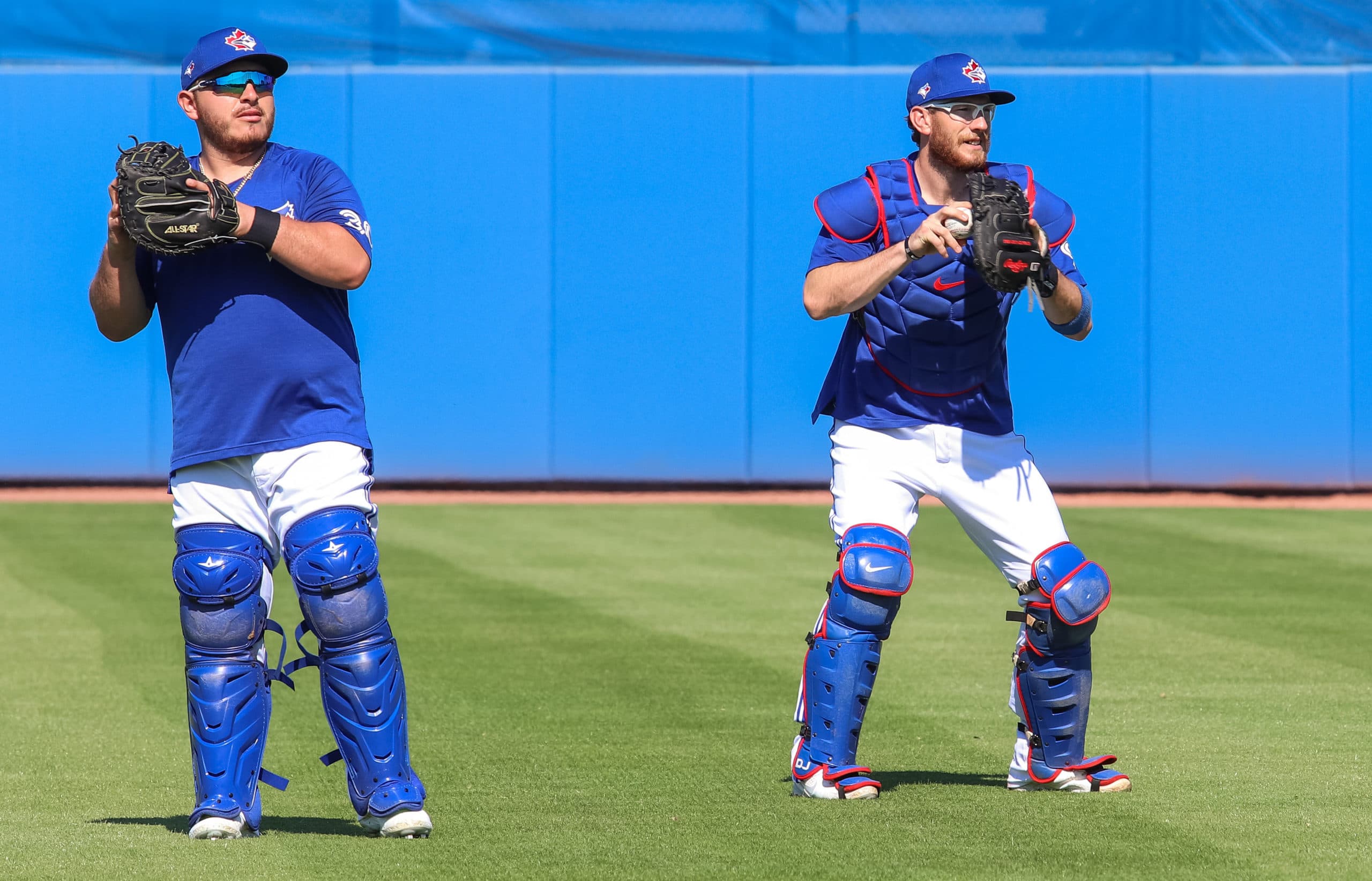 Photo credit:Toronto Blue Jays/Handout Photo via USA TODAY Sports
As we move further along in the off-season, it's more unlikely that the Jays will find a trade partner for one of their three catchers.
The big question is if this is bad, which I believe it isn't. While numerous teams are still looking for backstop help, such as the Pittsburgh Pirates and the Arizona Diamondbacks, the market for trading catchers isn't quite great. 
This is reflected by the return that the Oakland Athletics got, granted the Milwaukee Brewers absolutely messed that trade up. 
Either way, we'll look at why everyone wanted a catcher moved and who they're in a position to avoid doing so. We'll also look at why it really isn't a bad idea for the Jays to have three catchers on the 26-man roster.
Trade a catcher because the Jays have a surplus:
The Jays have three MLB-quality catchers: Danny Jansen, Alejandro Kirk, and Gabriel Moreno. So at a certain point, it actually made sense to trade one for starting pitching help or an outfielder. However, the Jays already have filled the need for a middle-of-the-rotation start by acquiring Chris Bassitt in free agency.
The only gaping hole that remains on the 2023 Blue Jays roster is a left-handed batting outfielder, but that can also be filled with an acquisition of a free agent. Joey Gallo, Michael Conforto, Michael Brantley, and even Andrew Benintendi could fill that role for the 2023 Blue Jays.
It seems as if the Jays are more active on the free agency front than the trade front. Another example of this is that they're apparently interested in Johnny Cueto, who'd filled the back end of the rotation for the team.
A trade of a catcher to Arizona for say, Daulton Varsho makes sense, but I think the front office is completely fine with Kirk, Jansen, and Moreno all on the 26-man roster to start 2023.
It all comes down to how they'll utilize three catchers:
Let's look at what all three of the Blue Jays catchers bring to the table. Two catchers could arguably use the designated hitter role, while the prospect catcher (who could fetch them a first round draft pick), could literally play anywhere on the diamond.
Alejandro Kirk:
It's not an uncommon talking point for people to say "well, Alejandro Kirk needs the designated hitter role". This is false. Look, while he may not have the typical body shape of a catcher, Kirk is still a professional athlete, and the Jays know what they're doing with him.  This annoying talking point even shows up on his Fangraphs "Graduation TL;DR":
"A bowling ball of a human who can really rake, Kirk still has plenty of questions to answer defensively, but the bat should play anywhere."
Funnily enough, Kirk finished with a Catcher Defensive Adjustment (CDA) of 12.1, which ranked third in the league. But yeah, the body shaming just needs to stop.
Kirk is both their best hitting catcher and best defensive catcher, so trading him is less than ideal.
Danny Jansen:
Moving to Jansen, the 27-year-old has been in the league for two and a half more seasons than Kirk yet only has 324 more plate appearances than him. A lot of Jansen's injuries have just been crap luck, such as getting hit by a pitch and breaking a finger, but Jansen is also a player that can benefit from time as a designated hitter.
Not to mention that Jansen has been average defensively at best since his gold glove nomination in 2019. Most of Jansen's value comes from the fact he hit 15 home runs in 248 plate appearances in 2022. Hell, moving Jansen to a full-time designated hitter really isn't that bad of an idea in my opinion.
Gabriel Moreno:
Moving on from two catchers that may spend some time DHing, to a catcher who is athletic enough to play all over the place, we have Gabriel Moreno.
In his brief time with the Jays, Moreno slashed .319/..356/.377 with a homer in 73 plate appearances for a wRC+ of 113. In a larger sample size which was Triple A, he slashed .315/.386/.420 with three homers in 267 plate appearances for a 120 wRC+.
His bat plays anywhere and it's definitely ready for the MLB. However, he's also athletic enough to play almost anywhere on the field. Experimenting with Moreno's versatility is something the Jays have already started, as he got reps at third base last season in the Arizona Fall League.
Moreover, he's apparently gotten reps in centre field, and even played some left field and second base for the Jays at the end of the season.
It's often said that Moreno's "value" comes from the fact he's a catcher that can really hit, but that "value" is relative. If the Jays need a super utility hitter who can fill in at any position and excel at catcher (kind of like Daulton Varsho?), then Moreno could definitely have value to the team.
Moreno isn't the same type of outfield defender as Daulton Varsho, but his ceiling is much higher, so why not keep him and fill in whatever role he needs? Moreno will definitely get at bats.
Furthermore, if Moreno does win the Rookie of the Year and he's still a top 100 prospect (which he should be), he'll earn the Jays a Top 40 pick, so that's another added benefit.
Of course, a trade may still happen:
While it is fine if the Jays keep all three of their catchers, it doesn't mean that they aren't done trying to trade one of them.
In Ben Nicholson-Smith of Sportsnet's latest article, he notes that while the options have dwindled down, the Jays may actually have more leverage as their three catchers are more appealing than the free agents available. Granted, I'd be interested in Austin Hedges as a replacement for Danny Jansen if he's the catcher moved.
It's also noted that while the catching depth is a surplus, the Jays are perfectly fine with keeping all three catchers.
Either way, it'll be exciting to see what the roster looks like coming into spring training!
As always, you can follow me on Twitter and Instagram @Brennan_L_D.
---