The Blue Jays might not be buyers come trade deadline time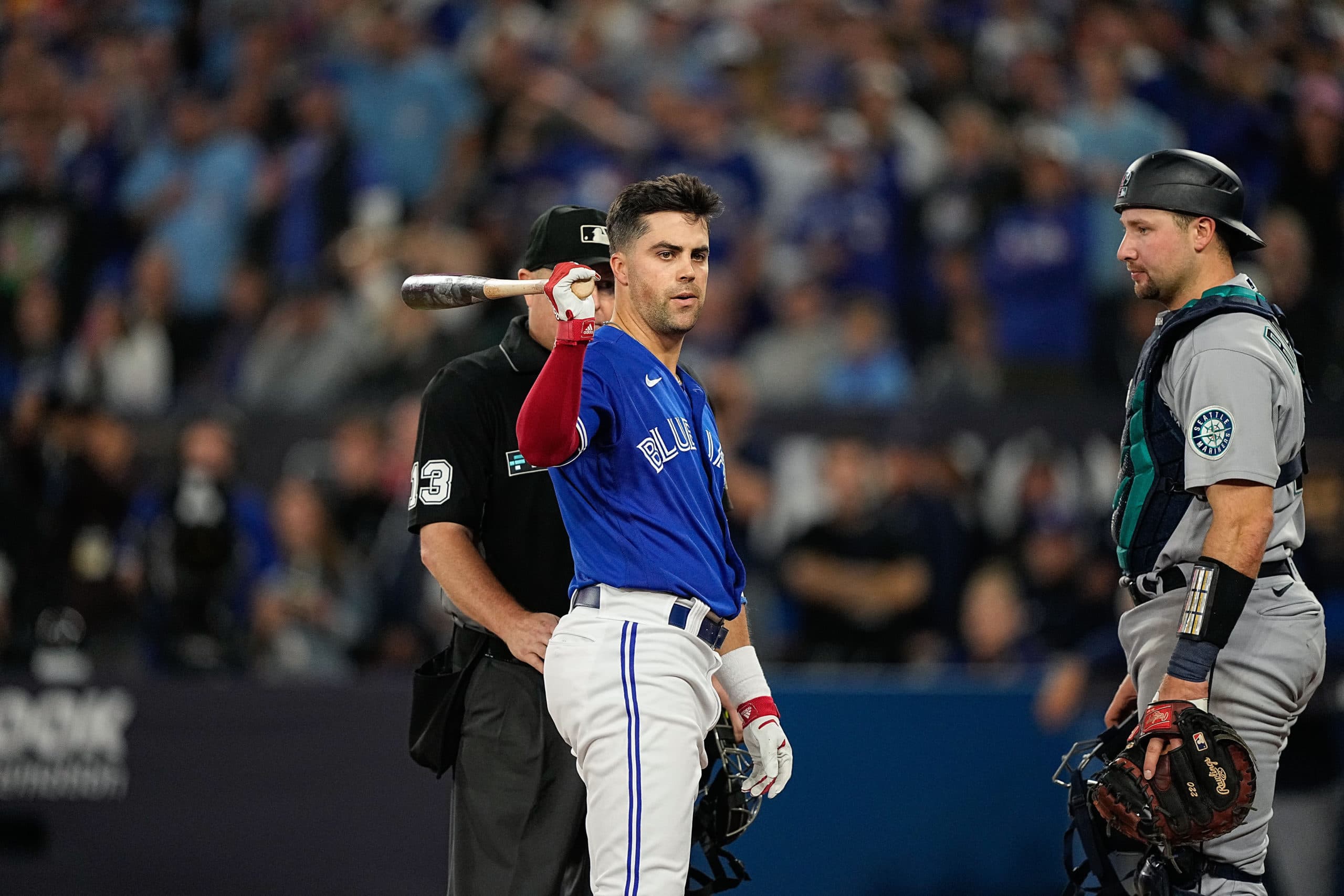 Photo credit:John E. Sokolowski-USA TODAY Sports
With an embarrassing loss to the Miami Marlins on Monday evening, one question must be asked.
Are the Blue Jays really buyers? Despite playing poorly for the last week or so, Toronto only remains about a game outside the final wildcard position.
With that being said, I can think of several reasons why it may be ideal to move a few players for prospects this deadline.
The Blue Jays have quite a few expiring free agents:
By my count, there are three players set to become free agents by season's end, with two more players having an option for the 2024 season
Whit Merrifield
is slashing .305/.364/.393 with two homers in 264 plate appearances for a 115 wRC+. His 1.4 fWAR ranks fourth on the team for position players. He is the player with the mutual option, which is $18,000,000 for next season. The Jays will decline this, allowing him to become a free agent.
Matt Chapman
is the most notable free agent who's having a great season. He's slashing .261/.339/.451 with nine homers in 298 plate appearances for a 119 wRC+. Even if the Blue Jays don't move him, they'll likely give him a qualifying offer, meaning he'll get a compensation pick.
Kevin Kiermaier
has been great for the Blue Jays this season, slashing .277/.333/.440 with four homers in 202 plate appearances. His 1,5 fWAR ranks third for Blue Jays position players, while he also has an 11 Defensive Runs Saved and a 7 Outs Above Average in centre field this season.
Brandon Belt
is currently on the 10-Day IL, but was having a great offensive season with the Jays. He's slashing .263/.378/.434 with four homers in 180 plate appearances for a 130 wRC+. Furthermore, this was on top of one of the worst starts to a season in franchise history.
Yimi García
has a $5,000,000 club option for 2024, but has had a poor season so far. He has a 5.64 ERA and a 4.00 FIP with a 27.3 K% and 6.5 BB% in 30.1 innings pitched. Teams trading for García would be buying for his 2022 season, where he had a 3.10 ERA and a 3.47 FIP. Moreover, he has a career 3.70 ERA and a 4 FIP, so he's a solid pitched.
Furthermore, Hyun Jin Ryu and Chad Green are on expiring deals/deals with options, but both may not be back before the trade deadline, so they may not even be allowed to be traded.
Trading big leaguers at the trade deadline doesn't necessarily mean you're selling:
Last season, the 52-51 Baltimore Orioles traded Trey Mancini and Jorge Lopez to contenders for prospects.
In return for Mancini, they received Houston's #12 prospect Chayce McDermott, who has a 2.47 ERA and a 3.70 FIP in 58.1 innings pitched in Double-A this season. They also received the Rays then sixth-ranked prospect, Seth Johnson, who had a 3 ERA and a 3.77 FIP in 27 innings last season in High-A.
As for the return for Jorge Lopez, they received Yennier Cano, who has a 0.99 ERA and a 1.98 FIP in 36.1 innings pitched with the third-best team in the league (you know, the Baltimore Orioles that sold last deadline). They also received three other prospects.
So the 52-51 Orioles who were just 2.5 games out traded two players, an expiring free agent and an overachieving reliever for high-minor prospects and a key piece to the much better 2023 Baltimore Orioles.
The situation is a little bit different, Baltimore had no expectations in 2022, while the Blue Jays have a ton in 2023. The Orioles also traded Lopez, who had two seasons of arbitration remaining, while the Jays may not be willing to part  with a guy like Tim Mayza this deadline.
That's just one example though, the New York Yankees have traded big leaguers while contending, and so too have the Los Angeles Dodgers by giving up Mitch White for the intriguing Nick Frasso.
Still, they realized that a run in 2022 wasn't likely, so they retooled for the 2023 season, and it's looking like the smart move.
Their farm system has some room for improvement:
This isn't to say that the farm system is awful, because it isn't. However, aside from Ricky Tiedemann, they lack that potential all-star talent in the minor leagues.
The Jays have a bunch of position players who have major league futures and can help supplement contenders. These players include Spencer Horwitz, Davis Schneider, Orelvis Martinez, and a few others. But after Gabriel Moreno graduated, and Orelvis Martinez fell off the list, the Jays haven't had a Top 100 prospect according to MLB Pipeline, and they may not for a while.
Their pitching depth in the minors is a little bit better, as they picked a whole bunch of pitchers in the 2021 draft. As it stands, Ricky Tiedemann is their only Top 100 pitching prospect, but Brandon Barriera could be there soon as well. Yosver Zulueta ranked on a few Top 100 lists, but has had a tough start to his season.
With that being said, there are still a lot of pitching prospects in the Jays organization who may develop into major league talent, especially in the bullpen. T.J. Brock, Mason Fluharty, Hagen Danner, and loads of other relievers have impressed in 2023. Starters like Sem Robberse, Adam Kloffenstein, and Chad Dallas have also had strong seasons.
Still, with all the expiring free agents the Blue Jays have, they have a chance to potentially move a few to help improve the depth of the farm system.
Will the Jays sell:
More than likely not. This is
hopefully
just a cold stretch where everything is going wrong at the same time. They're still in the hunt for a playoff spot and there's still plenty of time to turn it around.
However, it's not the worst idea for the Blue Jays to retool this deadline. For example, they could move Whit Merrifield for prospects, while giving a guy like Davis Schneider a chance at the big league level. Or potentially trading Brandon Belt to give Spencer Horwitz major league plate appearances if he does well in his current stint.
With the expectations that they have for this season, it doesn't seem likely that the Blue Jays will sell, but maybe, just maybe, it could help in the long run.
---
As always, you can follow me on Twitter and Instagram @Brennan_L_D.
---