The Blue Jays played a big role in Gerrit Cole's Cy Young season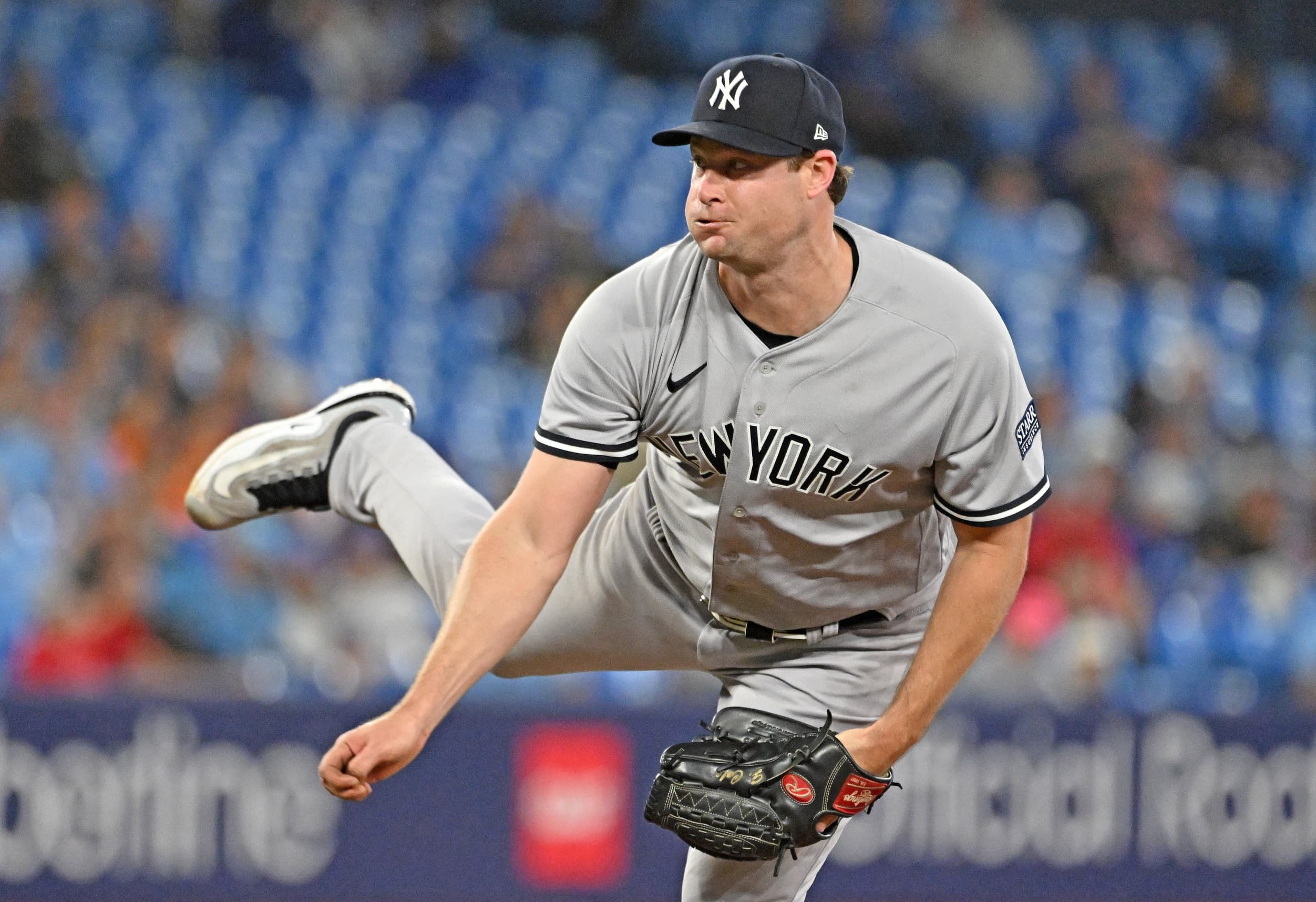 Photo credit:© Dan Hamilton-USA TODAY Sports
Gerrit Cole locked up the American League Cy Young with his win over the Blue Jays last week and he added an exclamation point in his final start of the season.
New York's $324 million man completely dominated the Blue Jays on Wednesday evening, surrendering just two hits and zero walks over a complete game shutout. Toronto's only hits came from Brandon Belt, a double and a single.
Cole's complete game shutout over the Blue Jays was his second of the season and it lowered his ERA to 2.63, the best in the American League and second in baseball behind only Blake Snell of the San Diego Padres. Cole also leads the AL with 209 innings pitched and sits third in strikeouts with 234.
After finishing as the runner-up in Cy Young voting to teammate Justin Verlander in 2019 and Robbie Ray in 2021, Cole will certainly earn his first trophy for the league's top pitcher this season. The Blue Jays put a wrench in Cole's Cy Young chances in each of the past two seasons but that wasn't the case this year. His dominance of Toronto in 2023 was critical to posting the lowest ERA in the AL.
Cole made four starts against the Blue Jays and allowed only one earned run over 28 2/3 innings. He scattered 15 hits, walked only four, and struck out 24. New York's ace had seven starts without an earned run and three of them came against the Blue Jays. The only time the Blue Jays scored off of Cole this season was when Matt Chapman hit a double and reached home plate on a wild pitch.
The Blue Jays are still in a playoff spot but back-to-back shutout losses to the Yankees has fans worried about how the team's bats will perform against high-quality pitching in October. No matter how well the Blue Jays pitch, they won't win any games when scoring zero runs.
"I mean, it's going to be tough, right? Whenever you're playing at this time of year or into the post-season, you're facing really good pitching," Blue Jays manager John Schneider said. "There are ways to take advantage of that, whether you get on base and use the running game like we did in Tampa or string some hits together or try to do some damage. There were some good at-bats strung together throughout the game and a couple of balls that were just missed, a couple of deep counts and just didn't really hit the pitch that we should.

"Going forward, you have to continue to, for one, trust the guys that are here and understand that they are a really good team and you have to really take advantage of mistakes, is the biggest thing. There are nights that you do it, there are nights you don't and the last two nights are the latter."
---