The Blue Jays should be all-in for Shohei Ohtani, but not until the off-season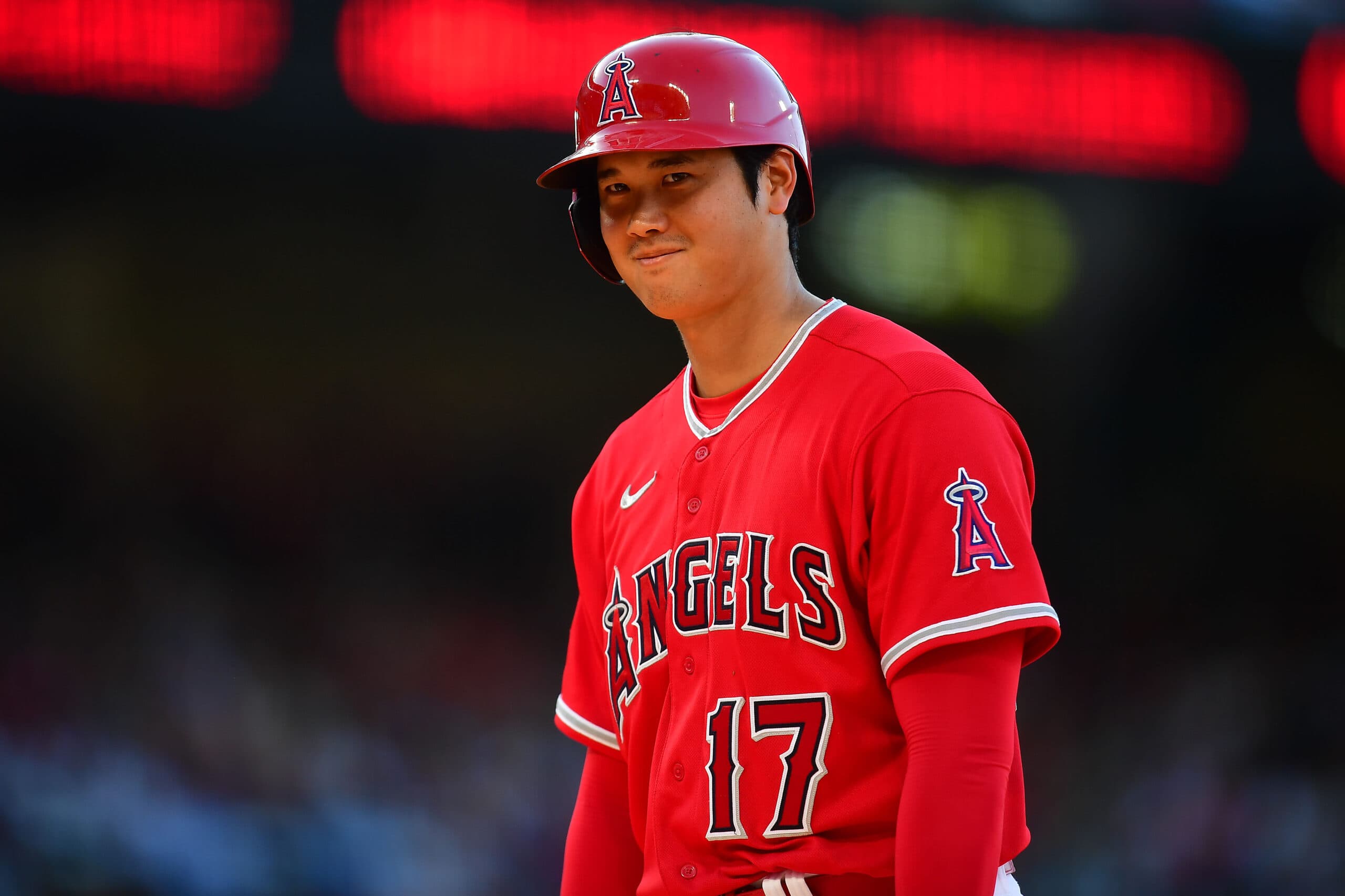 Photo credit:Gary A. Vasquez-USA TODAY Sports
When all is said and done, will Shohei Ohtani be the best player to ever play this sport?
While he may not be the best with the bat, nor as a pitcher, to be All-Star calibre at both positions is something that hasn't happened since Babe Ruth did it in the early 20th century (and that was against plumbers!)
Adding Shohei to a contender instantly makes the team significantly better… but maybe not in the long term.
This season, the 29-year-old superstar is slashing .299/.398/.668 with 36 homers in 445 plate appearances for a 183 wRC+. He's already tied a career-high in batting fWAR with 5, and he's on pace to break his career-high in home runs of 48.
In terms of pitching, he's been alright. He has a 3.71 ERA and a 4.29 FIP in 111.2 innings pitched, along with a 32.2 K% and a 10.2 BB%. While he's been solid, it's been his worst season to date (minus the 1.2 innings he pitched in plague season). In contrast, 2022 was his best season, where he had a 2.33 ERA and a 2.40 FIP in 155 innings pitched for a 5.6  pitching fWAR.
The Japanese Superstar has been linked to the Blue Jays as a potential target at the deadline. However, it's not worth it, and here's why.
Never unload the farm for a rental:
The Blue Jays don't have the best farm system in reality. The 2023 draft definitely helped, but they have at most three top-100 prospects (Ricky Tiedemann, Orelvis Martinez, Arjun Nimmala). To get Ohtani, you're looking at trading Tiedemann and Martinez, as well as a slew of other good prospects. Not just that, but they'd potentially have to give away major-league talent, like Alek Manoah or maybe even Alejandro Kirk.
While that may give them a much better chance to win the World Series in 2023, we've seen that once you're in the playoffs, you can win. Look at the Philadelphia Phillies last season, or Atlanta the season before, or even the Washington Nationals back in 2019. Those teams weren't necessarily the best teams, but they got hot at the right time.
Ohtani definitely gives them a better chance, but is it worth shortening your long-term window of contention for a rental?
The Shapiro-era Blue Jays just don't go all in on rentals:
Name a rental that the Blue Jays have traded for since Mark Shapiro became the President and CEO of the Blue Jays. They've had a few, such as Taijuan Walker and Jonathan Villar, but that didn't cost them much in terms of prospects.
The biggest trade they've made was for José Berríos in 2021, where they sent two top 100 prospects (Austin Martin and Simeon Woods Richardson) to Minnesota. However, Berríos had a season and a half of team control remaining on his contract. The Jays wouldn't have that luxury with Ohtani.
What I'm saying is that this regime hasn't made a huge move for a r0ental like Alex Anthopoulos did for David Price at the 2015 deadline. While that trade worked out for the Jays, an Ohtani trade would cost even more, and I just don't see them making that move.
He's a free agent at the end of the season:
All this isn't to say that the Blue Jays shouldn't be in on Ohtani. In fact, they should be
all in
on the 29-year-old. However, a better time to go for it would be during the off-season, when he'll become a free agent.
It's pretty evident that Ohtani will get the largest contract of all time considering what he's been able to do these past three years. Thankfully, Rogers has a ton of money, and the team hasn't been afraid to use that money over the past few seasons.
Not only that, but it'd keep the farm system intact, as at most, they'd lose their second-round pick if he stays with the Angels. If Ohtani is traded, it would literally cost the Jays nothing in terms of prospects. Hopefully, he doesn't go to an American League team though!
Would you rather:
So let me pose this question: Would you rather have two months and a playoff run with Ohtani, while significantly weakening your farm system for long-term contention with the chance of the two-way player leaving?
Or would you rather Rogers spend the big bucks and potentially lose a 2024 second-round pick to sign Ohtani to the largest contract in history while keeping the farm system for long-time contention?
The answer is pretty clear to me.
---
As always, you can follow me on Twitter and Instagram @Brennan_L_D.
---