The Bradley Zimmer era has come to an end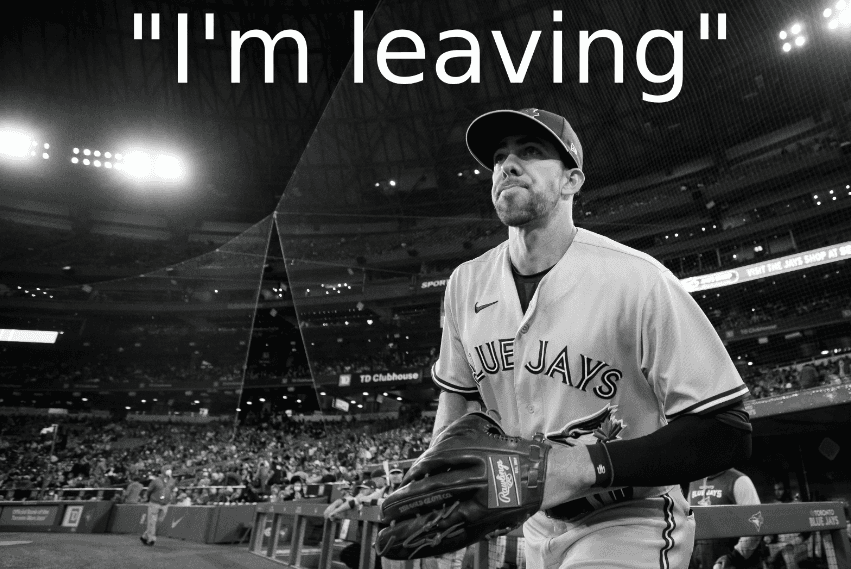 Ladies and gentlemen, Bradley Zimmer is no longer a Blue Jay.
According to The Athletic's Fabian Ardaya, the Los Angeles Dodgers have signed Bradley Zimmer to a minor league deal.
Simply put, the 30-year-old centre fielder looked lost with the bat with the Jays. In 101 plate appearances (in 100 games!), he slashed .101/.200/.213 with two homers. Notably, one was off the 2022 American League Cy Young winner, Justin Verlander.
Unfortunately for Zimmer, he was never able to put it together with the bat. He was never going to hit for average, but when Zimmer gets a hold of a pitcher, he has some pretty insane power. It wouldn't surprise me if he goes on a tear in the Pacific Coast League in 2023, as the Triple A league is known for high elevations in certain cities.
While Zimmer was
bad
with the bat, he still provided value for the Jays. Zimmer was the Jays' fifth outfielder, providing plus defense (2 Defensive Runs Saved, 3 Outs Above Average). 
Another aspect Zimmer brought was elite speed. While he didn't steal many bases either, he was in the 93rd percentile for sprint speed according to Baseball Savant. When he came in as a pinch runner, that speed allowed him to go first to third on a single, or score from first on a gapper.
Zimmer's tenure with the Jays was interesting, to say the least. The majority of his games weren't starts, but defensive replacements or in a pinch runner situation. He was also claimed off waivers by the Philadelphia Phillies, before the Jays reclaimed him on August 29th. The photo header is an homage to the "I'm back." picture I created for the re-acquisition to Bradley Zimmer.
It never seemed likely that the Jays were going to re-sign him, but who could possibly be a replacement for Slim Zim?
Chavez Young:
The most direct replacement for Zimmer in the farm system is Chavez Young. The 25-year-old centre fielder slashed .234/.331/.350 with five homers in 248 plate appearances with the Buffalo Bisons last season. He also had an impressive 12.1 BB% and 23.4 K% with the Jays Triple A team.
Interestingly, that was Young's first season at any level with a wRC+ below 100 (he finished with an 86 wRC+). Dating back to 2021 with the Double-A New Hampshire Fisher Cats, he slashed .265/.350/.409 with seven homers in 324 plate appearances for a 109 wRC+.
Where Young excels is with his defense. It's harder to quantify defense for minor leaguers, but just watch this play from a Buffalo Bisons game.
While he showed off insane range and a very, very strong and accurate arm, he was only playing in left field. What about a play in centre field? Well, this catch shouldn't be humanely possible, yet Young makes it look easy.
And yes, he showed off his incredible arm in centre field in the clip below.
While Zimmer is fast on the base paths, he's not really active (i.e, doesn't steal many bases). The same cannot be said for Young, as he stole 20 bases in just 65 games, only being caught once.
In the tweet above, I complied every single cool thing Young did up to about mid-August. He's an incredibly fun player and is a fan favourite for whichever team he plays for. Not just that, but he has more upside with the bat than Zimmer, and his defense and speed are comparable. He is a good bet to fill the fifth outfielder role at some point in the near future.
A final goodbye:
We here wish nothing but the best for Bradley Zimmer. Despite some flaws with the bat, he is a valuable player, and it wouldn't be surprising to see him in the majors at some point next season. Thank you for the memes, and thank you for the fantastic defense you provided.
As always, you can follow me on Twitter and Instagram @Brennan_L_D. While I was searching for my videos of Chavez Young, I found a tweet stating he'll be playing for the Indios de Mayaguez in the Puerto Rican Winter League. So if you need to fix a baseball craving, you can watch most games on their Facebook page.
---