The Deal that Toronto Needs to Get Done Before Opening Day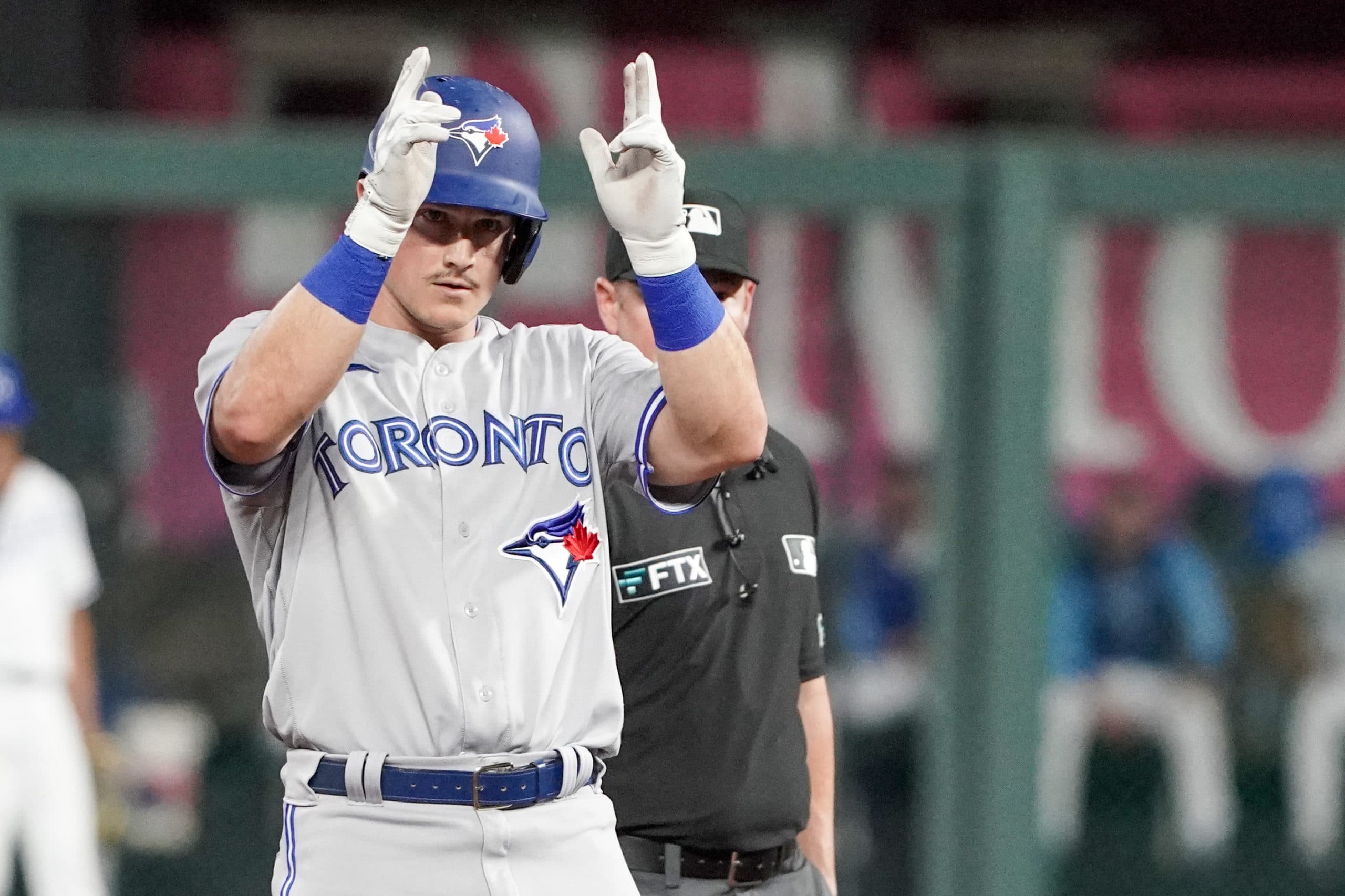 Photo credit:Denny Medley-USA TODAY Sports
I was already thinking about this column for the last couple of weeks before
Scott & Adam
brought it up last week but I'm going to write it anyway.
With the "other shoe" having dropped in major fashion on Friday, the shape of the 2023 Blue Jays' roster has largely come into focus, whether or not one feels the need to add a 4th outfielder (ironically, the guy who's an ideal fit for that role is one Randal Grichuk – we're paying him anyway! – wonder if they'd send him back for Trent Thornton or Trevor Richards?) or just let Merrifield and Biggio take up that slack. But that doesn't mean there's not some housekeeping to see to.
It's true that everyone is jonesing for the Jays to work out long-term deals for Vlad and Bo, and some even suggest Alek Manoah (which seems a little premature to me) but there's another player closing in on free agency, the one remaining key player who has just one season of control left, that needs attention first: Matt Chapman. I'm prepared to argue that if they can by any reasonable means avoid letting him hit the market, it should be as of now their top focus for the rest of this off-season. Of course, this discussion immediately provokes the question – at what cost? Well, that's a tricky question – let's dig into it.
The major impediment here is that Chapman is represented by Scott Boras who is by reputation LOATH to sign away a player's free agency before reaching the market, so all of what follows is dependent on convincing Chapman that this is where he wants to be and they want him enough to pay him what's fair. Beyond that obstacle, the tricky bit here is that we tend to guess at potential contracts based on comps to similar players and similar deals and, well, that got more crazy-hard this winter than it had ever been before. Matt Chapman will hit free agency (as of now) heading into his age 31 season.
Ideally, you'd like to be contracting for his age 31-35 seasons (since his primary calling card is defense and defense typically starts slipping in your mid-30s) so those are your starting point filters. Over the last three seasons, which is the typical comp for "current abilities," he's been a solid 4 fWAR player consistently, with most of that value coming via the defense. So as you filter comps you look for players of a similar age and similar production level and, to some extent, not one that's heavily loaded towards offense which tends to get paid more. Ideally, someone at the same position or one of similar value. But when you plug in all those filters an ideal comp fails to appear. Here are some of the possibilities.
Over the last three seasons, Chapman's fWAR are 4.1, 4.1, and (all 2020 fWAR totals are prorated) 4.4 so for cumulative productivity, that's our working baseline. So if you start at the top, the premium, gold standard, future hall of fame talent is Nolan Arenado. The only man with a DWAR higher than Chapman's over the last three seasons and close to twice as much OWAR. So from the jump, even with the recent inflationary spike, you'll have no reason to expect that Arenado is a good comp for Chapman. Moreover, he was 3 years younger when he signed which leads to a longer deal and a more expensive one given you're buying more "prime" years. During the portion of the deal that covers his age 31-35 seasons, he'll make $164mmand the AAV on that is almost 33 million a season. To be honest, until this winter there was a fair argument that, as good as he is, that was still something of an overpay. But be that as it may – I'm going to consider that the very high ceiling. We shouldn't expect to get close to that.
Now, if you're just speaking of "the gold standard for 3B" in terms of the offensive side of the game, that's Jose Ramirez. He signed a seven-year deal before the 2022 season, going into his age 29 season, so in that sense, we have a better comp. He put up 17.6 fWAR over the three-year period preceding the deal. So on average close to half-again more than Chapman's value. All that said, his deal was universally regarded as very team-friendly so while one might reasonably suggest Chapman shouldn't make more AAV than Ramirez, the hometown discount does make the comp somewhat more complex. Ramirez is set to make $105mm over his age 31-35 seasons.
Even more tricky is Manny Machado. He was going into his age 26 season when he signed with the Padres (in a sense, he'd be in the cohort you'd look at when you tried to suss out Guerrero's potential extension in a year or two) That contract was for 10 years but had an opt-out, which he will surely exercise next winter, after five years. The first half of the deal added up to $140mm (28 AAV) thanks to a discounted first season. The second half pays $32mm each year. If he opts out one would assume he can add at least $100mm in total value to the existing deal. Because he was signed so young, a comp is basically impossible. But he'll also be going into his age 31 season when he opts out, and his last three seasons (as of now) have him about 6 fWAR on average so like Ramirez, about half-again more valuable than Chapman. These things are not linear of course but you'd assume and expect he'll get a much better contract.
Austin Riley's on the leaderboard but Atlanta signed him to a long-term deal at such a young and inexperienced point that he can't really factor into this discussion. Rafael Devers will hit free agency next winter going into his age 27 seasons so I imagine he'll be looking at the original Machado deal as a floor. Alex Bregman was extended going into his age 26 season, which was signed as he was coming off back-to-back 8 fWAR seasons. I don't know how to make a comp with him work at all.
Finally, among 3B, famously late blooming Josh Donaldson was signed to his first big long-term FA deal going into his age 34 season. In his age 31-33 seasons he accumulated 13.4 fWAR (an average of 4.5 per year pro-rating his injury plagued 2018). Production-wise, that's a pretty good comp despite the age difference. Like Ramirez, it's offense heavy but in the two healthy years, he was over 5 fWAR and might reasonably have been perceived as more valuable than Chapman is now, apart from age.  His four-year average AAV was $21mm. Of course, that deal will be four years old by the time Chapman is set to file for free agency.
Shifting to the highly inflated deals this winter, most notably the "Big 4" shortstops who will be 28, 29, 30, and 30 next year. Their AAV range from 25.29 to 27.27 which, yes is somewhat suppressed by the irrational length of some of them (notably Swanson's is only 7 years) but I think still serves as a reasonable ceiling. All of them have 5, 6, 7+ WAR seasons in their recent history, and SS is generally considered more valuable than 3B. But here's another comp, if we want to step slightly outside the box.
There's a player who was signed this winter who plays a premium defensive position and has a solid (though not as good as Chapman's) reputation for quality defense (albeit the metrics suggest most of his value comes from offense, the reputation is still there). That player, a certain CF named Brandon Nimmo, signed an eight-year deal for $162mm This, my dear readers, is your comp. He's going into his age 30 season, and he's signed through age 37 which is sub-optimal, but after this season he gets $20.25mm each year thereafter. It's reasonable to think that in terms of AAV, Chapman's agent would see this as a floor.
So what can we assume? Nimmo as a starting point of reference, though hopefully a shorter term. Donaldson's AAV is something you'd want to clear just because of the elapsed time and the relative age. On the other hand, with a defensive-heavy profile he's not going to be viewed as the Big 4 shortstops were (particularly not in a market where Machado and Deavers are out there too) so we're not going that high, let alone the neighbourhood of Arenado and Machado's current deals.
The team clearly highly values him, he seems to be pretty attached to being here, and they just signed a former teammate pitcher who specifically cited his presence as a reason to be here. So here's my proposition: Include the current deal for 12.5 for AAV moderation, add a half-million for a signing bonus and five years totalling $110mm for a six-year deal at $123mm (20.5 AAV). The average is slightly lower than what I've discussed but the actual extension would pay $22mm a year and THAT is the "new money" in the deal which is the point of the contract. Plus, in any case, if you have to adjust that up a million, a million plus, it's well worth it if you end up on that low-20 neighbourhood. Also, you could if you wanted front load it some. for example, run this year's deal to 16, then do 25 twice and then three at 19 to give yourself a little extra room when it comes to the bigger extensions for Vlad and Bo. But that's getting into the weeds too far to be worth speculation.
I should also add that as with this year's deals, you may find that you have no choice but to add a year or two on the end that you wouldn't ideally have chosen to before. This will be somewhat mitigated by the ongoing salary inflation. As we can tell by looking at Gausman's contract, market escalation can make a contract look very good pretty quickly. We can safely assume that $22 million (or 23 or whatever) will be much more ordinary in 2030 than it is in 2022. Point is, it can be done unless he or his agent (Scott Boras, which, ugh) are absolutely committed to reaching free agency and not particularly inclined to prefer to stay put. So I guess I should really be asking "Will Chapman overrule Boras or heed him?"
Still, gotta try!
---