The Gold Glove case for Vladimir Guerrero Jr.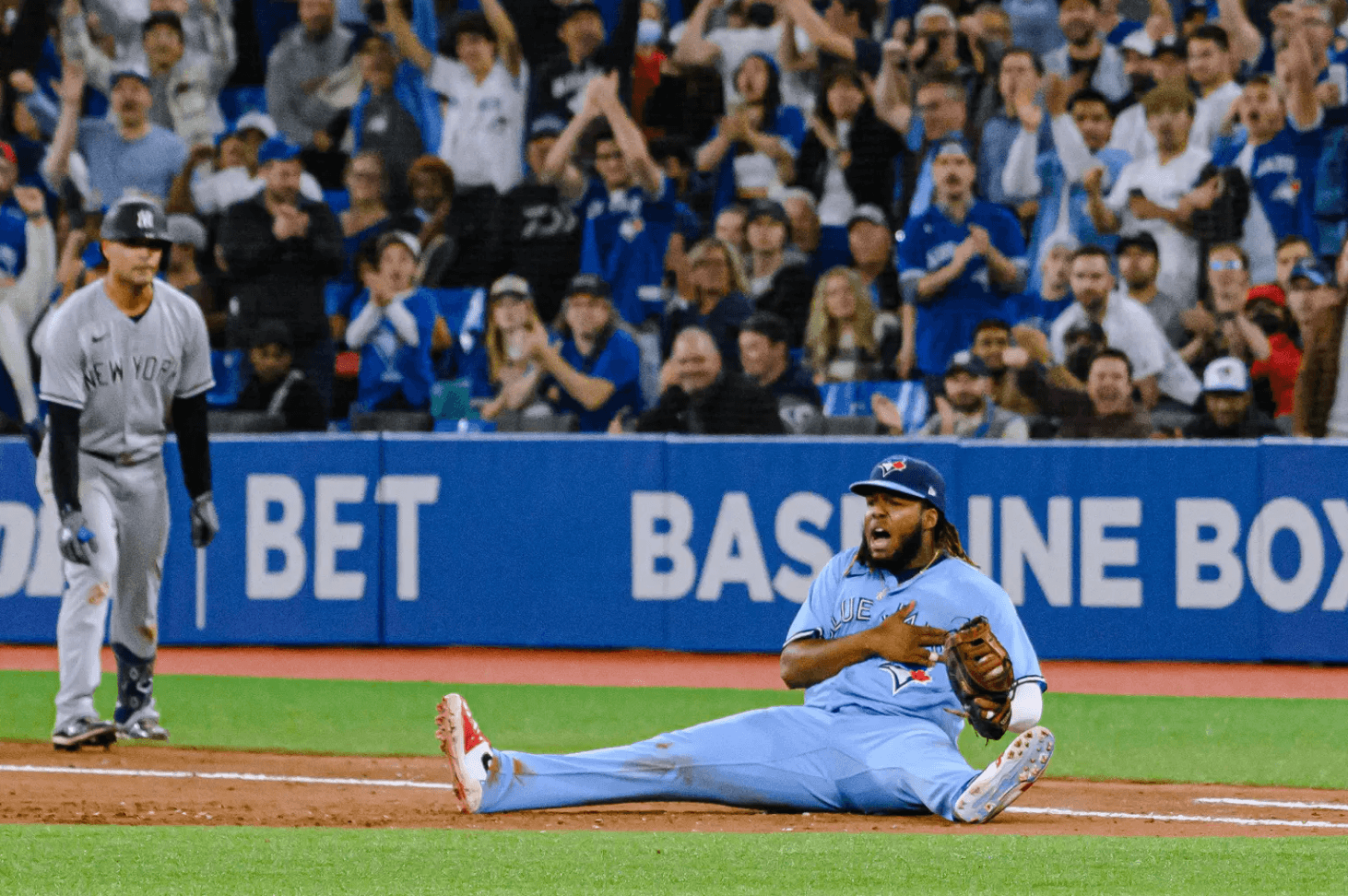 Vladimir Guerrero Jr.
has taken a step back at the plate in 2022. His production has ultimately dipped from an MVP-calibre 166 wRC+ to a still-very-good 142 wRC+ as he's drawing fewer walks and hitting fewer home runs than he did in 2021.
However, Guerrero Jr. has made significant strides defensively at first base that have made up some of the value he's lost offensively. In fact, given these developments, he's well within the running to receive his first Gold Glove Award at first base.
This would be quite the accomplishment for someone who fairly recently moved across the diamond from third to first base. Guerrero Jr. only moved to first base full time in the abbreviated 2020 season. Despite first base being a move down the defensive spectrum from third, it's still a position that's notoriously harder to master than it may appear…
Using Statcast's Out Above Average, (
OAA, which is a range-based measure that uses data on where each fielder is on the field to assess how many outs a player has saved based on where the ball was hit, how hard the ball was hit, where they and their teammates are positioned, where baserunners are and how much time a player has to make a play
) Guerrero Jr. has gone from a mark of -2 in 2020, then -3 in 2021 and now sits at 0 in 2022. This is a good improvement to break even in this metric in 2022. This show a nice progression towards improved play at first base.
Moving on to Ultimate Zone Rating, (
UZR
, also tries to measure a player's entire defensive contribution by looking at how many runs they have prevented by taking into account errors, double plays made, range, and outfield arm) Guerrero Jr.'s progress is less clear. He has gone from a -1.8 mark in 2020, to 1.8 in 2021 and now has a -0.8 value so far in 2022. So, he is not quite at the same levels in this metric in 2022 as in 2021, but he's still improved from 2020.
One thing to consider is that most defensive metrics do not take into account infielder arm strength. This is an area where Guerrero Jr. stands out as a converted third baseman whose main defensive skill at that position was a very strong throwing arm.
We've seen this talent on display making cut-off plays or in throwing out over-zealous runners after shallow hits and errors in 2022. This is a defensive skill Guerrero Jr. has that is quite rare for first basemen and is a real feather in his cap as a defender at the position. These metrics also do not take into account the stretches and digs Vlad Jr. has made many times in 2022 as both Bo Bichette and surprisingly Matt Chapman have had bouts of inconsistent and off-target throws from across the diamond. Those plays, along with some wonderful over-the-shoulder catches in the outfield and Rogers Centre's large foul grounds, can make up the highlight reel portion of Vlad Jr.'s Gold Glove case…
Table 1. Advanced Defensive Statistics from FanGraphs
Finally, we have Defensive Runs Saved (
DRS
is very similar to UZR, but with a slightly different formula, but still uses catch or out probabilities on balls hit to assess runs saved defensively), which is where Guerrero Jr. has made the greatest strides and the clearest case for Gold Glove consideration in 2022.
He's gone from posting a DRS of -4 in 2020, then 2 in 2021, and to date, he has saved 6 runs at first base so far in 2022 according to DRS. This is the clearest data we have that shows a significant progression in Guerrero Jr.'s defence. It also allows him to stand out statistically amongst the first baseman in the American League defensively. Most of the other metrics I have cited, as well as errors, are mostly bunched together amongst American League first basemen, but Vlad Jr. stands by himself in DRS. At 6 runs saved he is 3 runs clear of
Carlos Santana
who is second in this metric with a DRS value of 3 in non-everyday time at first base from Santana. But how is Vlad Jr. doing it?
Well according to
Baseball Reference
, Guerrero Jr. has perhaps counterintuitively cut down on his range factor at first base. This may explain some of his regression in UZR. It could also help with his step forward in DRS and OAA, when considering their differing formulas compared to UZR. Guerrero Jr.'s range factor per 9 innings (RF/9, put-outs, and assists per 9 innings) has steadily crept down from 8.64 in 2020, to 8.44 in 2021 and now 8.04 in 2022. As Vlad Jr. has become less active at first base, so to have his defensive metrics improved. It may be odd that an infielder curtailing their range could improve their defence. But this change may help to address one of Vlad Jr.'s major issues in adjusting to life across the diamond. One of the major issues, when Vlad Jr. started playing first base, was his tendency to jump out too far at balls to his right that he could not make a play on, and in turn, he would take himself too far from first base to receive the throw from another infielder who could get to those balls.
This is an understandable instinct from someone who predominately played third base in the minor leagues and represents a habit that could take time to break. However, by cutting down on his range to his right, Guerrero Jr. could be giving himself more opportunities to finish off put-outs and avoid errors in order to improve his defensive performance. Those split-second decisions where Vlad Jr. is deciding against attempting the spectacular to his right in order to take care of business to his left may not make his highlight reel in favour of his Gold Glove case. But they do allow him to avoid the blunders that could sink his case and make the impressive stretches that will make up his strong claim to defensive hardware in 2022.
All stats from FanGraphs unless otherwise stated
---