The legend of Davis Schneider grows as Blue Jays complete a sweep of Red Sox with a 13-1 pounding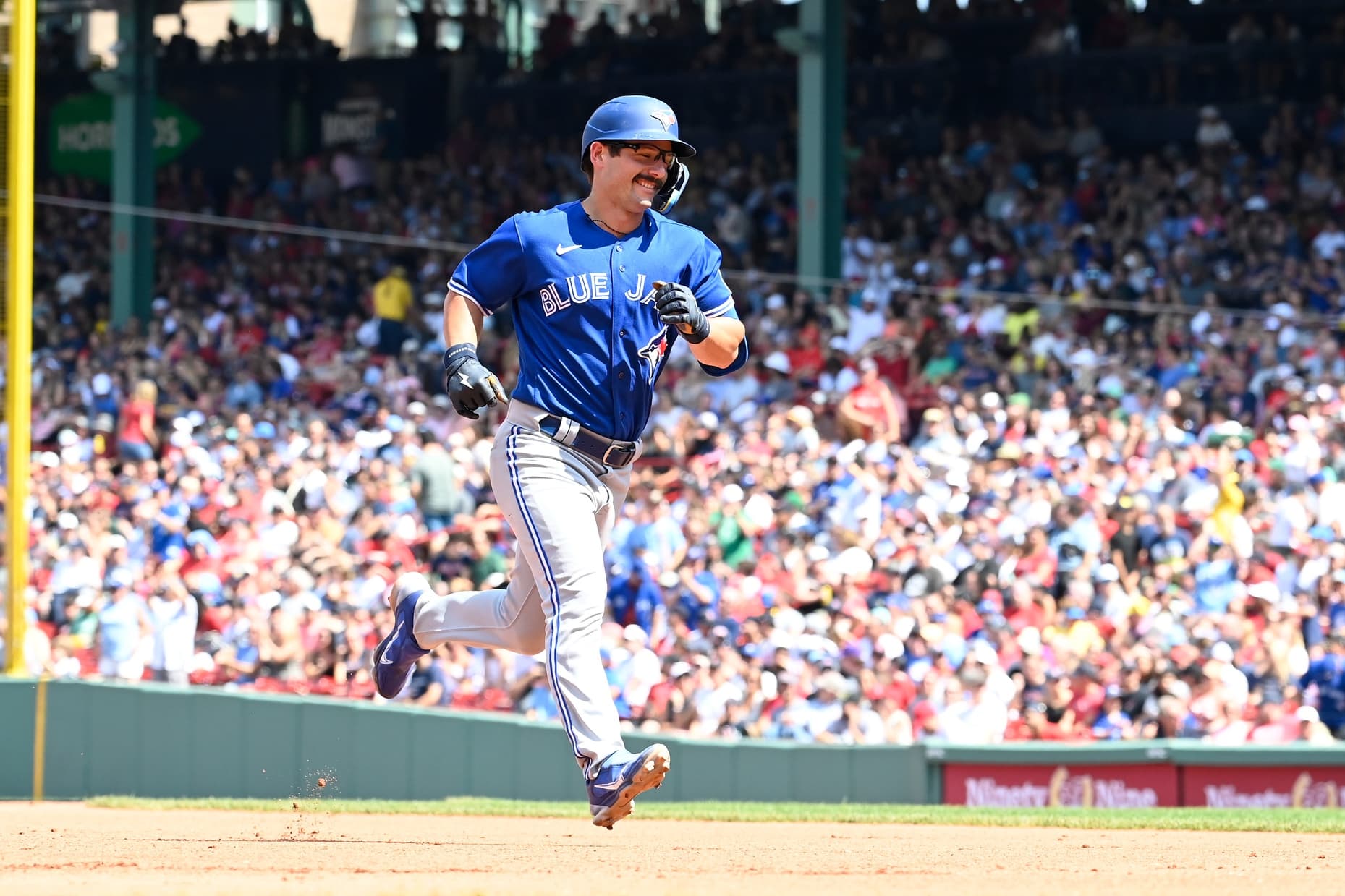 Photo credit:© Eric Canha-USA TODAY Sports
Last season, the Blue Jays swept the Red Sox immediately out of the All-Star break, a series that included the record-setting 28-5 win.
Despite still mathematically in a playoff race, the writing was on the wall that Boston's season had pretty much been decided at the conclusion of that series. This season, Boston has asserted their dominance over the Blue Jays for the majority of the year, but this weekend's sweep may have the same effect on Boston as last year's did, especially if Alex Cora is experiencing the worst days of his Red Sox career at the same time.
With Vladimir Guerrero Jr. out of the lineup today, the Blue Jays showed no issues offensively as they demolished Boston 13-1 and swept their first AL East series of the season. Davis Schneider hit his second career home run to continue an unbelievable weekend, and all nine starting hitters reached base at least once.
Things worth mentioning…
The Blue Jays scored first, putting together a string of hits in the third inning that included two-out hits and hits with RISP, a statement that makes Blue Jays fans swoon this year. Three consecutive two-out doubles from George Springer, Matt Chapman, and Cavan Biggio gave Toronto a 3-0 lead, with Kevin Kiermaier slapping an RBI single to left field two batters later to extend the lead.
The Blue added to their lead in the fourth inning as Davis Schneider smoked a two-run home run over the Green Monster. Schneider began to hustle out of the box, but as soon as he saw how far that ball was headed, he put it in cruise control. That home run traveled 425 feet, and he was greeted to bows from Kiermaier after his trip around the bases. In Guerrero's absence, Schneider was thrown all the way up to the third spot in Toronto's batting order. For the weekend, Schneider was 9-for-12 with two home runs, five RBIs, three runs, and a walk.
With his performance this weekend, Schneider sat in the crosshairs of many records. He became the first player in franchise history with seven hits in his first three games. He also became the first player in MLB history with nine hits and two home runs in his first three games.
The Blue Jays scored seven more runs in a multitude of ways throughout the remainder of the game. Springer was 2-for-5 today, bringing his series total to 7-for-12. Brandon Belt was 2-for-4 as well with his series numbers sitting at 4-for-8 with two RBIs and four runs. If Springer's bat is back on the rise, it couples very well with Schneider's offensive boost and an inevitable return from Bo Bichette.
Chris Bassitt had to escape some trouble in several of his innings today, but he did a superb job limiting the damage. Bassitt tossed seven innings allowing seven hits, one run, three walks, and six strikeouts. Once Bassitt ended the seventh inning, he signalled to John Schneider that he could go one more, but they elected to go with Bowden Francis and Jay Jackson for the final two innings. Nonetheless, Bassitt pushed his record to 11-6 and lowered his ERA to 3.87.
On a less positive note, Kiermaier had to exit the game in the sixth inning after running into the "chain fence" area of the centre field wall. He made a spectacular catch robbing Luis Urias of an extra-base hit, but his right arm scraped the fence on the way down. He was noticeably bleeding, so he exited the game with Daulton Varsho taking his place.
What's Next: The Blue Jays will travel to Cleveland to battle the Guardians in a four-game series. Hyun-Jin Ryu will get the start against rookie Gavin Williams.
---