The Mark Shapiro Era Draft Retrospective: 2018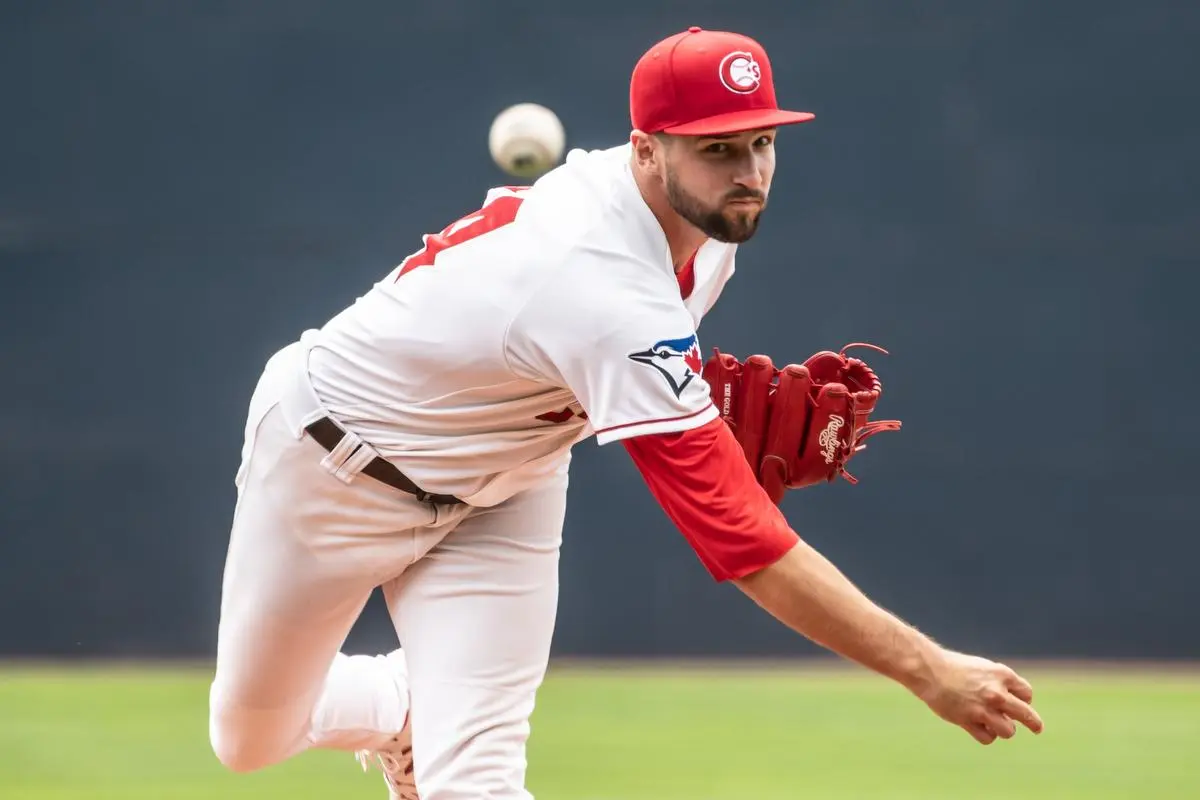 Photo credit:Mark Steffens
Although it feels like just a year ago, it's been over 4 years since the 2018 draft.
It has to be said that this was the current regime's most creative draft. They went underslot with their first round pick, just to go overslot with their third rounder.  Those two players also went to the same high school and were seniors at the same time, so this will be a pretty interesting article.
Jordan Groshans:
Selected with the 12th overall pick, the 22-year-old is the first player in this series to currently be on MLB Pipeline's Top 100 list. Let's look over each season of the utility player's career.
In 2018, he played for the two rookie league teams. He posted a .296/.353/.446 slash line in 207 plate appearances. He hit five homers between the two levels, a rather impressive display of power early in his professional career.
Moving on to 2019, Groshans was promoted to the Lansing Lugnuts in A ball. In 96 plate appearances, he slashed .337/.427/.428 while adding two homers. He had a K% of 21.9 (a career high), but walked 13.5% of the time, which is also a career high). In May, he had an undisclosed left foot injury, which ended his season prematurely.
Much like every single other minor league player, Groshans didn't participate in the 2020 minor league season, because there wasn't one. However, Groshans played at the alt site, where he refined his game at the plate, focusing on tweaking his swing as well as working on his approach at the plate, per TSN's Scott Mitchell. 
When the 2021 season rolled around, the then 21-year-old was promoted to Double A New Hampshire. Groshans put up solid numbers there, slashing .291/.367/.450 in 316 plate appearances (which was more than his previous three seasons). He added an additional 7 homers (a career high) and had a BB% of 10.8% and a K% of 19.3%.
Groshans missed the start of the 2022 season due to an oblique injury. After returning from a rehab start with the Dunedin Blue Jays, he joined Triple A Buffalo. So far this season, Groshans is slashing .275/.374/.335 in 214 plate appearances. He has added a homer and has a BB% of 13.1% and K% of 15.4%, the best split of his career.
If you want more of a scouting report on Groshans, which includes his lack of game power (so far), as well as how the Jays want to expand his versatility, check out these two articles:
Griffin Conine:
The 52nd overall pick in 2018 may not be a top prospect, but Griffin Conine is fun?
Why is Conine fun? Well, the 24-year-old hits nukes for a living. In 1341 plate appearances in the minors, Conine has hit 78 homers, which is quite a lot. With big power comes a high strikeout percentage.t, and Conine is no different. Throughout his career, he has a K% of 35.87%.
His career high in K% came in Double A last season, where he had a K% of
47.4% in 173 plate appearances!
He struck out 82 damn times at Double A, which is absolutely just crazy.
He has bounced back in Double A this season, slashing .255/.379/.473 with 13 homers in 293 plate appearances. What's more is that his K% has dropped from an insane 47.4% to a very high 36.2%, but it's progress!
Conine currently ranks as the 24th best Marlins prospect, below are his grades:
Hit: 40
Power: 55????
Run: 40
Arm: 60
Field: 50
Overall: 40
He ranks as Fangraphs' 22nd best Marlins prospect, below are his grades, with present value on the left and future value on the left:
Hit: 20/20
Game Power: 50/60
Raw Power: 80/80!!
Speed: 45/40
Field: 45/50
Overall: 40
Like I said, he's a fun prospect. Will he make the big leagues? I have no idea, but if he does, I can see him putting up a season with 40 homers before the league figures him out.
Lastly, you may be wondering how he ended up on the Marlins. On August 31st, 2020, the Jays traded a player to be named later (Conine) for Jonathan Villar. This is automatically a loss after Villar walked out on the team during the 2020 playoffs, but Conine has the opportunity to make the bigs, so this may sting even more in a few seasons if the 24-year-old can start to make contact.
Adam Kloffenstein:
When I evaluate prospects, I tend to factor in statistics more than other evaluators may. However, Kloffenstein, who was chosen with the 88th overall, is one prospect who has a pretty high ceiling that you can't ignore, even if the stats may not be there.
Unlike most 3rd rounders, Kloffenstein was signed to a bonus of $2,450,000, well above slot value. This was because the Jays went underslot value for Groshans, who signed for $3,400,000.
It's even more interesting once you realize that these two players were both drafted out of Magnolia High School in Texas, meaning that they were teammates.
As for Kloffenstein stats, the young righty's first full season came in the Short A season with the Vancouver Canadians. He posted a 2.24 ERA and 3.73 FIP in 64.1 innings pitched, which included a K/9 of 8.95 and BB/9 of 3.22. Furthermore, Kloffenstein excelled at getting ground balls, as his GB% that season sat at an incredibly high 60.1%, meaning balls didn't leave the yard.
Like with all minor leaguers, Kloffenstein missed the 2020 due to the pandemic shutting down the minor leagues.
In his first three starts in High A (which yes, was Vancouver), he posted a 0.71 ERA and 3.98 FIP in 12.2 innings pitched. However  he finished the season with a 6.22 ERA and a 5.16 FIP over his 101.1 innings pitched. Interestingly, his K% jumped to 9.50 while his GB% remained about 53%.
He started his 2022 in – guess where – Vancouver. In his 26 innings pitched, he had much better results, posting a 3.81 ERA and a 4.49 FIP. His K/9 hit a career high 10.38 while he dropped his BB/9 from 5.42 in 2021 to 3.46 this season. His GB% dropped to 40.3%, by far the lowest in his career. 
After two seasons and a bit, he earned a promotion to New Hampshire. In Double A, Kloffenstein  hasn't quite put up the results you'd want. In 34.2 innings pitched, he has a 6.75 ERA and a 4.98 FIP. His K/9 has continued to break a career high (9.61), but his BB/9 has jumped back to 4.93.
With all that being said, why are prospects sites still high on the 21-year-old? Well here's his bio on MLB Pipeline, which ranks him as the Jays 11th best prospect:
"When Kloffenstein has struggled, it's all about the big inning. Both he and the Blue Jays believe an improved mental approach will help him to limit these moments, because when he's on,

you still see one of the top young arms in the system.

"
The big inning is still a factor. Let's look at his last start for example. In the first inning, Kloffenstein allowed a single, then an error happened, then a walk. A wild pitch scored the runner on third, then a double drove in the second and third base runners. On a 1-0 pitch, the next batter homered, giving the Yard Goats a 5-0 lead.
In the next two innings, Kloffenstein faced the minimum while striking out two. In the fourth, he struck out his first two, before allowing a single and double. However, the big inning sunk the team, as they eventually lost 10-5.
If Kloffenstein can get past the big inning, whether it is mental or ability, his stuff has the potential to feature in the middle of the rotation. Not just that, but he's only 21-years-old, which is rather young for Double A (he's -3.6 years younger than the average pitcher).
His high ceiling is what propels Kloffenstein up many prospect lists, and he still has a few years of development before we know where he fits in.
What to make of the 2018 draft:
The Blue Jays were incredibly creative in this draft, getting two high schoolers who were teammates, but both with high ceilings. They also drafted a college bat who has one of the highest power tools in the minor leagues.
There may be a little bit of recency bias here, as both Kloffenstein and Groshans are young and still developing, but this has the potential to be one of the better drafts during the Shapiro era. It all depends if Groshans can add more power (which he apparently has a lot of raw power) and if Kloffenstein can fix the big inning.
Also look out for Addison Barger, who is tearing up High A, as well as Cal Steveson, who is likely going to make his debut this season with Oakland. There have also been two draftees that have made their MLB debut, Vinny Capra and Nick Allgeyer.
Overall, it was a pretty good draft from the team.
Previously in the series…
As always, you can follow me on Twitter @Brennan_L_D. Tomorrow we'll be covering how the Jays took the best player in the 2019 draft, so stay tuned!
---