The Ricky Tiedemann Report: The top Blue Jay prospect struggles in his first game back in Double-A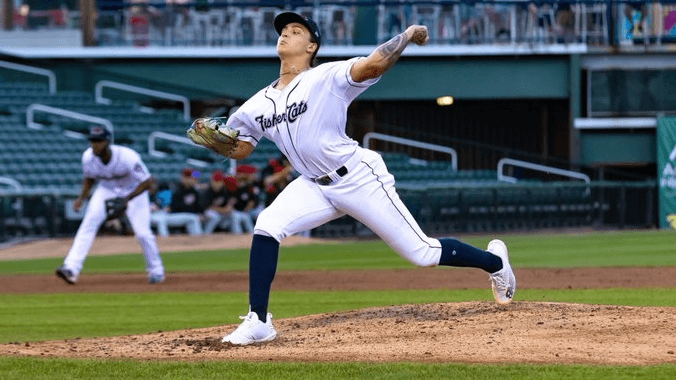 Photo credit:Fisher Cats PR
So uh, that's not what you like to see.
On May 4th, Tiedemann left the game with a left bicep injury, which kept him off the Double-A New Hampshire Fisher Cats for 99 days. On Friday evening, he made his return to the team, and things didn't go great.
Overall, he finished with a line of
0.2 IP, 4 H, 3 ER, 1 BB, 1 K
, throwing 31 pitches with 18 strikes.
Tiedemann's night started off promising, generating a swing and miss on a 98 mph fastball that put the batter in an 0-2 count. However, the batter got the better of Tiedemann as he walked. The next batter hit a long single which moved the runner to third base, who promptly scored on the next pitch.
Up came the fourth batter, who drove in Reading's second run of the game with a sac fly, before the fifth batter of the inning hit a single.  The 20–year-old left-handed pitcher
 then registered his only strikeout of the game with a slider at the knees. This was a pretty good pitch that was maybe off the plate, but it's still a strikeout!
The last batter Tiedemann faced singled off him, scoring Reading's third run of the game, and that was it for Tiedemann's first start in 99 days.
So what do you make of this start for the Blue Jays top prospect? It's good to see that the velocity is up to where it was prior to the injury. Moreover, he didn't give up any extra base hits, and only one of the balls in play was actually hit hard.
On the other hand, Tiedemann struggled to command his pitches, which led to hitters counts and a walk.
I wouldn't say it's too big of a deal at the moment, as he missed significant time and only pitched eight innings between the Florida Complex League and Single-A. Still, the command (which has been a bit of an issue all season) is something to monitor over his next few starts.
---
As always, you can follow me on Twitter, Instagram, and Threads @Brennan_L_D.
---