The Ricky Tiedemann Report: The young lefty struggled in his third game back from the injured list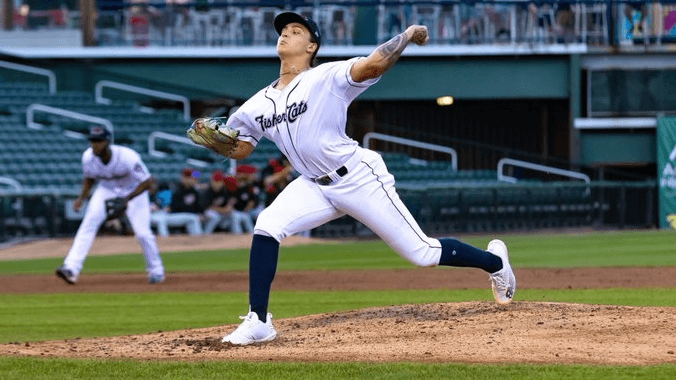 Photo credit:Fisher Cats PR
Ricky Tiedemann made his seventh start of the season for Double-A New Hampshire, and his third since returning from the injured list. It didn't go so great.
The Binghamton Rumble Ponies made Tiedemann work, as he finished with a line of
1.2 IP, 3 H, 2 ER, 3 BB, 3 K
on 54 pitches, 30 of which were strikes.
It was the usual for Tiedemann, he limited hard contact while he struggled with command. The first batter of the game lined it to the outfield, while the second batter hit a blooper. Tiedemann got out of the first inning with a ground out, then with two caught lookings.
The second inning started well for the 21-year-old, as he struck out the first batter with a 97 mph fastball. It went downhill after that, as Tiedemann walked the next two batters, before there was
another
infield single to load the bases. The lefty walked the next batter up before Drew Gilbert sac-flied in a runner. After that, Tiedemann's night was done as Joe Jones struck out the last batter of the inning.
So what can you make of Tiedemann's outing on Wednesday? It's good to see the velocity in the high-90s again, as the 21-year-old hit 99 mph on a fastball. Control and command have alluded him all season, as he now has a 13.8 BB% with the Fisher Cats. In contrast, he has a 36.8 K%, which is still an impressive 23 K-BB%.
After the rough inning, Tiedemann's ERA jumps up to 6.75. However, coming into Wednesday's game, Tiedemann had a 1.62 FIP, which is absolutely fantastic. This is due to the fact he has still yet to give up a home run in Buffalo, and hasn't given up one in over a calendar year (July 8th, 2022).
Tiedemann is still incredibly young for the level, so I wouldn't be too considered about his performance since returning from the injured list. As it stands, he has a line of
5.2 IP, 7 ER, 10 H, 5 BB, 9 K
, but this isn't all too surprising given his near three-month layoff.
Either way, it'll be interesting to see how Tiedemann finishes out the year.
---
As always, you can follow me on Twitter, Instagram, and Threads @Brennan_L_D.
---