The sky is the limit for Manuel Beltre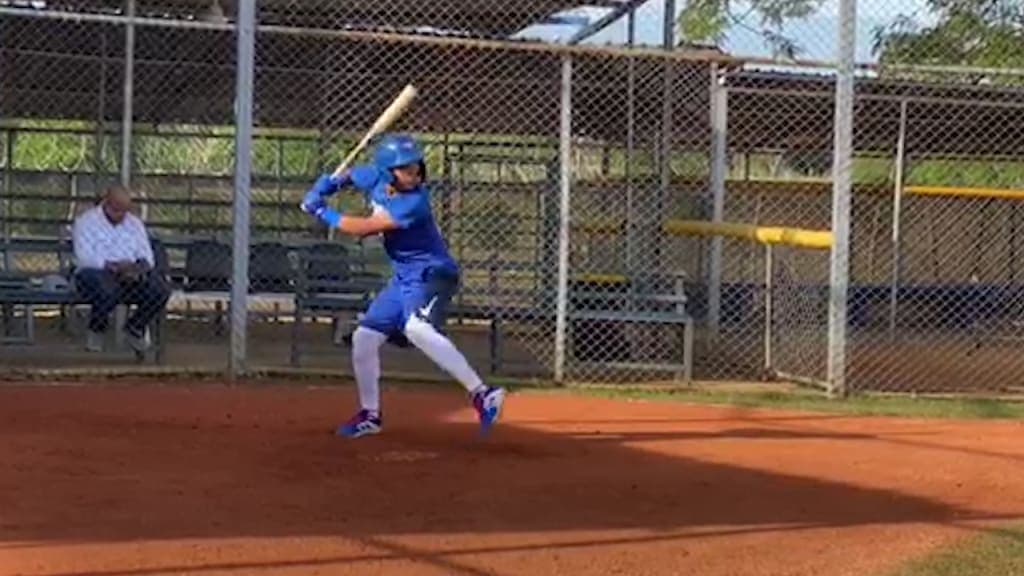 Manuel Beltre is a name that Blue Jays fans should familiarize themselves with immediately.
The Santo Domingo native was signed in International Free Agency by the Blue Jays prior to the 2021 season. The now 17-year-old shortstop was ranked as the 24th available prospect in the pool, but according to MLB pipeline has now entered the Blue Jays top 10 prospects. And it's easy to see why. He was thought to be a very advanced hitter at the time of his signing and has visibly improved week over week for the past year.
If you follow Beltre on social media(and if you don't, you should), you know that he's a very charismatic young man with an incredible work ethic. He keeps the world up to date with his progress, posting videos of his workouts, batting practices, fielding drills and other baseball activities proclaiming, with authority and conviction; No Days Off. He lives that motto, as a still developing(both mentally and physically) teenager, he works hard every single day. And the results are evident.
His bat speed and power look like they belong on a polished prospect ready to make the leap onto the big stage. A stunning testament of a kid who played only 53 Dominican Summer League games this season, and did not enjoy incredible results at the plate. The most important aspect of his development, in my mind, is that he is clearly listening to instruction and improving every single day. If you go back to the day he signed, almost exactly a year ago and see how far he's come, in such a short amount of time, it's easy to see why the expectation is that he'll adapt to the professional game and he'll do it very quickly.
It doesn't end at the plate either. Manuel won the defensive player of the year award for the Dominican Summer League Blue Jays as a shortstop and works tirelessly at improving his skills on the other side of the ball as well. He signed as a 55 hitting tool, and 50 across the board the rest of the way, according to MLB Pipeline, and doesn't appear willing to allow any of his secondary tools to be secondary at all.
I had a chance to chat with Manuel, and here's a transcript of our short Q&A:
Doug: This is kind of silly, but do you go by Manuel in your day-to-day life, or do people call you Manny? I keep referring to you as Manny, and I was thinking to myself; man, what if he doesn't like that?
He sends several laughing emojis and tells me not to worry. 
Manuel: Well, people close to me or my family call me Junior, because I have the same name as my dad. But people outside my family or close friends just call me Manuel. 
Doug: I've noticed some pretty big strides in your swing, even since the end of the Summer League season. Have you been making an effort to be quieter with your hands and feet and quicker through the zone, or is that just a natural progression as you get older and stronger?
Manuel: Yes. I made some adjustments after the season with the hitting coordinator of the team, and we just started to focus a little more and to use my hips more and hit the ball to the whole field.
Doug: Is there a Major League Hitter that you watch and try to model your plate approach after?
Manuel: No, I just try to be myself and know my pros and cons.
Doug: How many times a week are you on a ball field over the winter?
Manuel: I live in the Dominican Republic. Winter here is very hot compared to the winter in other places, so I'm on the field from Monday to Friday.
I, maybe shortsightedly, reminded him that it's -30 in my neck of Canada this weekend.
Doug: What was it about the Blue Jays that made it a good spot for you to sign and develop?
Manuel: It all started with my dad. He has been a Blue Jays fan since (the 90s), and he kind of introduced me to the team. Also, I used to watch a lot of Jays games because they were a lot of Dominican players there, so I have liked the team since then.
Doug: Did you have a favourite Blue Jay growing up?
Manuel: Josh Donaldson.
Doug: Last one… who was better at 12 years old, you or Enmanuel?
Manuel: Well, I was a really good player when I was 12, but I didn't have some of the abilities that he has right now. My bat was on fire at that age, but my infield abilities were not as good as him right now, so to be honest, I'm not sure. We will see with time.
Doug: Thanks so much for taking the time. I really appreciate it and I know I speak for Blue Jays fans everywhere when I say how excited I am to watch your development. Your work ethic is admirable and your personality is going to make you a fan favourite in Canada one day.
Manuel: Thanks man, and always!
When I wrote an article about Alek Manoah a few weeks before his call-up last season, I reflected on a quote from Alex Anthopoulos when he signed Jose Bautista to an extremely team-friendly deal after his breakout season in 2010 and 2011.
He said it's easy to take a leap of faith, like signing a first-time break-out home run threat on the doorstep of 30 to a $65M extension, if you bet on the person and not the player. Anthoplous hedged his bets that Bautista had the personality traits to cash in those chips, and it was a good bet.
When I made bold statements about Alek Manoah being the best Blue Jays pitching prospect since Roy Halladay, it was easy, because he's a great person with a great work ethic and drive for the game. I feel the exact same way about Manuel Beltre, who spends more time on social media raising the profile of his 12-year-old brother, Enmanuel Beltre than he does his own. And Enmanuel is quite obviously cut from the same cloth as his older brother.
He'll likely sign with an MLB organization in 2025. That blue helmet already looks pretty good on him, if you ask me.
Beltre's scheduled arrival is likely penciled in for the 2025 season, notwithstanding any Rule-5 changes in the (theoretical) new collective agreement, but it will be largely dictated by his ability to adapt to the levels ahead of him. He'll spend his 2022 season, first with the Blue Jays development staff in Dunedin at extended spring training, and then back in the Dominican Summer League, where I'm sure he'll be challenged to earn his way to The Jays low A affiliate, back in Dunedin for the 2023 season.