The White Sox could be interested in trading reliever Liam Hendriks, and the Jays should be all over it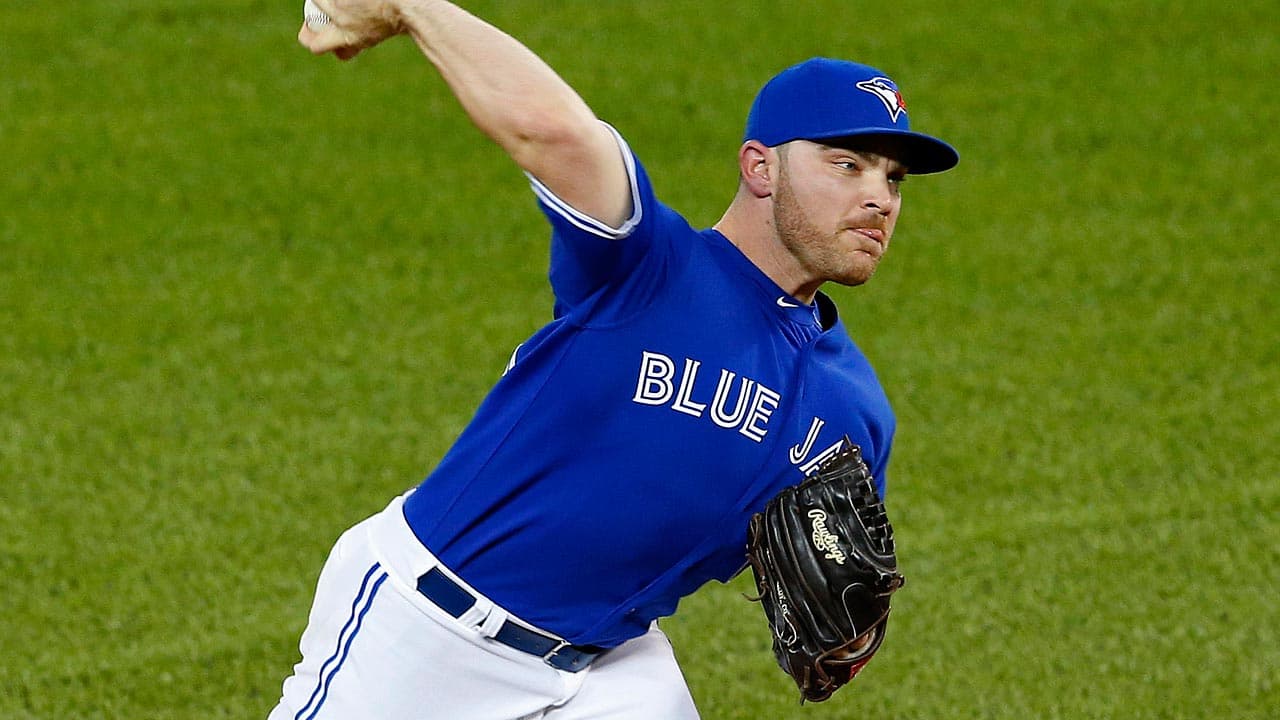 Photo credit:MLB
The old homage goes, where there's smoke, there's fire.
To add to this, the Jays were interested in Hendriks before the start of the 2021 season, taking him on a tour of the vaunted Dunedin Complex. He ultimately chose the White Sox, but the Jays have always had a strong connection with the Aussie. In fact, he was even on their 2015 roster!
Then the rumours started flowing in. Recently, two somewhat credible anonymous accounts have linked the Jays with the White Sox. MLB News Network (@newsnetworkmlb) noted that the Jays and White Sox had discussions revolving around Danny Jansen, which is in the embedded tweet above.
A day later, MLBScoops (@mlb_scoops) tweeted that the Jays were interested in you guessed it, Liam Hendriks. Mr Scoops has some credibility, especially with the Jays' rumours. He famously noted that the deal with Chris Bassitt was imminent, a few hours before it was officially broken.
Chicago's main catcher, Yasmani Grandal, recently turned 34 years old and posted a 68 wRC+ in his 376 plate appearances. While Grandal has been an above-average hitter for the position in his career, it wouldn't be surprising if the White Sox are looking to give him some rest with another good catcher.
What about Hendriks though?
Is Liam Hendriks is still an elite reliever?:
The too long, didn't read version of this section is yes.
I had a little bit of a bias that he wasn't, as his ERA has taken a tumble since leaving Oakland. Between 2019 and 2020, he had a 1.79 ERA and 1.70 FIP in 110.1 innings pitched with a 38 K% and a 5.7 BB%.
Since joining the White Sox in 2021, he's posted a 2.66 ERA and a 2.49 FIP in 128.2 innings pitched. Seeing this drop, I thought that while he was still a fantastic reliever, he wasn't quite "elite" anymore. Then I looked at his K-BB%.
His K% has increased to 39.4%, which isn't that minor, but his BB% has dropped to 4.9%, which is fantastic. That's a K-BB% of 34.5%, which ranked 7th in the league for pitchers with at least 30 innings pitched.
In terms of K-BB% ranked behind
Edwin Diaz
, Jacob DeGrom,
Andres Munoz
, Ryan Helsley, Chris Martin, and Spencer Strider. So yeah, by his K-BB% alone, Hendriks is an elite reliever.
Why his trade value is so hard to peg:
So we know Hendriks is elite, but there are still some factors that may diminish his trade value.
The most obvious answer is his contract. Per Sporttrac (which is where I get all the contract information in this article) Hendriks is set to make $14,000,000 with a luxury tax of $18,000,000. Hendriks also has a team option for the 2024 season worth $15,000,000 on both base payroll and luxury tax salary. However, it is also what sinks his value.
The 2024 option automatically vests if he's traded, meaning that if the Jays were to trade for him, they'll be paying Hendriks $29,000,000 over two seasons which is quite a lot for a reliever.
Not just that, but Hendriks is approaching the age where his body
could
start to deteriorate. He'll be turning 34 years old in February and he could see his velocity drop in the near future. It certainly wouldn't be the first time it's happened.
Overall though, I think the rewards of having
another
elite reliever in the bullpen genuinely make it one of the best, so I'm definitely for trading for Hendriks, even if there is a risk.
Chicago would have to add:
Anytime a team trades a catcher for a reliever, they are pretty much guaranteed to lose that trade. As important as relievers are, they don't impact the game nearly as much as a catcher. 
Looking at this from a payroll situation, the Jays stand to add about $23,000,000 to their luxury tax salary over the next two seasons, while the White Sox shed around $8,000,000 on their luxury tax over two seasons.
So yeah, there's no way this trade would be one-for-one, especially considering that the Jays apparently turned down the aforementioned Helsley for Jansen.
Who could the White Sox add:
If you had to ask yourself the Jays' biggest needs, you could say it's a fifth starter and a left-handed batting outfielder. Would you be surprised that the White Sox could potentially add a starter and a left-handed batting outfielder? Let's briefly look at a few potential options, starting with starters.
Lucas Giolito:
The 28-year-old struggled in 2022, posting a 4.90 ERA and 4.06 FIP in 161.2 innings pitched. He had an alright K% of 25.4% and an 8.7 BB%. Although 2022 wasn't great, he had a solid 2021, registering a 3.53 ERA and a 3.79 FIP in 178.2 innings pitched. He also had a 27.9 K% and 7.2 BB% in 2021.
Lance Lynn:
The better option of the two starters, the 35-year-old had a 3.99 ERA and 3.82 FIP in 121.2 innings pitched. He isn't a huge strikeout guy as he had a 24.2 K%, but he limited walks with a 3.7 BB%.
Lynn is in the final year of his contract, and he'll make $18,500,000 in both base salary and luxury tax salary. Moreover, he has a team option worth $18,000,000which you guessed it, is worth the same in base salary and luxury tax salary.
Giolito has a higher ceiling, while Lynn has a higher floor. Let's look at the outfielders.
Gavin Sheets:
In his first full season in the big leagues, the 26-year-old slashed .241/.295/.411 with 15 homers in 410 plate appearances. Sheets also had a 6.6 BB% and 21 K%, which aren't bad splits.
Defensively, he's um, not great. Playing 646 innings in right field, he posted a -8 Defensive Runs Saved and a -5 Outs Above Average. There's still hope yet to be a competent outfielder, as Sheets is a natural first baseman and is still learning the outfield. In the minors, he played five seasons at first base (or 2658.1 innings). He's only played 921.2 innings in right field, only starting professionally at the position in 2021.
He was considered to have a strong arm in his 2021 Pipeline profile, but Sheets isn't very fast as he was given a 30-run tool by most sites.  The raw power is intriguing though!
Oscar Colás:
If you ask a White Sox fan, the 24-year-old outfielder is untouchable. However, if the Jays could somehow pry him away, that'll be a steal.
Colás hasn't had a traditional career. When he was 17 years old, he played for Cuba, before heading to the Fukuoka Softbank Hawks. He spent three seasons there (and two seasons off) before playing his first season stateside.
And what a debut it was. Colás played in High-A, Double-A, and Triple-A, slashing .314/.371/.524 with 23 homers in 526 plate appearances.
He's projected to be the White Sox starting right fielder, and it'd take an absolute haul to take him away from Chicago.
What to make of the rumours:
While I just listed four players of interest on top of Hendriks, there are a few more notable names such as a prospect named
Yoelqui Céspedes, who has an interesting blend of power and speed. Furthermore, outfielder Eloy Jiménez is another interesting name, but he bats right-handed and would cost a ton.
Of course, the Jays could add on as well. If they were getting a fifth starter, it's not impossible that they move Mitch White, or potentially Yusei Kikuchi to balance the money. This doesn't even mention Chicago's need for second basemen, which the Jays have surplus of.
If there's a trade, it may just end up being for Hendriks, Sheets, and a few prospects, which I wouldn't be upset with. 
Either way, where there's smoke, there's fire. So stay tuned for any upcoming trades (probably after Christmas).
As always, you can follow me on Twitter and Instagram @Brennan_L_D. The dream acquisition is Hendriks, Sheets, Giolito, and Céspedes, but I really think it's unlikely.
---