There's risk attached to signing Robbie Ray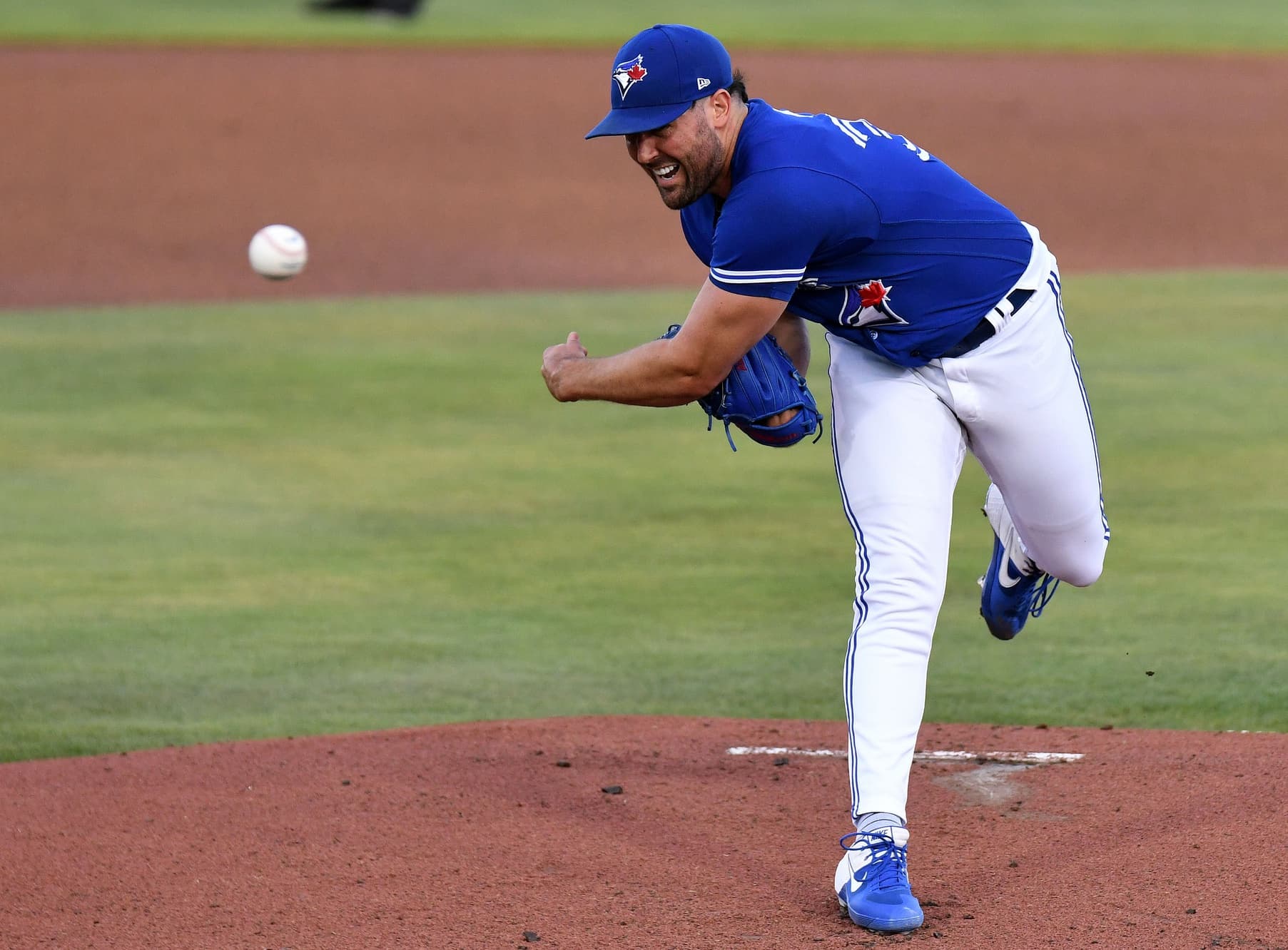 Photo credit:© Jonathan Dyer-USA TODAY Sports
I'm going to say something that'll sound controversial and I may be dunked on for saying it. However, I think it must be said: In recent days, I've started to lean towards not re-signing Robbie Ray.
This isn't a slight on Robbie, hell, if it's announced tomorrow that Robbie Ray signs a contract long-term, I'll be over the moon halfway to the planet Pluto.
So that begs the question, what the hell am I talking about?
Well, I'll give you one word:
Sustainability.
At this point, the word sustainable has likely become my most written word on this site. It sounds crazy that losing Robbie Ray, a Cy Young nominee (and probable winner) helps the organization's success stay sustainable, but hear me out.
Qualifying Offer:
If you don't follow me on Twitter, you'll know I'm an Oilers fan (#LetsBrennanWriteForOilersNation). In four years' time, Connor McDavid's contract will be expiring. If you aren't a hockey fan, Connor McDavid is like Mike Trout, that's to say that he's the best player in the game's history.
Despite this, if McDavid decides to sign elsewhere before Edmonton trades him, they'll lose the best player for absolutely nothing.
What am I getting at? Well, the reason I love the MLB's free agency model over the other North American sports is that it compensates a team for losing a player.
Since the Jays gave Ray (and Semien) a tendered qualifying offer of 18.4 million, that means under current CBA rules, they'll be entitled to a pick after the second round (around 70th).
Does one pick compensate for losing the probable Cy Young winner? Not in the slightest, but….
Qualifying Offer 2.0:
What if I told you it's a possibility that the Jays gain a draft pick AND sign a pitcher who is arguably better than Ray. Well, dear reader, that is possible. Let's look through the pitchers that did not receive a qualifying offer:
Carlos Rodon (CHI), 132.2 IP, 2.37 ERA, 2.65 FIP, 12.6 K/9
Jon Gray (COL), 149 IP, 4.59 ERA, 4.22 FIP, 9.5 K/9
Clayton Kershaw (LAD), 121.2 IP, 3.55 ERA, 3.00 FIP, 10.7 K/9
Anthony DeSclafani (NYM), 167.2 IP, 3.17 ERA, 3.62 FIP, 8.2 K/9
Max Scherzer (LAD), 179.1 IP,  2.46 ERA, 2.97 FIP, 11.8 K/9 (not eligible because of mid-season trade)
The only cost of these players would be the cost of their contract. Unlike the signing of Springer in the 2020 off-season, the Jays would not lose a second rounder to sign one of these pitchers. Imagine a scenario where the Jays sign Jon Gray (who's had success in the past) but they also sign Max Scherzer to a short term deal? You get an ace and a player that Pete Walker can help. What about re-signing Steven Matz and signing  Carlos Rodon, who was a midseason lock to be a finalist for the Cy Young?
In both scenarios, the payroll for pitchers would increase slightly, but the Jays would be able to "restock the farm" with a pick. Not just that, but it's possible to argue that the starting rotation would be even better than in 2021.
Robbie Ray's skill concern:
Foreword here, but I don't believe this to be the case at all. 
Robbie Ray has shown signs that he had the potential to front a rotation. You needn't look further than in 2017 where he finished 7th in NL Cy Young voting. Except for 2020, he's never been that bad of a pitcher as you can tell by his career ERA of 4.04. However, that won't dissuade those that believe this season was a one off fluke. 
Despite the fact that his career 11.2 K/9 is the most in MLB history, despite the fact that he's posted a sub 3.00 ERA in the past, there'll always be the people that don't understand how good of a pitching coach Pete Walker is. That isn't to discredit Ray, who absolutely put in the effort to become an ace. I don't believe a move away from Toronto will regress him back to the norm. He's made the adjustments to front a rotation.
Will Robbie Ray return:
From all accounts, he got along with the team. He also will win the AL Cy Young. It goes without question that both the Blue Jays and Robbie Ray are interested in a reunion. While the potential for another pick in the draft would help with sustainability, the re-signing of Ray certainly does not hurt the sustainability of the Blue Jays.
If the Blue Jays sign Carlos Rodon, Max Scherzer, or Clayton Kershaw and lose Robbie Ray, it'd be bittersweet. However, if the Jays re-sign Robbie Ray, without a doubt I'll be jumping over the moon with happiness, trying to catch the Voyager 2 probe.
As always, follow me @Brennan_L_D. I don't know what that conclusion was, but I hope you enjoyed the article. Don't forget that this isn't a slight on Robbie Ray, I just have a weird obsession with sustainability.