This season was only the beginning of the Blue Jays' competitive window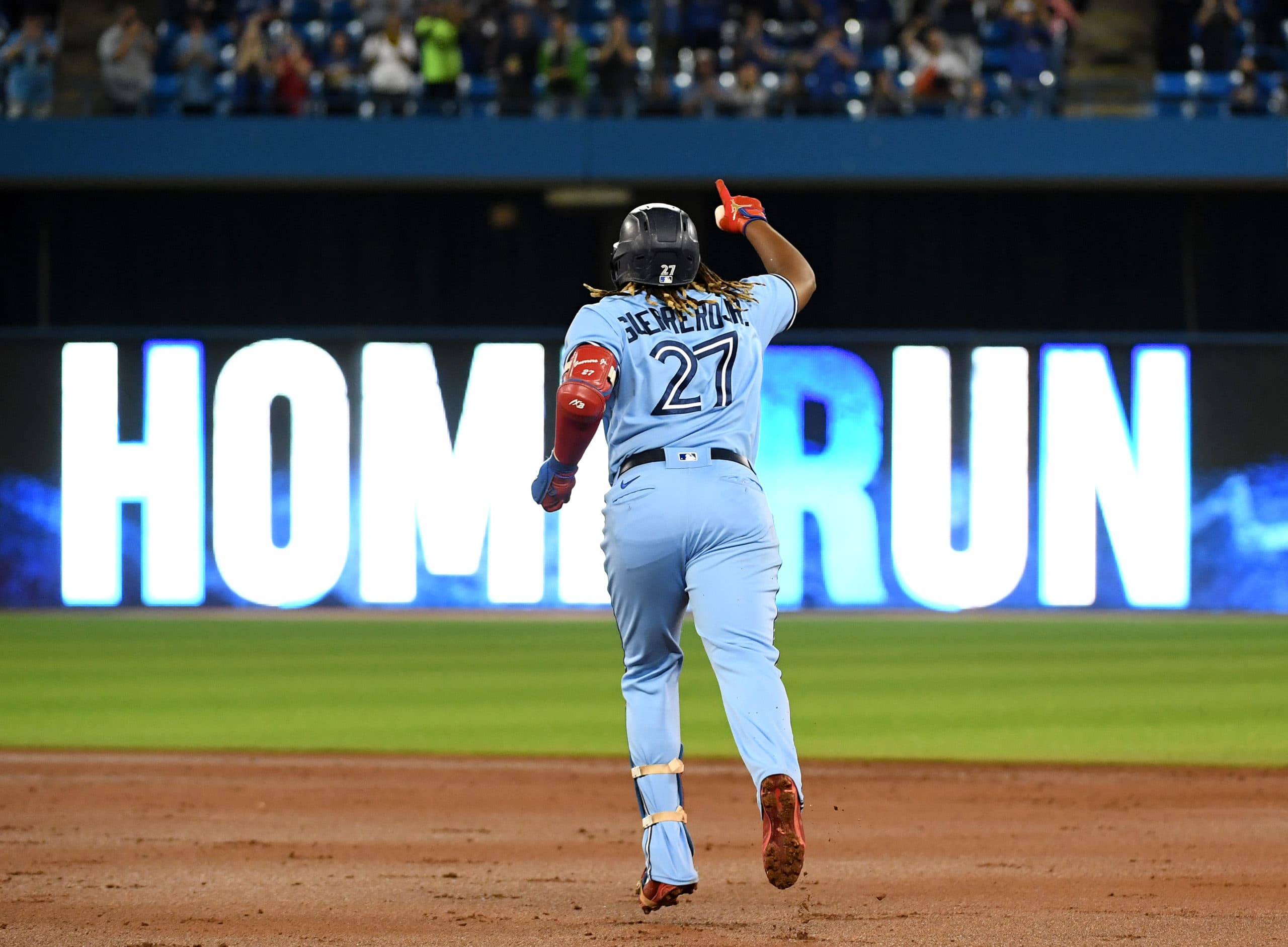 Photo credit:Dan Hamilton-USA TODAY Sports
After a hard-fought battle over the past six months, the Toronto Blue Jays' 2021 season came to a disappointing end as they finished just 1.0 game shy of the American League Wild Card chase, although all isn't lost for this promising organization.
While the wound remains fresh for the fanbase, and rightly so, they won't have to look very far to become excited once again regarding this team's future. Sure, this might not be the conversation most fans want to have right now, but with the off-season just around the corner, it's difficult to ignore the fact that this franchise has brighter days ahead of it.
Though key free agents like Robbie Ray, Marcus Semien and Steven Matz are slated to hit the open market next month, putting that trio aside, the Blue Jays' roster already consists of a strong core of position players and pitchers that should allow them to remain competitive for several years to come.
Core Position Player Pieces
Starting with Toronto's breakout superstar, Vladimir Guerrero Jr. took the baseball world by storm this season, as he completely overcame last season's disappointing performance and directly put himself into the conversation for the AL Most Valuable Player Award – this probably won't be the only time he does that either.
Granted, this season's MVP trophy likely belongs to Los Angeles Angels two-way player, Shohei Ohtani, who's accomplished something that hasn't been done since Babe Ruth was a thing back in the early 1900s. In saying that, Vladdy still enjoyed a remarkable campaign, one that positioned him near the top of the leaderboard in multiple different offensive categories.
Proving to be one of the most lethal hitters in the majors, the 22-year-old finished tied with the most home runs (48), the highest offensive WAR rating (54.1), the second-highest wRC+ score (166), the third-highest SLG (.601), the fifth-highest ISO (.290) and tied for the fifth-most RBIs (111) among all qualified batters in the majors, according to
FanGraphs.com
.
Along with Guerrero Jr., shortstop Bo Bichette also enjoyed the best showing of his young career, particularly on the offensive side of the ball. While his impressive performance might not net him any awards, that shouldn't take away from the progress he displayed, specifically involving his plate discipline.
Thanks to his reduced strikeout totals, resulting in a career-best 19.9% strikeout rate, the 23-year-old transformed into a well-rounded contributor, allowing him to produce 29 home runs, 102 RBIs, a .186 ISO, a .339 BABIP, a .354 wOBA, a 122 wRC+ score, a 25.2 offensive WAR rating and a slashing line of .298/.343/.484 through 690 plate appearances.
Credit: Dan Hamilton-USA TODAY Sports
Continuing the theme of stellar offensive performances, outfielder Teoscar Hernandez continued building his resume as one of the top-performing hitters in the major leagues, which saw him carry over his success from the 2020 season that could potentially earn himself a second straight Silver Slugger Award.
Serving as a middle-of-the-order threat within the Blue Jays' batting order, the 28-year-old posted career-highs in home runs (32), RBIs (116), BABIP (.352), AVG (.296), OBP (.346), offensive WAR (25.6) and fWAR (3.9) over his 595 plate appearances.
Paired with these star position players, fellow outfielder George Springer also figures to be heavily involved with this team's core over the five remaining years of his $150 million contract, that is, if he stays healthy. While that wasn't the case for him in 2021, he did finish the regular season on a high note, suggesting he's still capable of performing at an elite level.
Despite being limited to just 78 games during his inaugural campaign with the Blue Jays, the three-time all-star was scorching hot over the final eight contests of the season, resulting in three doubles, five home runs, 13 RBIs, a .529 ISO, a .571 BABIP, .643 wOBA, a 317 wRC+ score and a monstrous slashing line of .500/.553/1.029.
Outside of this core group, there's no question the Blue Jays will be hopeful that Lourdes Gurriel Jr. and Cavan Biggio will each be able to build off their strong finishes in 2022. Having said that, it's also possible they could be utilized as trade chips this winter, perhaps to land someone like Jose Ramirez.
As for Semien, who finished third in home runs (45) and tied for the third-highest fWAR rating (6.6) in the majors this season, he's likely to attack several interested suitors on the open market this winter. But if the front office can somehow lure him back to Toronto, which might be challenging, this offence should continue dominating opposing pitching staffs in future seasons.
Core Pitching Pieces 
Heading into the 2021 campaign, aside from Hyun Jin Ryu, the Blue Jays didn't exactly feature a core group of arms inside their starting rotation. Well, that quickly changed mid-season as Jose Berrios and Alek Manoah have emerged into key arms for this club moving forward.
For Berrios, who was acquired in a blockbuster at the trade deadline – one that sent prospects Austin Martin and Simeon Woods Richardson the other way – he proved to be the front-line starter Toronto desperately required for its run at a wild card spot. Even though a slight mechanical adjustment was needed shortly after his arrival, it helped him enjoy an incredible final two months of the schedule.
In the seven starts following that alteration to his windup, the 27-year-old compiled 46.0 innings of work, generating an impressive 2.93 ERA, 2.87 FIP, 3.06 xFIP, .189 OPP AVG, 29.8% strikeout rate and a 2.8% walk rate.
With Berrios arbitration-eligible in 2022, albeit for the final time, the former Minnesota Twin is expected to serve as a crucial member of this team's rotation once again, and would maintain that same role beyond next season if he were to sign a contract extension over the off-season.
In just his third professional campaign, well, technically it was only his second considering the 2020 minor league season was wiped out due to COVID-19, still, the 2021 season was definitely one to remember for starter Alek Manoah.
Credit: Dan Hamilton-USA TODAY Sports
After beginning the year at triple-A Buffalo, which lasted for just a trio of starts, Manoah was promoted to the majors in late May and performed so well that he's seemingly solidified his spot in the rotation heading into next season. Even though preventing home runs and hit by pitches plagued the rookie hurler at times, for the most part, he exceeded his expectations over his 20 starts in the majors.
Making the most of his opportunity, the 23-year-old totalled 111 2/3 innings, producing a 3.22 ERA, 3.37 xERA, 3.80 FIP, 4.17 xFIP, .191 OPP AVG, 27.7% strikeout rate, 8.7% walk rate and a promising 2.0 fWAR rating.
Beyond these hurlers, Nate Pearson should be a potential option to compete for a spot in the rotation when spring training rolls around, assuming he reports to camp fully healthy. Additionally, Ross Stripling could also potentially factor into that equation as well, although he appears to be better suited for a multi-inning reliever role.
As for when it comes to free agency, obviously, attempting to re-sign Ray – who's considered the favourite to win the AL Cy Young Award – will be one of the biggest priorities for Toronto's front office this off-season. If they're successful, they'll already have four rotation spots accounted for, leaving just the one up for grabs.
Depending on the landscape of free agency, it's also possible the team could consider bringing Matz back for another season or two, however, it remains to be seen if he'll receive a qualifying offer, which is projected to come in around $19 million.
Moving on to the bullpen, there's no question it became the Blue Jays' biggest weakness throughout the 2021 season, especially out of the gate. But as the year carried on, closer Jordan Romano, who converted 23 saves while posting a 2.14 ERA, 2.61 xERA, 3.15 FIP, 3.28 xFIP and a 1.2 fWAR through 63.0 innings, emerged into the shutdown reliever that he displayed flashes of becoming in 2020.
Despite receiving very little support throughout most of the first half, aside from Tim Mayza, of course, the sneaky acquisitions of Adam Cimber and Trevor Richards have turned this bullpen around and have provided a solid foundation to build around in the off-season.
If Julian Merryweather can somehow find a way to stay healthy, while also rediscovering the high spin rates on both his high-90s fastball and high-80s slider, he could help strengthen the backend of this bullpen even further.
In free agency, if the Blue Jays acquire a few proven arms, particularly ones that feature high velocity, there's a fairly strong chance their bullpen could transition from being a liability in 2021 to serving as one of the strengths of this team next season – making for an incredible year-to-year progression.
One way or another, Toronto is just beginning its ascent to seriously competing for a World Series championship.