Thoughts on Alek Manoah, the pitch clock, and finding the strike zone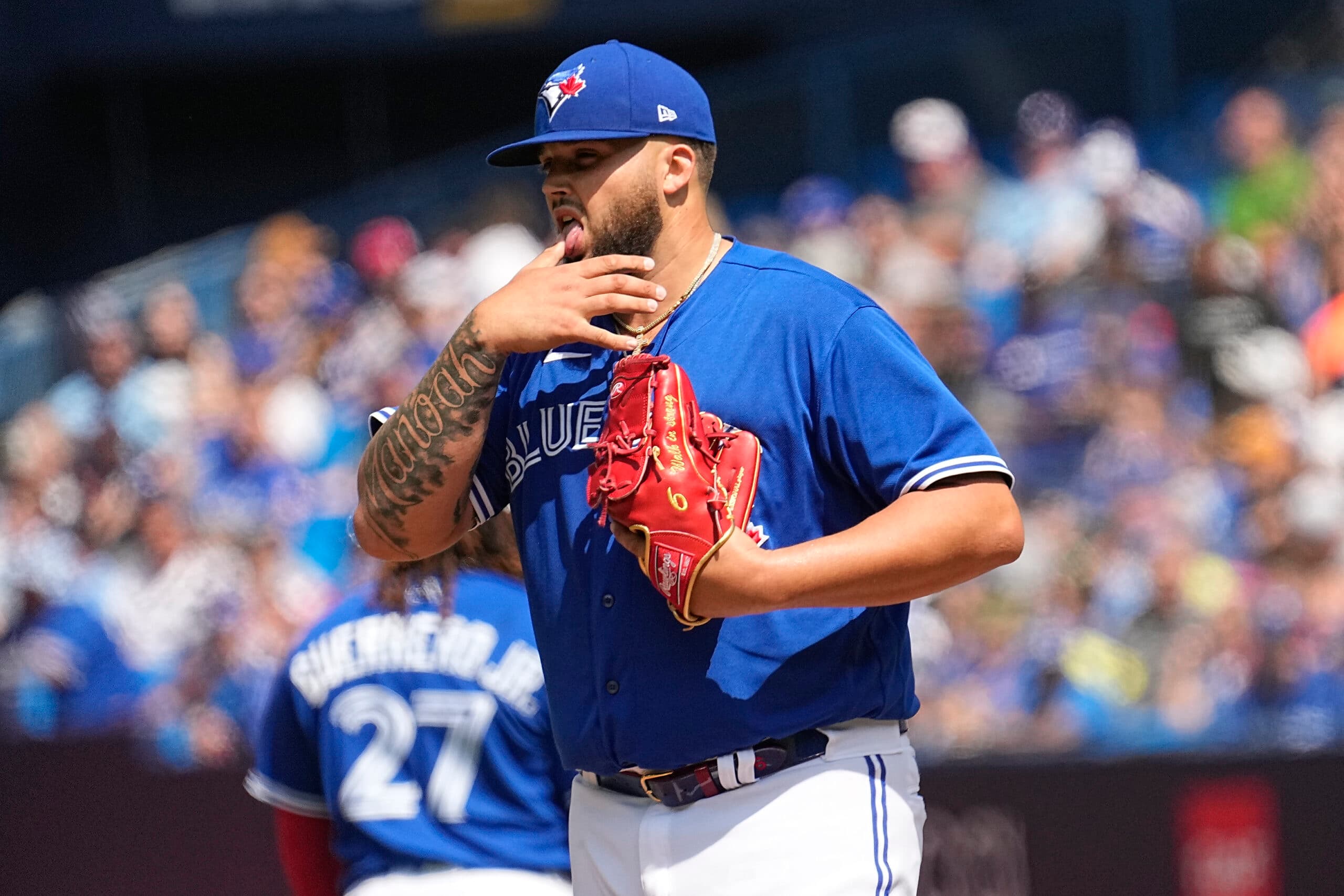 Photo credit:John E. Sokolowski-USA TODAY Sports
There's no doubt that the Alek Manoah of 2021 and 2022
has only shown up in glimpses this season.
Kevin Gausman's ace-like pitching, Chris Bassitt's ability to log innings, and Jose Berrios' bounce back to workhorse status have helped to compensate for Manoah's struggles this season, but everybody wants to see the big man get back on track.
W
hat are the reasons for Manoah's struggles? Can he sort them out and again become a front-of-the-rotation starter for the Blue Jays?
Tempo and Effects of the Pitch Clock
What might be one of the issues plaguing Manoah is the pitch clock. 
In 2022, he was a rather slow tempo pitcher ranking 375
th
when looking at tempo percentage which sat at 20.7, which is around the same pace as someone like Lucas Giolito and Yu Darvish (note this also includes relief pitchers), with a minimum of 250 pitches.  
In 2023, every pitcher had to make the same adjustment to the pitch clock. As I'm looking through the data, there are no pitchers who have a tempo above 19 meaning everyone has had to work faster. Manoah now rocks a tempo of 18, which is a noticeable change (also just to note I thought it was interesting, but Kikuchi has a tempo this year of 15.7), but still very slow. Whenever I watch Manoah play, it seems like it's always a race against the clock, more so than almost every other pitcher on our team. Perhaps simplifying the plan of attack on the mound, and giving him more time between pitches, would do him some good.
This is going to take time for him to get used to, when he gets into a jam early, pitchers can't step off, or take a walk around the mound like they used to. He has always worked a bit slower; this will take time to figure out, he is a young man with a lot of potential. I am not worried because even at Manoah's worst, he's still a great pitcher on one of the best starting pitching staffs in the league. 
Alek Manoah's slider
The main pitch that I care about for this analysis is Manoah's slider. The slider is what has been pointed out the most as a pitch that has declined in quality. As his number one out pitch in 2022, it has faltered a bit in both velocity and movement. The problem with the slider is that instead of getting 6 inches of positive horizontal movement it only gets about 3.7 now. With less active spin, the quality of the pitch has diminished tremendously.  
I think the location of his slider is what's more of a concern as there's just a lack of consistency. Here's what I'm talking about…
Now what should also be considered is how well Manoah is tunnelling these pitches and synching them with the rest of his pitches. I think this might be outside the scope of this analysis, however, clearly, it does not take someone with 20/20 vision to realize that the heatmaps here are much more inconsistent. 
The 2023 Manoah has taken an obvious step back, a contributing factor to his lack of success is apparent when looking at his run value per pitch. Currently, his slider is ranked as one of the worst in baseball, with a run value of 13 (remember that positive is bad for a pitcher), and he ranks 1413
th
, which is one of the worst pitches in the league. Something that I don't think anyone would have thought coming into the season. 
As of the time of this writing, his only pitch that has a top 50 value right now is his sinker, with a minus 6 run value. His next pitch you may ask? His changeup which is a 2, ranks 1131st in the league. If we are looking specifically at Sliders, and how he ranks in the league, well, it would be second last at the time of writing. 
Not only are his pitches, and more specifically his slider not performing well, but when batters are making contact with Manoah, they are barreling him for high percentages too, as he ranks 269
th
in exit velocity and Barrels this season. That's worse than guys such as Kyle Gibson, Ryan Yarbrough, and Trevor Richards. Something is wrong with how Manoah is possibly using his pitches, and if he cannot figure it out before September, the Jays will no doubt be fighting for their playoff hopes this year. 
Eric Hartline-USA TODAY Sports
What's changed?
Here's one idea to take away with you next time Manoah is pitching. When looking at his slider, the movement on his pitch is incredibly important. However, knowing the type of spin that affects the ball in a positive direction is equally as important to note.  
I looked at the observed active spin between 2022 and 2023 provided by baseball savant. For 2022, the percentage of spin that contributes to the movement of the ball by release speed was about 69%. Now, this is what I would refer to as his slider spin at his peak since it was incredibly dangerous. In 2023, this has dropped to just 61% which is a pretty significant drop. While sliders tend to have lower spin efficiency, it does follow the trend of his slider being less productive. This might indicate that Manoah may be having mechanical problems, such as throwing the ball like a football with the way he is extending his arm during his windup. In any case, while this may not be the main issue, it could be a symptom of something bigger to watch out for. 
An interesting note that I heard from a friend that might put more context to this, would be how much football has influenced Manoah's upbringing. In a Sports Illustrated article released in 2022, it was mentioned how throwing a football helps with a "shortened arm action" which helps with snapping his wrists and getting his forearm downhill (Diamandas, 2022). While I'm unsure if he will continue this tradition this year, given the information above about his slider, perhaps this is something he could revisit if he has not already. 
This could probably be best represented when looking at his horizontal release point year over year. Since there is a decrease in horizontal movement, I think it's important to look at its release to see what has changed…
Manoah does have some interesting trends when it comes to his horizontal movement profiles. While I don't have an exact measurement of how this would have a direct correlation to his on-field performance, having an inconsistent release point seems to be the case for Manoah, especially for his slider. His movement has only worsened since his debut, and his horizontal release point has changed a lot from even just last year. The slider is crucial to his success, as it is used often in pitcher's count, as he hopes to get batters to swing and miss on it, however, that is also down, leading to an increase in walks. 
So, not only is the velocity down, but he is having trouble locating his slider in addition to not getting the same level of movement, and not being able to consistently nail down the sweeping motion it had in 2022. I think some of his struggles have to do with the pitch clock, he is someone who likes to take his time on the mound and is being forced this year to learn how to pitch differently on the fly. While yes many will point out everyone else has had to make the same adjustment, Manoah is still young, and we will see whether or not he can make the same adjustments or have a very interesting year. 
In conclusion, Manoah has struggled this year, there's no doubting that. However, it's not because of his body type or how much he weighs. It has more to do with pitching (shocker I know!). The next time you go and see Alek either in person or on television, try to look out for his slider and see if he can throw it for whiffs, and if his movement profiles are consistent. 
Have a great rest of your day Jays fans, and remember, it's only May with plenty of baseball left to go!
---