Thoughts on George Springer's start to the season and the Blue Jays' lineup construction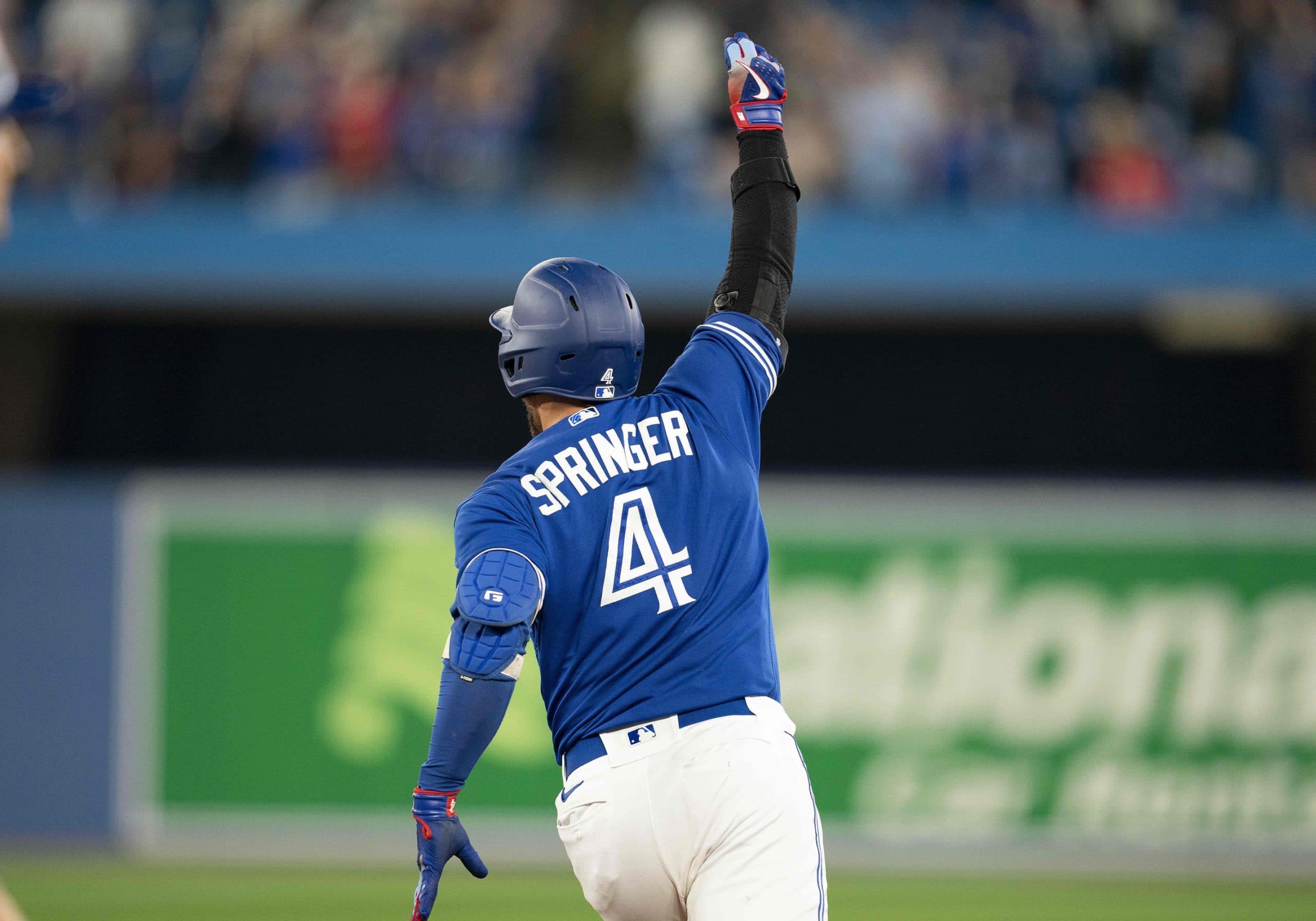 Photo credit:© Nick Turchiaro-USA TODAY Sports
After Sunday's 5-1 win over New York, the Blue Jays are 13-9 and are just a hair over an eighth of the way through the season. While it's probably still too early to draw major conclusions about anything, there are always going to be hypotheticals and potential ideas that will be discussed after a nice sample size of games has been played.
One of the things that's been discussed in the Blue Jays media sphere is the possibility of moving George Springer down in Toronto's lineup. After 22 games, Springer is batting .198 with three homers, 8 RBIs, and a double. Springer's start has been relatively underwhelming, but it has been overshadowed by the successes of Matt Chapman, Kevin Kiermaier, and others.
The case to keep Springer in the leadoff spot…
Simply put, Springer has almost always played in this spot. Of his games started, he's bat leadoff in 806 career contests. Conversely, he's only started 200 games outside of the leadoff spot, and has never started below sixth in the batting order. He's been very successful in this spot, as he is tied for third all-time in leadoff home runs, just one off of Alfonso Soriano. This includes a missile he hit off of Drew Rasmussen on April 14th of this year.
He's not the only star that has gotten off to a slow start. Juan Soto (.198 BA), Carlos Correa (.214), and Kyle Schwarber (.212) are among a few names that are at the bottom of the ranks among qualified batters.
Finally, making this kind of decision 22 games into the season is quite a small sample size. It would be ludicrous to think that Springer won't elevate his numbers at all, as that is quite literally all his track record would suggest. The 2023 numbers on his Baseball Reference page are very different compared to all of his other years.
The case to move Springer down in the lineup…
Well, one could easily point to the numbers that I referenced earlier. Some of the other advanced stats are down as well, including hard hit% (31.0), home run% (3.0), BB% (8.1), and WAR (-0.4).
I think it's also worth mentioning that John Schneider has not hesitated to bump certain guys down in the lineup if they aren't performing. In mid-August of last year, Bo Bichette was moved to seventh in the Blue Jays' batting order. His batting average was dropping (granted, it was sitting in the mid-.200s) and Lourdes Gurriel Jr., Alejandro Kirk, and others were given opportunities in the top few spots of the order.
Whether that was the motivation or not is yet to be known, but just a couple weeks after that, Bichette went on his All-Star level tear in the month of September. Maybe the same kind of tactic could be employed here with Springer. But, let me be clear, no one should be advocating to move Springer down to the bottom third of the order just because of his struggles, his track record is much more lengthy than Bichette's.
Springer leaving leadoff would obviously open the door for someone else, so who would it be? Bo Bichette has started 63 career games batting leadoff, and has a .302 batting average in that spot. Whit Merrifield has reached base at least once in every game that he has played this year, so it may be worth giving him a shot batting first. I would also consider Daulton Varsho as a potential candidate. As I said earlier, we shouldn't jump to dramatic heights by moving Springer down to the 7th or 8th spot in the lineup, but maybe batting cleanup or 5th could be a good for a change-of-scenery.
Finally, to put it in simple terms, you won't know until you try. We're in the competitive window for this Blue Jays squad, and if the coaching staff or Blue Jays brass think that Springer isn't helping the team by batting leadoff, I can see them making the decision to move him down.
What I think…
It's still too early to move Springer down in the lineup simply because we can't let a 20-game stretch overwrite what he has accomplished throughout his career. Look at it this way: if he had a Matt Chapman-like start to the season but followed it up with a 20-game stretch like he is in now, we probably wouldn't be having this conversation. In other words, if he turns it on starting tonight, all of this discussion would have been for no reason.
I think the cutoff would be around 40-50 games, if he still is only batting a hair over .200 in late May or early June, I wouldn't blame the Jays for making the move. For now, I think Toronto sticks with Springer. They've wanted him to be healthy for a full season. Now that he is, he's worth keeping in the leadoff spot for the time being.
---
Discover Betano.ca
 – a premium Sports Betting and Online Casino experience. Offering numerous unique and dynamic betting options along with diverse digital and live casino games, Betano is where The Game Starts Now. 19+. Please play responsibly.