Thoughts on the Alek Manoah situation and Jon Morosi's off-season trade speculation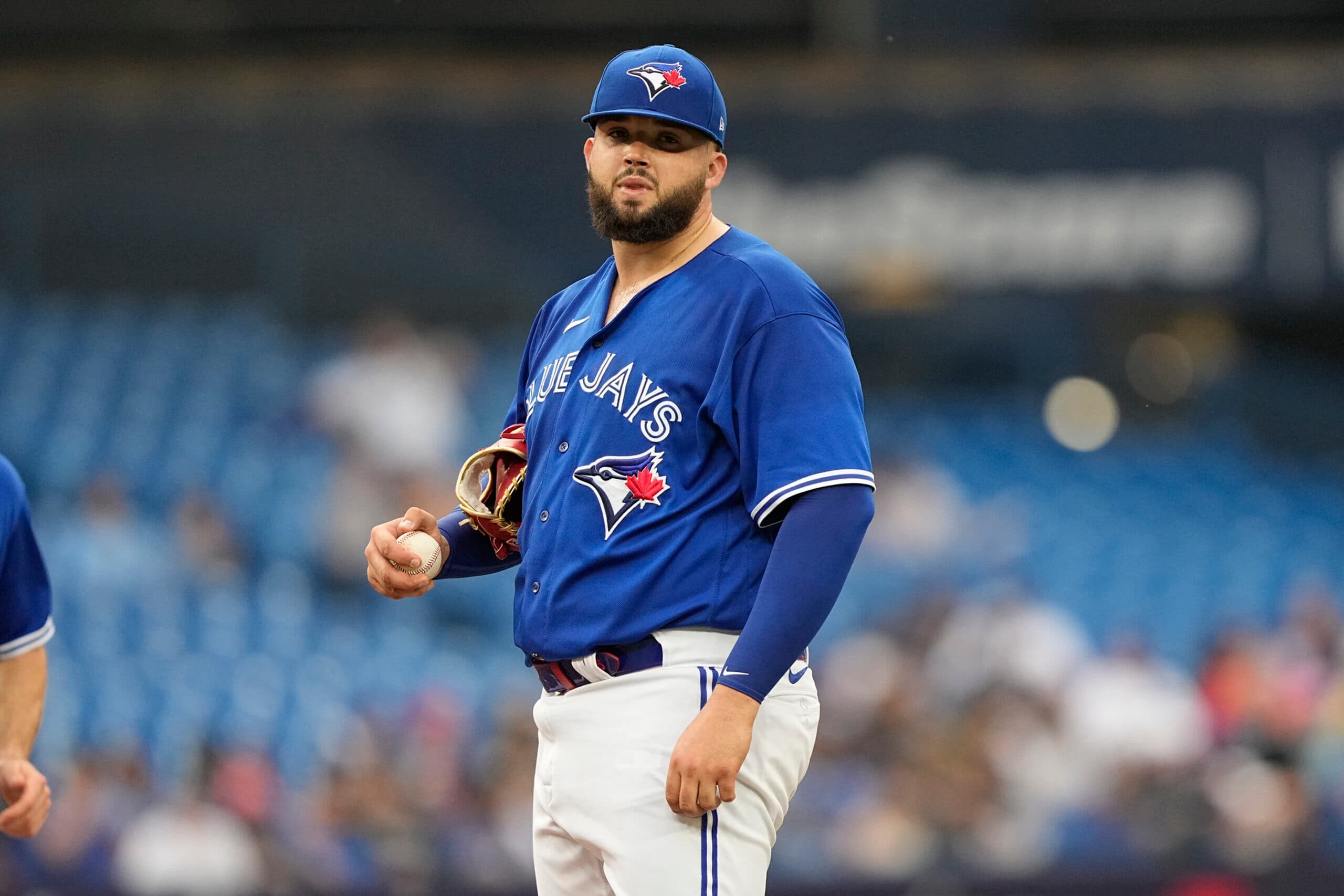 Photo credit:John E. Sokolowski-USA TODAY Sports
The talk of Major League Baseball has made its way past the trade deadline and now resides in playoff races, as it should be. But, that doesn't mean that the hot stove isn't being kept warm.
"That conversation will definitely happen. The Jays' phone is going to ring this off-season with people who want Alek Manoah. If you think about the shortage of starting pitching, teams that are just bereft of starting pitching right now and say, 'hey, he's better than our fifth starter, and for the opportunity to bring him in we'd be willing to give up this level prospect'."
Manoah was optioned to the minor leagues for the second time this season on August 11th, however, John Schneider recently told the media that Manoah is still in Toronto.
Before I dive into the optics of this situation, let's make sure we're clear on Morosi's sentiments. He wasn't taking a side on what Toronto should do. The Blue Jays – as far as we know – do not intend on trading Manoah, but Morosi was confident enough that the team is going to get calls about the 25-year-old righty.
Manoah has had a disappointing season, to say the least. He's 3-9 with a 5.87 ERA across 19 starts, but the more subpar stats are his WHIP (1.74) and his BB/9 (6.1). Manoah was sent down to the Florida Complex League on June 6th following a horrific outing against the Houston Astros. He was called up after a few weeks and made a couple of encouraging starts, but the Blue Jays sent him back down to the minors in wake of Hyun-Jin Ryu looking like a stud since coming back from Tommy John surgery and "winning" the No. 5 starter role.
Manoah has been one of the biggest storylines of this season, but I never even contemplated the idea of Toronto moving on from him until I heard this report. Join me in breaking down why Ross Atkins should or shouldn't elect to move on from Manoah.
Why they should trade Manoah
The first reason I would suggest for a potential Manoah trade would be a principle of any deal. If there will be many teams inquiring about Manoah, Ross Atkins can kick back and start a bidding war. Morosi was adamant that teams will fall in love with the idea of "fixing" Manoah, especially when he's already been very accomplished in such a short time. For all we know, a team such as the Rays would assist Manoah in developing an unfair splitter that catapults him back into Cy Young status. Ugh, no thanks. Maybe this should go in the next section?
Secondly, the Blue Jays can afford to deal away a starting pitcher right now. All of Kevin Gausman, Jose Berrios, Chris Bassitt, and Yusei Kikuchi are under contract next season, leaving one spot that the Blue Jays would need to fill. The pitching free agent market has a bounty of 4th- and 5th-level starters and the Jays shouldn't have any financial burdens that keep them from signing a Jack Flaherty, Martin Perez, etc.
I think it's also worth considering how Ross Atkins and his ideologies would handle a situation like this. While he inevitably wants to stockpile a deep All-Star unit of run prevention, he might have learned a lesson from the Aaron Sanchez trade in 2019. Perhaps a couple of deadlines too late, Atkins dealt Sanchez when his value was arguably at his lowest. Bless you, Derek Fisher. We haven't forgotten you.
Finally, also noted by Morosi and Jays Journal, the Blue Jays could open up an opportunity to trade for a position of need. It's no guarantee that Matt Chapman, Whit Merrifield, or Kevin Kiermaier will be back next season, and the Blue Jays clearly need some offensive reinforcements. Even if Atkins doesn't want to trade for an MLB-ready bat, he could use this hypothetical deal to strengthen the farm system. I'd be very curious to see what status of prospect(s) the Blue Jays could bring back in this case.
Why they shouldn't trade Manoah
Manoah is just one season removed from being a Cy Young finalist. Last year, he posted a 2.24 ERA across 31 starts with a WHIP of 0.992. He was also summoned to the major leagues after only nine games of minor league action prior to his call-up in 2021 to assist a rotation needing some depth. He would go on to make 20 starts for the Blue Jays that season, posting a 10.2 K/9 and a 3.22 ERA with a 9-2 record. He gave the Blue Jays a chance to win, and that meant a great deal when it was a guy who didn't have the typical development treatment of the average MLB prospect.
With that, it's too soon to give up on Manoah completely. Are we going to let one bad season determine his fate? Did we not learn anything from Berrios or Kikuchi?
It's important to note that Toronto has no financial burden on Manoah. He isn't signed to a massive 10+ year, $300 million contract. With Manoah being under team control until 2028, they're well within their rights to ride his development out. Again, Manoah isn't some rookie with a "high upside," he's proven that he can be an ace of a pitching staff. Instead of letting another team "fix" him, why would Toronto not try and continue to do it themselves?
The Blue Jays have had to make some tough calls with their roster moves, but it's been a welcome problem for them to have as it has been a matter of having too many pitchers as opposed to too little. Starting pitching depth is sought after at every trade deadline, and the Blue Jays were fortunate enough that they didn't have to address that this year. Ask teams like the Diamondbacks, Yankees, Reds, and Orioles if they would like to have a situation in which Alek Manoah is their fifth or sixth starter. They'd take that any day. Again, starting pitching is a golden thing to have as a franchise, and the Blue Jays shouldn't throw it away.
Finally, Manoah wants to be in Toronto. At least from the fan's eye, he's enjoyed everything about being a Blue Jay, he clearly represents the organization well, and he knows what it means to wear the logo every day. Professional sports are littered with athletes demanding trades in today's atmosphere, and while some of those requests are valid, it's comforting for a fanbase to know that one of your stars wants to be a part of your favourite team.
The verdict
Personally, I wouldn't trade Manoah. Logistically, the Blue Jays would be selling low on him and there's no reason to do that in the midst of their competitive window.
There are some valid pros and cons, but you can do this kind of analysis with any MLB player. Even the late great Roy Halladay had to take a trip to the minors for some refining and look at the career that he wound up having.
Also, just look at the bounce-back seasons that Jose Berrios and Yusei Kikuchi have had this year. While there's no guarantee that Manoah bounces back to the ace-level starter that he was in 2022, the Blue Jays have shown that they can have their pitchers make successful adjustments. Manoah deserves a Revenge Tour of his own.
Admittedly, I've got some personal bias in that I'm a big Manoah fan and I'd love to see that guy wear the Blue Jays uniform for years to come. He started to look like his former self after his first minor league assignment, particularly by increasing the strikeouts and decreasing the walks, and it reminded fans that a high-energy bulldog is still there.
Naturally, he'll still have his naysayers, but as the adage goes, your haters are your biggest fans. Keep The Big Man!
---