Three Key Things: Here's why the Blue Jays can beat the Twins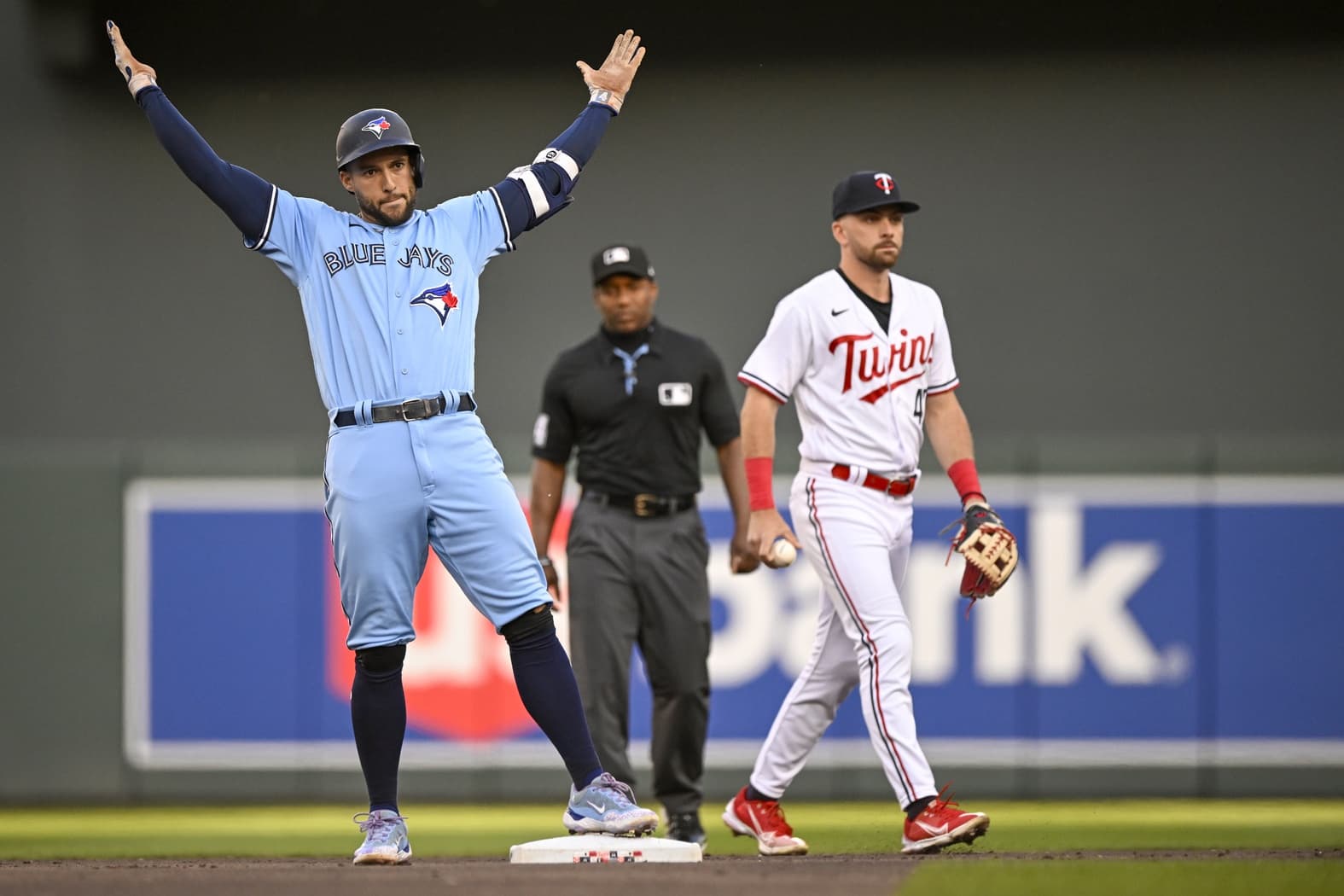 Photo credit:© Nick Wosika-USA TODAY Sports
For most of the season, this Blue Jays team has had their doubters. Now that they've squeaked their way into the playoffs, it's time to find out if those doubters can be proved wrong with a postseason run. If you're looking for a reason to believe in this team, I've tried to put some together for you.
The easy thing to do in an article like this is to point out that the Twins played in the worst division in baseball. Minnesota won their division with just an 87-75 record, meaning that if the Blue Jays were in the AL Central, their 89 wins would make them division champs.
However, Minnesota is coming off a 42-28 second half, and they proved to be a pain in Toronto's side by splitting a six-game season series against them this year. The Twins have their offensive strengths (see their third-most home run total in the MLB), they field well (third-least errors in the MLB), and starters Sonny Gray and Pablo Lopez are about as good of a duo for a best-of-3 series as you'll find.
The fascinating part about this series is that the Blue Jays are a team of a similar mould (could we say they're…twins?). They defend really well, and their pitching – starters and bullpen – are without question the MVPs of the team. Offensively, there have been question marks all season, but they've gotten the job done whether you like it or not.
Full disclosure, this was probably one of the hardest articles to write. The Blue Jays really don't do one thing miles and miles better than Minnesota. With that being said, what reasons should Blue Jays fans invest in when it comes to winning this series?
The Twins may not be at full strength
This time of year, especially after playing 162 games, no one is truly 100%. However, the Twins have a trio of injuries to a couple of their highest-paid players and one of their outstanding rookies that may play a factor in this series. This has been hammered down many times throughout the speculation of this series, but it is no doubt something that could play to Toronto's advantage.
Let's start with Carlos Correa, who was placed on the 10-day IL on September 20th due to plantar fasciitis in his left foot. Twins manager Rocco Baldelli spoke with MLB Network Radio last week saying that Correa's injury is "the easiest one actually to talk through," and could nearly guarantee that he would play in the Wild Card series.
"I think when push comes to shove next Tuesday, Correa will be out there," Baldelli said. "He's not going to be at 100%, but I think taking this 10 day stretch is going to help his heel a noticable amount, I would say."
Correa has had a rather underwhelming season at the plate for Minnesota with a .230/.312/.399 slash line, 18 home runs and 65 RBIs. With that being said, how much damage is he actually going to do to Minnesota's playoff success if he doesn't play? At the same time, this is a guy with a proven track record of postseason accomplishments, especially in the Wild Card rounds. He also had a solid showing against the Jays this year, going 6-for-19 with a home run, two doubles, four RBIs, and four walks.
Next up is Royce Lewis, who quickly became one of the best stories in baseball this year. The first overall selection in the 2017 draft is finally contributing consistently at the major league level, including setting a franchise record for grand slams in a season with four. Unfortunately, Lewis suffered a hamstring strain on September 21st, an injury to which Baldelli was left unsure of his status going forward.
Baldelli clarified that the hamstring injury was listed as a grade one injury, but they're going to see if he can swing the bat prior to Tuesday's game. If he is able to swing, he'll most likely be pencilled in as the DH, unless he feels good enough to move around and play in the field.
Finally, the $100 million man that is Byron Buxton. Buxton has also been dealing with a hamstring strain, but he's been on the IL since August 4th. Before his injury, Buxton was hitting a lowly .207 with 17 home runs and 42 RBIs. His availability could complicate things with Lewis' injury status still up in the air; Buxton primarily played DH this season given his health throughout his career, but Baldelli will have to decide what to do if Lewis also feels he needs to DH.
It sounds like these decisions will be made last minute, but regardless, the Blue Jays are facing a Twins offence that will be far from 100%.
The Blue Jays are built to win an evenly-matched series like this
The way I see it, this may be the best Wild Card series of the bunch. Toronto's roster is built to win close games of high magnitude, and it's been reflected in their 25-20 record in one-run games. As for the Twins, they stand at 19-26 one-run contests.
Toronto has constructed one of the deepest bullpens in Blue Jays history to the point that solid options like Jay Jackson and Bowden Francis ended up being caught in the numbers game. Be it Kevin Gausman, Jose Berrios, or whoever the Game 3 starter would be to go five or six innings, it is an absolute luxury to be going to a combination of Erik Swanson, Tim Mayza, Jordan Romano, and/or Jordan Hicks to end the game. With great power comes great responsibility, so John Schneider and the Blue Jays staff will need to push the right buttons when it comes to bullpen management.
On top of their pitching, Schneider can throw a defence out on the field in the 8th or 9th inning to finish a game and preserve a lead, another luxury for the Blue Jays. Toronto had instances in recent years in which they've been so close or had something slip out of their hands in regards to taking that next step. What if Bo Bichette cleanly played those two ground balls in the 2020 Wild Card round? What if Marcus Semien didn't under-throw Vladdy against the Tigers in 2021? What would've happened if they didn't blow an 8-1 lead last year?
The Blue Jays are built to ensure that those opportunities are limited. Now, they get to prove it at the highest level.
Minnesota strikes out… a lot
The Twins are in love with the home run. In fact, about 50% of the runs they've scored this season have come from the long ball, a number that falls very close to where the history-making Atlanta Braves stand in that same category. At a glance, ranking third in the MLB in home runs could make Minnesota seem like an offensive powerhouse, but there's another side to that ranking that plays in Toronto's favour.
The Twins lead the MLB in strikeouts, 51 clear of the second-place Seattle Mariners. On top of that, the Twins rank 21st in the MLB batting average (.243), showing that their offence is good, but there are some holes.
So, how can the Blue Jays exploit this? Toronto's pitching staff is second in the MLB in strikeouts (hilariously enough, the Twins are first), and their Game 1 starter's specialty is the K. While the Twins have admittedly had his number recently, Kevin Gausman ranks second in the MLB in strikeouts with special thanks to his elite splitter. Hicks, Romano, and Swanson have that same level of swing-and-miss out of the bullpen, suggesting that Toronto's late-game options are even more of an advantage.
Honourable Mention: The Twins could be cursed
The Blue Jays are searching for their first playoff win since 2016, currently riding a five-game losing streak in that area. While that may seem like a long time, the Twins have one of the worst postseason streaks in all of sports.
The Twins have not won a playoff game since 2004, despite playing in six playoff series' since then (18 total games). It didn't matter if they were playing games at home, being the team in 2019 that set the single-season team home run record in the MLB, or even chasing the Wild Card game starter in the first inning like they did in 2017 against the Yankees, the Twins have failed to turn any of those scenarios into wins.
This might be a silly reason to believe that Toronto could win this series, but I'm willing to bet that the pressure is mounting for this year's Twins to break the streak.
Miscellaneous Numbers…
Bo Bichette is 2-for-5 with a triple, home run, 3 RBIs vs. Pablo Lopez
Brandon Belt is 3-for-12 with a home run and a double vs. Pablo Lopez
Cavan Biggio is 1-for-2 with a home run vs. Pablo Lopez
Matt Chapman is 3-for-8 with a home run, two RBIs, and three walks vs. Sonny Gray
Whit Merrifield is 2-for-5 with an RBI and a walk vs. Pablo Lopez
George Springer is 1-for-3 vs. Pablo Lopez
---