Three Things The Blue Jays Need to Take the Next Step
Photo credit:© Nathan Ray Seebeck-USA TODAY Sports
The Blue Jays have watched their season end in heartbreak yet again. An 8-1 lead evaporated right in front of the country's eyes, and the Blue Jays were swept by the Mariners in their wild-card series.
Many Blue Jays are now heading into a 2023 season that looks likely to be their final campaign north of the border. Lourdes Gurriel Jr. and Teoscar Hernandez both seem like players who probably won't find their way back in 2024, Gurriel especially. Even Matt Chapman's a free agent, and who knows how that'll work out, especially given that he's a client of Scott Boras. Unfortunately, there's a fair argument to be made that the Jays are heading into the back half of their championship window. They need to find a way to win, and they need to do it NOW.
What could that look like in the coming months? Let's see what three things the Jays need to do…
Utilize Surplus Value:
The Blue Jays absolutely have several positions at which they are too deep. Typically, you wouldn't consider that to be a problem, but it is one when other spots are heavily lacking. The Jays have two certain starting quality catchers, and one that FanGraphs rates as the 3rd best prospect in the sport. At least one of them has to be moved on, not because they aren't good enough, but because of how good the return could be. The move to maintain the status quo would be trading Moreno, who's not been a big part of the team, so trading him likely wouldn't be too big of a locker-room shakeup. However…I'd propose that trading Alejandro Kirk might be a better move for the Jays. There are a few reasons for that.
Firstly, Alejandro Kirk's now accumulated a full two years of service time, whereas Moreno has none. By trading Kirk, you're effectively getting an extra two cost-controlled years for your starting catcher. Second of all, even if you think you've got a higher floor in Kirk, there's no debating that you have a higher ceiling in Moreno. In only 73 plate appearances, Moreno tallied 0.7 fWAR, which would put him on pace for 6.2 over a full (650 PA) season. Moreno offers plus baserunning, plus defence, and elite contact ability. He's also flashed power potential, he can get a hold of one from time to time, even if he'll never be a 20-homer guy. In that regard, he's rather similar to Kirk, who isn't a power hitter by any means but can drive one every now and then. Here's Moreno doing so, with his only homer of the year against the Orioles.
At the end of the day, if the Blue Jays trade either, it'll likely be for pitching, and you can expect that they'll target a frontline starter. Tarik Skubal is recovering from elbow surgery, and Pablo Lopez had a really rough second half, but you wonder how much it would take to get the Marlins to give up Sandy Alcantara. It would sure take more than either Kirk/Moreno, but how much more exactly? Orelvis Martinez's value depreciated in 2022, but you've got other interesting names in the system too.
Catcher isn't even the only position at which the Blue Jays are too stacked. They've got 6-7 outfielders who all have arguments to be on the opening day roster. They have 5-6 players in a similar situation up the middle as well. The point is, the Blue Jays may be well served moving some solid talent, in order to shore up positions that are of significantly more need. What else should the Jays do?
Spend Money In Free Agency:
This year's free agent class is arguably even more favourable for the Jays than last years could have been. They really didn't take much advantage of it then, as Kevin Gausman was the only big signing the Jays made. They passed on other starters like Justin Verlander, electing to go with a cheaper option…Yusei Kikuchi. They didn't make a play for any of the big shortstops, they didn't sign Freddie Freeman, et cetera. But, they have an opportunity to do something different this offseason.
Edwin Diaz just had one of the greatest seasons a closer's ever had. His FIP was the 4th best ever from a reliever who tossed 50+ innings, and his K/9 was the second best (17.16, good lord)! His stuff is almost exactly what the Blue Jays need. They finished 16th in MLB in terms of K/9 from the bullpen. They finished 24th in average fastball velocity. They finished 19th in FIP. Adding Diaz not only gives them another late inning guy who can take the ball and lock up a win, but it gives the bullpen a different dimension that can keep other teams off balance.
Carlos Correa is, in my non-expert opinion, the most underrated player in the league. In his last 3 full seasons (so not counting 2020), he's posted 16.4 bWAR in 1551 plate appearances, which equates to an average of 6.9 WAR over a full year. In 2021, he racked up 12 OAA and 20 DRS at the shortstop position. In 2022, however, he had a frustratingly mediocre season defensively. 3 DRS is fine, but not up to Correa's standards, and -3 OAA is rough. It's the worst full season of defence he's played since 2016, when his OAA was… -18. Correa truly made himself into one of the best defenders in baseball since then. While 2022 has left some question marks over whether or not he'll face some early regression, a wRC+ of 140 would more than make up for average defence. The Blue Jays bringing Correa into the fold would allow them to move Bichette to second, where his defence would likely play up significantly more. It also would put Espinal in a utility role, which probably suits both him and the team better. At the end of the day, the Blue Jays are not a weak team up the middle, but there's no reason to settle, and pass on a player of Correa's calibre.
From one Carlos to the next, Carlos Rodón also looks likely to opt out of his contract with the San Francisco Giants. Rodón's 2022 improved on his already fantastic 2021, as he added another 46 innings and dropped both his FIP and xFIP. A jump in his ERA was unfortunate, but 2.88 is nothing to sneeze at whatsoever. He strikes out nearly 12 batters per 9 innings, and as his career has progressed, he's been sacrificing groundballs in exchange for those strikeouts.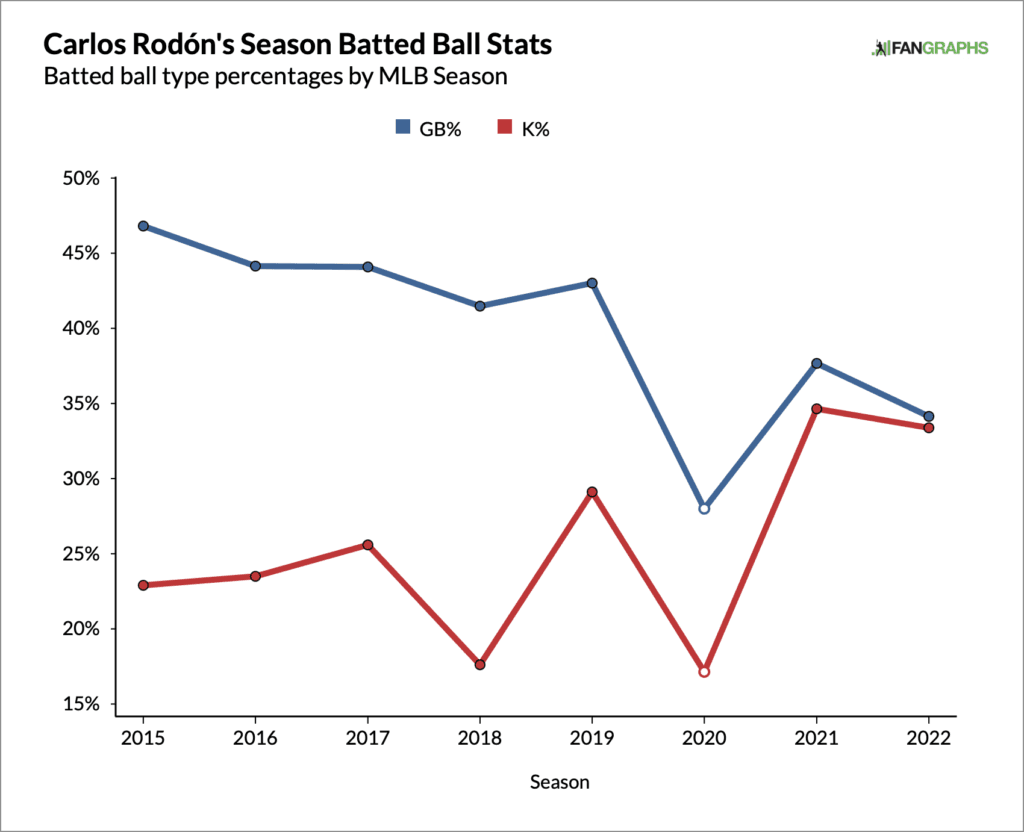 It's worked for Rodón. Up until the beginning of 2021, he was sporting a career 4.14 ERA. Since then, it's been 2.67, a significantly improved mark that coincided exactly with the year his strikeouts took the largest jump. The Jays are going to have one of their three best pitchers in 2022 hit free agency in Ross Stripling. Even if they did bring him back (and even if Berrios regained his past form), the rotation could still stand to improve significantly. Carlos Rodón could be the exact pitcher that the Blue Jays need.
So, that's three free agents (at three different positions) who the Blue Jays could target to fill a void, or just push the team forward. It's certainly unrealistic to expect the Blue Jays to sign all three, and it's possibly unrealistic to expect even one. However, if they want to improve on 2022, the Jays need to be signing players of this quality, instead of settling for less.
Give The Kids A Chance:
The Blue Jays have been dealing away minor league talent in exchange for win-now players since 2020. However, they've still got a litany of players who have something to contribute to a major league baseball team. Hopefully, that team will be the Blue Jays.
At the end of the regular season, the Blue Jays gave a short bit of run to some of the prospects in the organization. As we already touched on, Gabriel Moreno paid it off with a home run. Otto Lopez didn't hit a homer, or even anything more than a single. However, a 1.367 OPS is all the same, as Lopez was quite productive in a mere 10 at-bats. Now, of course, nobody is expecting anything of the sort over a full season, or even over an extra 25 plate appearances. Nonetheless, you don't know what you have until you find out. The Blue Jays should have roster spots available for players like Lopez, and he should be able to show the team what he's got. Year after year, the Braves do this with their prospects. Michael Harris II got his chance this year, and put up 4.8 fWAR to boot. Now, Otto Lopez certainly isn't a prospect of Michael Harris's calibre, but Gabriel Moreno is. Ricky Tiedemann may soon be. Yosver Zulueta may soon be. Let's talk more about the latter pitcher.
Yosver Zulueta absolutely tore up the minor leagues in 2022. He started in low-A, where he struck out 17 batters per 9 innings, and posted an ERA of 3.00 flat. Then, he moved to high-A, where his ERA jumped to 3.80, and his K/9 dropped to 11.79, but that's still nowhere close to a bad result, especially when you consider how bloated his ERA was by two nightmarish outings. Keep in mind, he didn't make more than a handful of appearances at any level. In AA, Zulu's ERA continued to rise, up to 4.11. His K/9 rebounded back up to 14.67 however, which earned him another promotion. He did pitch in AAA, to the tune of a 3.86 ERA and 9.64 K/9, but 4.2 innings is hard to get anything out of. Zulueta throws in the high 90's, possibly even touching 100, and that velocity, combined with the strikeouts, is exactly what the Blue Jays need. We've already touched on it with Edwin Diaz, but that adds a dimension to the bullpen that the Jays don't have from anyone but Markham's own Jordan Romano. As is, opponents won't need to worry about velocity out of the Jays bullpen about 2/3rd's of the time, considering that Romano can't pitch every day. The Jays would be well served to keep other teams on their toes every day, and Zulueta can certainly do that. Walks are a concern for the 24 year old right hander, but you'll have to take the good with the bad. From Zulueta, you can rest assured that there will be a whole lot of good.
With all of that being said, the Blue Jays are in a rare position heading into 2022. Many members of the core squad are under team control for the next several years, and they have more reinforcements on the way in the coming years, if not imminently. However, that doesn't mean it's time for the Jays to get complacent. Investing in a good team is never a bad strategy, and it's time for the front office to double down on past investments.
---