Tim Anderson and the Future of the Blue Jays at Second Base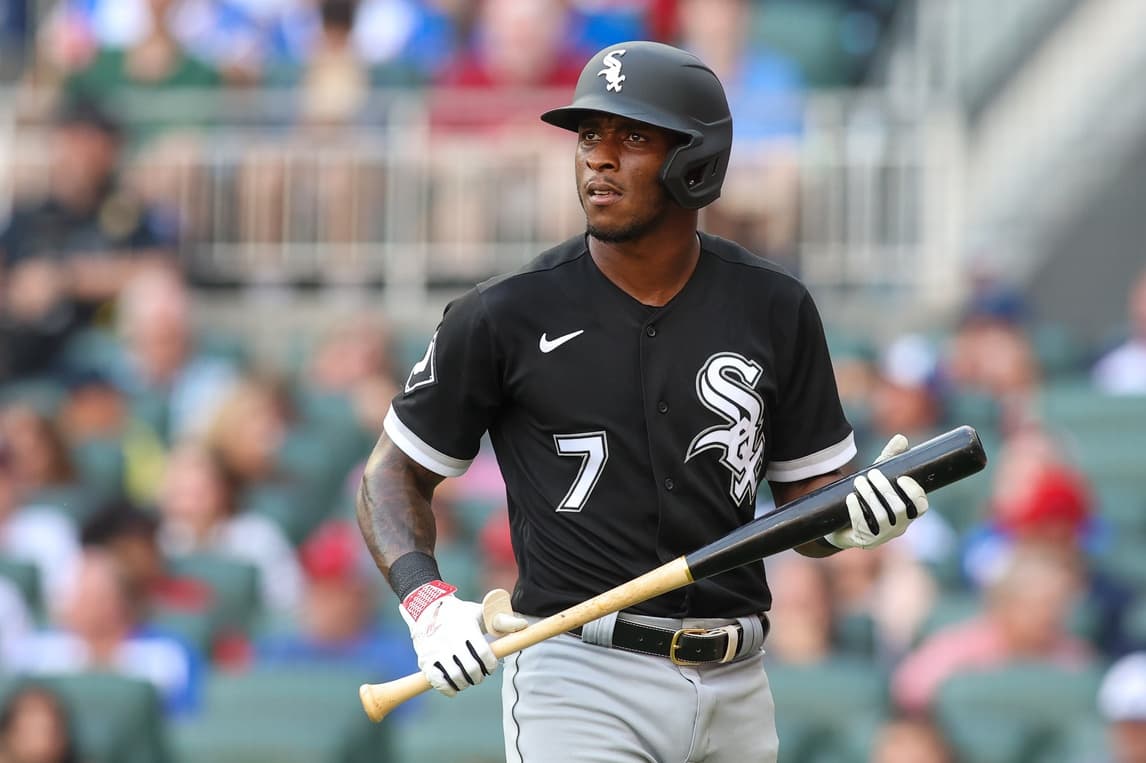 Photo credit:© Brett Davis-USA TODAY Sports
In a recent appearance on MLB Network, Jon Morosi
discussed
how trade talks for the White Sox shortstop Tim Anderson have been heating up, and mentioned the Blue Jays as a potential fit.
Anderson is, of course, a shortstop, and has been for his entire career. However, there's no way to have him and Bo Bichette both play there, so a trade would start with moving someone who's not a second baseman to second base. Let's start there, and play the hypothetical game. Which of the two should play second?
As old as the talking point is, Bo Bichette is still not of a high enough quality to be a long-term MLB shortstop. Whether or not he gets moved off the position is still to be determined, but if the Blue Jays commitment to defence continues this offseason, it realistically could result in him being moved. Based on the new Statcast defensive metric – Fielding Run Value, Bichette is on pace to have the worst full season of his career defensively, with -6 FRV/1250 innings.
Using Outs Above Average, he's once again having one of the worst seasons of his career defensively, at -5 OAA so far, on pace for -7 over a whole season. It's not like Bichette's never made good plays in the field, or hasn't shown some potential, but as Fielding Run Value suggests, his range is simply insufficient for him to be even an average shortstop. His arm strength, though, is only slightly below average amongst shortstops, but seems likely to play up at second base. Bichette's issues with range may also be may more conducive to playing second, a position where he simply won't be asked to cover the same amount of ground. Despite Bo being a generally poor defensive shortstop, his offence makes up for it, but a move to second base might see him become a good defender to go along with the bat.
Tim Anderson, however, has shown a history of solid play at shortstop. Over the last two years, his defence seems to have regressed somewhat, though there may be a reason to think that this year he's been hindered by issues with his throwing shoulder. It also may have hurt his performance at the plate, as between being removed from a game against Seattle with shoulder soreness and the All-Star break, his wRC+ was a putrid -20 (yes, that's a minus) in 16 games. Since the break though, his wRC+ has been 151, and he's showing signs of a bounce back, though of course, that sample is very small (9 games). Defensively though, he's tallied positive 9 OAA at shortstop across his MLB history, compared to Bo Bichette's negative 21. Even in years recent, where Anderson's suffered a regression in his defence, he's tallying OAA values just below zero, at -2 last year and -2 so far this year. This is a floor at a similar level to Bichette's ceiling (best full season was -5 OAA).
To be honest, Anderson would never take over from Bichette at shortstop mid-season, even if he did come over to Toronto. The Jays would want to give Bichette an offseason to prepare for reps at second base, even if they were deciding to move him over, which I'd certainly favour, but I'm not sure if they would. Bichette's gotten his chance to play shortstop, but it's now probably the Jays worst defensive position, and so it's time to reinforce second base with his tools, and let someone with better range take over at short. That question of when a change would be made if it was, leads me to another question the Blue Jays have ahead of them…option years.
Regardless of whether or not the Blue Jays trade for Tim Anderson, they're going to be made to decide on an option year for at least one middle infielder. Whit Merrifield has a mutual option next season for $18 million. I'm just going to cut to the chase here, there's no reason the Blue Jays should pick this up. I get how good Merrifield has been this year, but he's still been a bit of a streaky player who's been on a heater lately. I'm not so sure Merrifield would pick up the option either, as I think he'd rather convert a potential career year into a long-term contract that he can ride into retirement, rather than risk regression next year. In this regard, the Blue Jays would be more likely to give Whit the qualifying offer (which will be worth slightly more than $18M) so that they'll get compensation if he leaves in free agency. I don't think that really makes sense either though, as he's just unlikely to be worth that amount of money. Over the last three years, he's been about a 2.0 WAR player on average, and that's just not worth nearly 20 million dollars.
Tim Anderson, however, has an option for $14 million next year, which is much more interesting. Anderson is much the opposite of Merrifield, as his 2023 has been nothing short of awful, with TA having recorded -0.5 fWAR thus far. There's time for that to be turned around, but based on that, an option for $14M would obviously not be picked up. The difference is, over his past few years, he's shown that he's more like a 4.0 WAR player over a full season on average. The question becomes whether the Blue Jays (or whoever possesses Anderson's rights after the deadline) think that they might be able to sign him for less money due to such a poor year. If he returns to form, a large part of which is contingent on his health, he's one of the top middle infielders in baseball, without a doubt.
The fact of the matter is that even if Tim Anderson doesn't become a Blue Jay, or even if Bo Bichette doesn't move to the other side of second base, the Jays look likely to have a new second baseman next season. The front office is surely cognizant of this when heading into the trade deadline, as if that second baseman is acquired now, he can not only help contribute to a playoff run, but make their lives a little easier in the offseason. The Jays have benefitted highly from Whit Merrifield's versatility as well as sudden hitting acumen, but a shift to a younger, potentially more powerful hand at second would suit them well in future.
Thank you as always for reading! All stats and videos via FanGraphs and Baseball Savant.
---