Toronto Blue Jays 2023 Aggregated Top Prospects: Part 2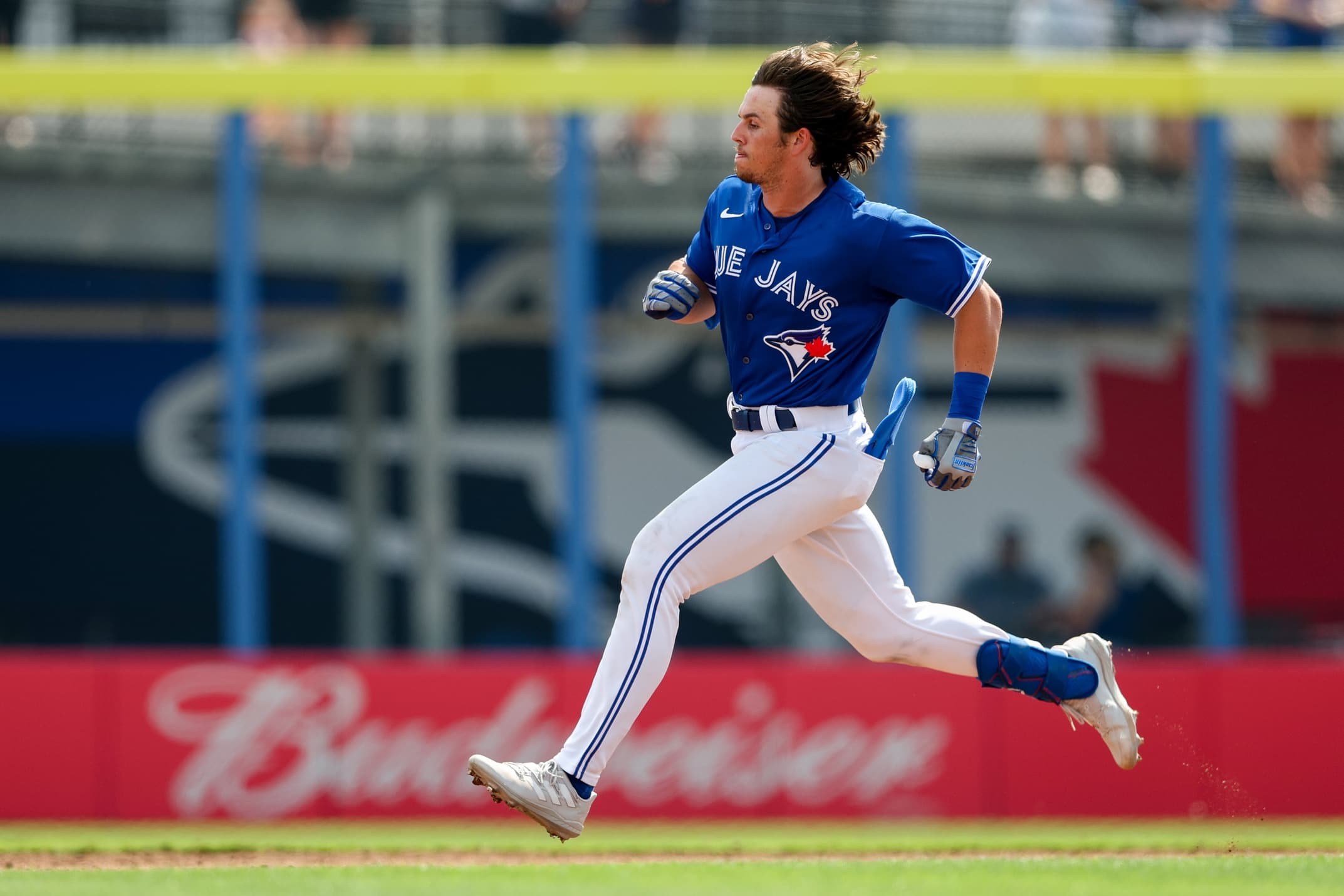 Photo credit:© Nathan Ray Seebeck-USA TODAY Sports
As described last time, I sorted my sources into "Pro" and "Fan" lists, even though I'm sure those in the latter set might rightfully object to being described as "just" fan blog sources.
My intention, in part, is to allow a comparison between what the major presumable well-resourced publications concluded and what well-equipped sources say. This list is aggregated from eight such sources (I actually had nine but 11-30 were behind a paywall and I've already paid for one list for last week's column so I dropped it). Even so, these sources range from 15 to 50 so I choose to use the same 30-point system. Which provokes the previously noted inadvertent tiers in the point totals. Still, I'd rather have this than a too-short list.
Rickey Tiedemann – LHP – 240 points
You thought it would be someone else?
Addison Barger – SS/3B – 227
He landed at #2 on six of the eight lists involved here. My guess is that he plays at least 2/3 of the time at SS as long as Martinez is in AA, and when Orelvis gets promoted (theoretically) the two of them will split SS and 3B more or less evenly. He'll also get enough run in the OF to see if he's competent out there.
Orelvis Martinez – SS/3B – 223
You can note the closeness of the point totals in this tier, the top four here were the top four, in various orders, on six of the eight lists surveyed. The organization would LOVE for him to establish that he'd learned from and corrected his failings last year in the first 6-8 weeks and push on to AAA. Looking in from the outside none of us can guess how that will play out.
Brandon Barriera – LHP – 219
It's not unusual to find him #2 on many lists. That is of course very projection heavy but it's also got to do with the potential ceiling rather than the relatively high degree of risk.
Yosver Zulueta – RHP – 198
I'm still thinking you'll much more likely see him in Toronto late this summer (assuming health) than Tiedemann. They have enough depth that there shouldn't be a need to get to the latter this year. Not to say he's not better than Thompson et al, but those guys wouldn't be here if they didn't intend to use them if needed.
Gabriel Martinez – LF – 194
I'm still thinking he and Dasan Brown earned the promotion to AA but I've seen other reports that think they'll start back in Vancouver for a bit.
Tucker Toman – 3B – 186
Really exciting stuff in some of the reports on him. We could all use more reporting than we get on how guys like him are looking on the minor league side of spring training.
Cade Daughtry – 3B/2B – 175
it's kind of awkward IMO for these two to fall back to back because by all accounts Toman has a lot more ceiling potential than Daughtry on both sides of the game.
Dahian Santos – RHP – 150
A couple of sources (at least one in each set) had him pretty high on their list.
Sem Robersse – RHP – 143
We'll see how the reported winter work helps him, if at all, add some swing and miss to his otherwise fine work.
Josh Kasavich – SS – 129
The infield positions in A ball are going to be plenty crowded this summer. It would behoove those who want to advance to hit well.
Adam Macko – LHP – 122
Keegan Matheson tweeted that Tiedemann reported that he expects to pitch in a six-man rotation (given the way MiLB schedules are now regimented that basically means once a week) which, honestly, was the rule more than the exception in their system below AAA last year. Whatever other goals this might serve, it's somewhat a necessity because all those teams have more starters than they can accommodate without piggybacking. You can identify at least eight healthy (as far as we know) pitchers who should be starters this season on all the teams below Buffalo. Macko is among those expected to be in Vancouver. This crowding maybe presents SOME pressure to slide someone you'd think would be starting into a bulk-relief role. Macko could be one of them.
Otto Lopez – IF/OF – 116
Buzz was to be in his favour to break camp with the Jays, but he didn't and now the speculation is that he's too young to sit so much when he could be playing virtually every day.
Spencer Horwitz – 1B/LF – 115
I don't see how he's not traded this summer if he's hitting well. Not to dismiss the ability he seems to have but there's just no path in this organization to being more than a fringe contributor at most.
Hayden Juenger – RHP – 110
People say he's bound to pitch for the jays at some point this year, but he's not on the 40 and doesn't have to be added next winter so there are several folks to cycle through before they get to him.
Leonardo Jimenez – SS – 86
Like Kasavich, the glove is not in question and the eyes will be on his plate production. He probably has more pop if he can stay healthy and get to it.
Manuel Beltre – SS – 81
Hoping for an offensive breakout at Dunedin.
Alex DeJesus – 3B/SS – 74
Still pretty young, Looking to get back on track after his post-trade crash last summer.
Damiano Palmegiani – 3B/1B – 66
Likely at AA, needs to establish his defensive credentials at 3B in a world where we should expect Orelvis to get a lot of starts at 3B
Rainer Nunez – 1B – 57
When Palmegiani shifts across the diamond he'll find Nunez waiting there. My guess is that between them they will take the bulk of New Hampshire's DH at-bats
Those last three guys are the ones who didn't make the Top 20 on last week's list. DeJesus came in at 22, Nunez at 25, and Palmegiani at 32. Conversely, that list included Dasan Brown (21 on this list) Adrian Pinto (23) and Emanuel Bonilla (25). The biggest variance among those who are on both lists is regarding Gabriel Martinez, seven spots lower on last week's list. Also, Spencer Horwitz was 6 spots lower, while Hayden Juenger was five spots higher last week.
Within this coming week, we'll get the official rosters for all these teams and we'll see how my predictions fared. I'll probably write something next weekend reviewing the roster moves which interested me.
---
Recent articles from Tammy Rainey