Toronto Blue Jays minor league notes from September 4th: Nate Pearson returns, affiliates searching for the playoffs and more!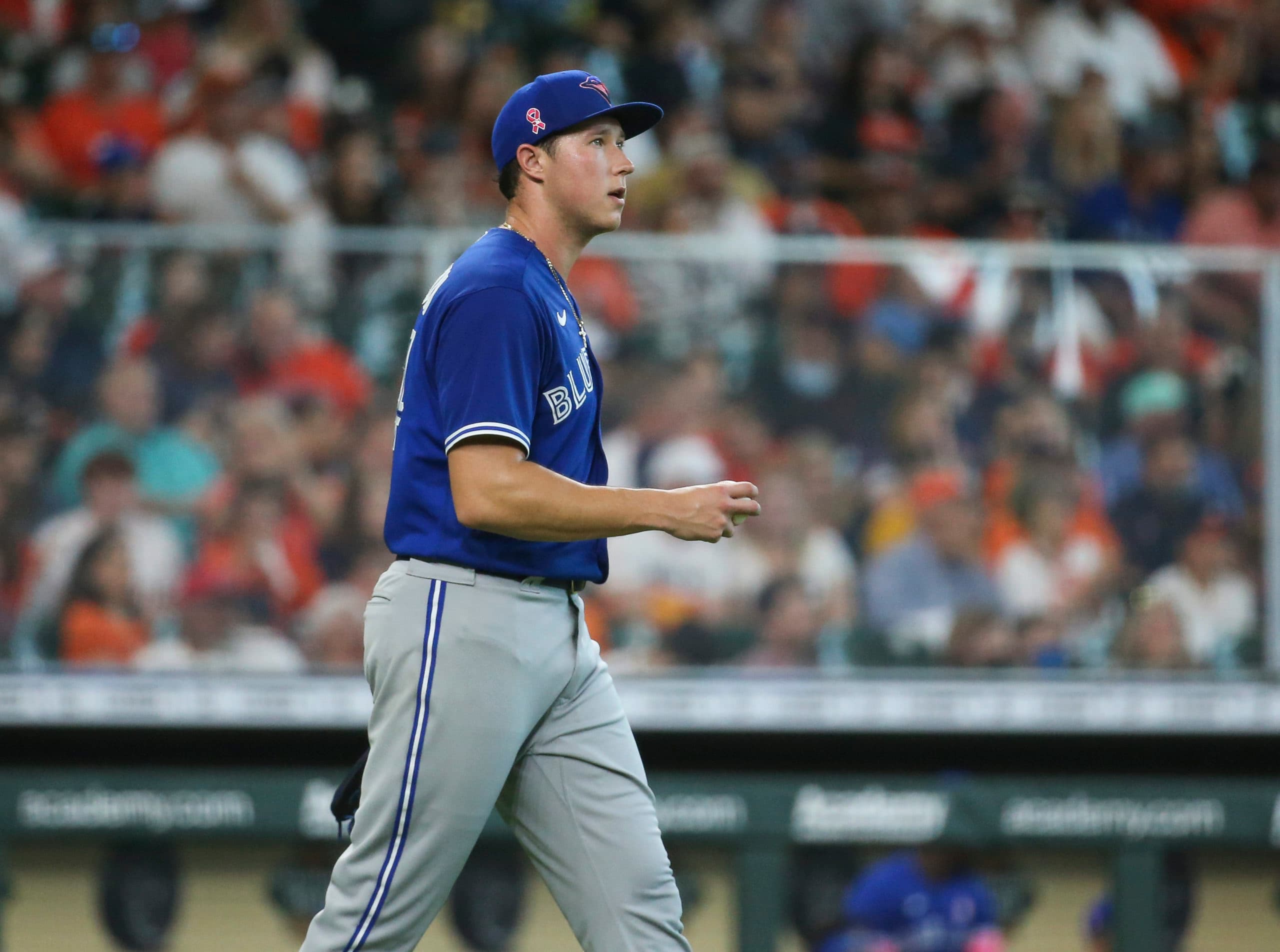 Photo credit:Troy Taormina-USA TODAY Sports
While the Jays swept the Pittsburgh Pirates on Sunday, let's look at minor league notes from September 4th.
As you may know, three Blue Jays affiliates were in the hunt for a position season position going back to the end of August. Let's check in on each of those teams, as well as how the New Hampshire Fisher Cats are doing.
Buffalo Bisons:
On August 31st, the Blue Jays Triple A team sat only three games back with three teams to jump over. As of September fourth, they now sit six games back with five teams to jump over, with only 22 games remaining.
They jumped out to an early 2-0 lead on Sunday afternoon, but the Worcester Red Sox eventually clawed their way back to win 5-2. This season, the Bisons have been the team where all of the highly touted relief prospects have been placed.
Today, Hayden Juenger (Blue Jays Nation's 22nd ranked prospect) struck out three in two innings pitched. Bowden Francis (a part of the Rowdy Tellez trade) also pitched, but in his last three games, he's given up 7 earned runs in 6.2 innings pitched.
Otto Lopez's hit streak also came to an end on the 31st, but he has since gotten 5 hits in 14 plate appearances. The 23-year-old deserves a shot with the big league club before the season is done.
Either way, with only 22 games remaining, it's looking increasingly less likely that the Bisons will make the playoffs in 2022.
New Hampshire Fisher Cats:
Toronto's Double A team has been out of it for a pretty long time, but they still deserve a mention. Bullpen candidate Yosver Zulueta returned to game action for the first time since August 2nd. The 24-year-old righty pitched an inning, giving up an earned run, but striking out three batters.
There was also a pretty notable near triple play in Sunday afternoon's game, which you can watch below.
Addison Barger, one of the most improved prospects in 2022, has been out of the lineup since August 27th. It's to be seen if he'll make another appearance in the remaining 12 games for the Fisher Cats.
Orelvis Martinez had a 2-3 game on Sunday, reaching base three times. He's still at 28 homers, but one more home run will beat his career high in a season. He's also improved quite a bit with his pitch recognition, laying off breaking stuff.
Jimmy Robbins continues to pitch well for the Fisher Cats, as he had a line of five innings pitched, six hits, three earned runs, a walk, and four strikeouts. Since arriving in New England, he has a 2.84 ERA in 12.2 innings pitched with a 20.37 K%.
Hopefully the Fisher Cats can finish the season off strong.
Vancouver Canadians:
The Blue Jays high A affiliate actually hasn't played their scheduled game for Sunday yet. However, they need just one more win to secure their spot in the 2022 Northwest League playoffs.
Saturday's nerve-wracking game featured a blown 6-2 in the 8th inning, before winning it in extras. If they win on Sunday evening, they will have a guaranteed better overall record than Spokane.
Damiano Palmegiani has three home runs in his last five games. His total now sits at 13 with the Canadians and 24 overall between Low A and High A. Not bad for a 14th round pick (BJN's 11th best prospect).
Gabriel Martinez continued his great start in High A, going 3-5 with an RBI. Rainer Nunez, who was called up at the same time, also went 2-5 in last night's game.
The player of the game in my opinion, was Dahian Santos. The night started off rough for the 19-year-old righty, as he allowed the first two runners to reach, scoring one run. With a runner on third, he struck out two, which was the theme of the night. Santos finished with a line of
5 IP, 4 H, 2 ER, 1 BB, and 10 K
, by far his best start at the level.
Eric Pardinho was hit by a line drive comebacker, which ended his night prematurely. Up until that point, he hadn't allowed a run on three hits and a walk. However, the line drive was considered a base hit, scoring a run, before two more runs were tacked on before he left. Pardinho finished with a line of
1.2 IP, 4 H, 3 ER, 1 BB, and 3 K
, but he could very well have ended his night with a line of
2 IP, 3 H, 0 ER, 1 BB, 3 K
if not for some bad luck. Let's hope the injury isn't serious.
Dunedin Blue Jays:
Dunedin's second half has been extraordinary. On August 31st, they were 15-4 in their last 19 games. Since then, they've moved to 17-5, with that loss coming on a three-day, 5 inning game that featured big leaguers Luis Severino and Zack Britton.
On Sunday morning, rehabbing big league Nate Pearson had the start for the team, going an inning. Pearson's fastball sat at 96.9 mph but reached 98.9 mph. If he spends the next week with the Dunedin Blue Jays, he'll help their chances of winning the second half exponentially. Furthermore, if he throws 98 mph out of the Toronto bullpen, he could be that high-leverage reliever in the playoffs.
Dunedin won the first game 7-3. Shortstop Manuel Beltre hit his first Low A homer (92.3 mph), while Josh Kasevich continued to hit the ball well, going 2-4. Alan Roden, Cade Doughty, Devonte Brown, Estiven Machado, and Marcos De La Rosa all got a hit in the game.
Jose Ferrer, who's had some impressive exit velocities this season, left game one injured and was added to the 7-day IL.
The second game was a lot more nerve wracking, as Dunedin was down 3-0 heading into the top of the 4th. Roque Salinas hit his third home of the season to make it a 3-2 game. In the bottom of the seventh and down to their last out, undrafted free agent Ryan McCarty walked. Kasevich singled to bring Marcos De La Rosa (who pinch ran for McCarty) to third.
Now down to their last strike, Estiven Machado doubled to drive in the tying run. The baby Jays brought in two runs in the top of the 8th, giving them just enough runs to win the second game 5-4.
Eliander Alcalde made his Low A debut Sunday afternoon, finishing the day with a line of
3.1 IP, 4 H, 0 ER, 0 BB, and 2 K.
Furthermore, Kendry Rojas had a line of
3 IP, 6 H, 3 ER, 0 BB, 4 K.
These two wins had HUGE implications in the Florida State League second-half standings. The Tampa Tarpons were one of the two teams in the hunt for the division, but they now sit 2.5 games back of Dunedin. Bradenton also lost big on Sunday afternoon, so now the Jays have a two-game cushion on them as well.
Both the Bradenton Mauraders and Tampa Tarpons will both be playing a team at the bottom of the respective division, so it's imperative for the baby Jays to win as many games as possible against the FSL East leading Palm Beach Cardinals.
The Vancouver Canadians and the Dunedin Blue Jays only have one series remaining, but plenty to play for. Let's hope this next week treats them kindly.
As always, you can follow me on Twitter @Brennan_L_D
---