Trouble against the fastball may relate to Bo Bichette's struggles and Raimel Tapia's step forward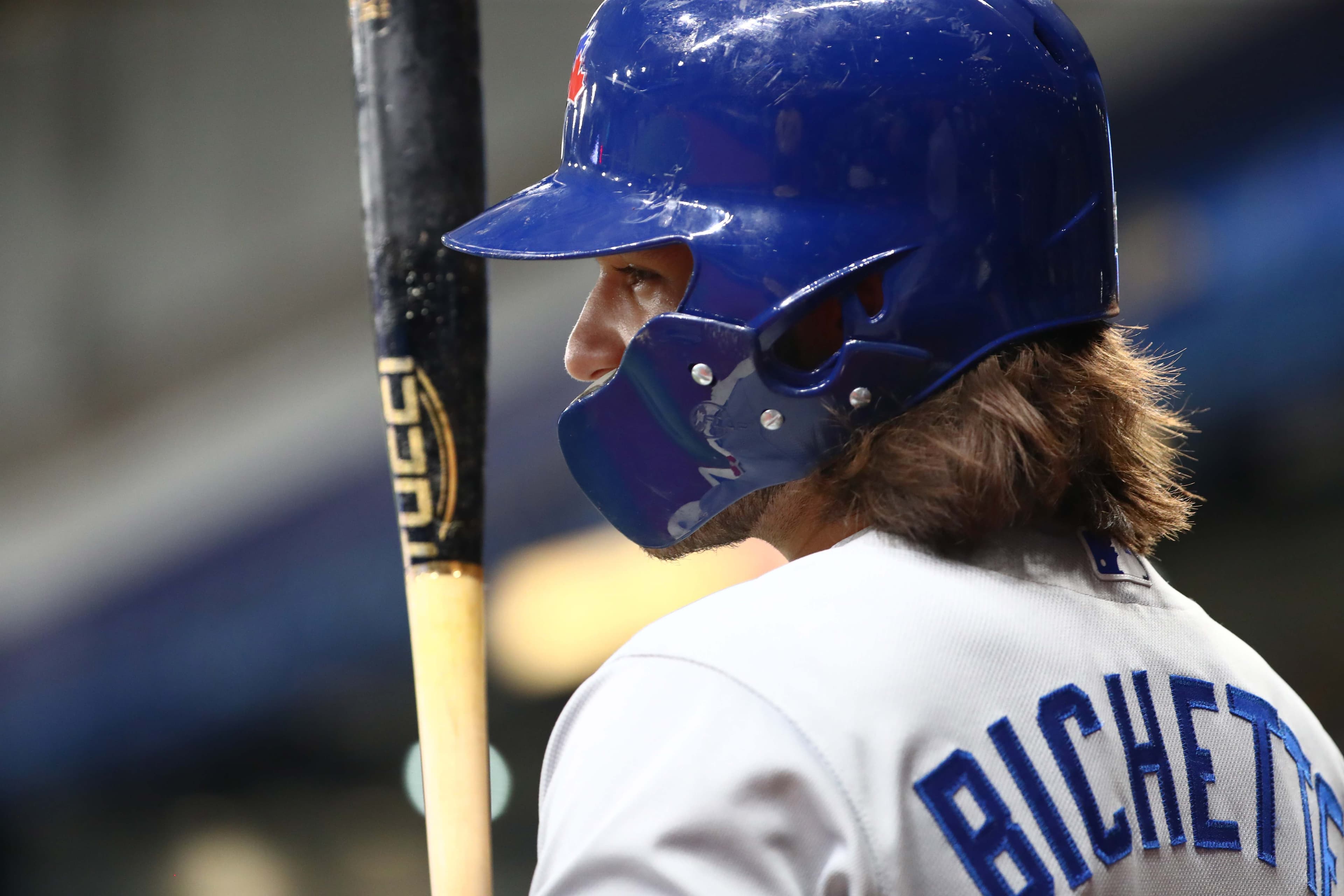 Photo credit:Kim Klement-USA TODAY Sports
As the Blue Jays barrel towards the stretch run of the 2022 season, there are still lingering questions about some of the hitters on their roster.
To start there is
Bo Bichette
. Subject to some trade speculation last week as Juan Soto became available and Bichette's struggles in 2022 took some of the sheen off of his full-season breakout in 2021. I do not think Bichette is someone the Blue Jays are likely to trade,
despite mentioning him in connection to Soto myself
. But if the Blue Jays are going to secure a spot in the playoffs and make some noise once they get there, Bichette is the one core offensive piece who has truly performed well below expectations without appearing to round into form.
Part of the heightened concern with Bichette could relate to a feeling of watching him hit. To me there has always been a thought that his approach at the plate could eventually backfire on him. His approach has always been somewhat unique in its aggressiveness that seemingly always culminates in 0-2 counts that tilt things in favour of pitchers. When he is not hitting it he can appear toothless and even lost at the plate as he almost appears to step into the batters-box on the back foot. But in the past he has still made this approach work.
For his career, he has been a (BA/OBP/SLG) .288/.333/.479 hitter, good for a 120 OPS+. An above average hitter with good power at Shortstop makes Bichette quite impactful when he is right at the plate. However, this season he has hit .257/.304/.416 for an OPS+ of 102, almost exactly average. When that offensive profile is paired with his spotty defence at Shortstop (something that has generally been improving over his career) he is less impressive. Bichette is still only 24 and in his second full season in the major leagues, so any panic or desire to cut bait on him is extremely premature. However, this version of Bichette does limit the immediate potential of the Blue Jays to contend in 2022. So, what may be the cause for Bichette's concerning performances offensively in 2022?
One noticeable change in his numbers is that he has really struggled against fastballs. His strikeout rate and first pitch swing rates have crept up a bit in conjunction, but the real issue seems to be his inability to punish fastballs. He has gone from hitting .305 and slugging .470 on fastballs in 2021 to hitting .260 and slugging .349 on fastballs in 2022. It would stand to reason that an aggressive hitter who is especially raring to go on the first pitch of their at-bat is trying to jump on fastballs thrown to try and get ahead in the count. That is a strategy pitchers have moved away from over the past few years, playing off of hitters' aggressiveness by catching them out with off-speed pitches to start counts. But generally, an aggressive hitter has to do damage against the fastballs they see because they are unlikely to see many pitches.
Bichette has not done that so far in 2022, producing a negative 8 run value against 4-seam fastballs in 2022. It should also be noted that Bichette has underperformed all of his expected stats a bit this year and is still putting up an elite hard-hit rate, while also maintaining other parts of his swing profile like launch angle and excellent velocity. So, he may be a touch unlucky, but not so much so that it explains his poor overall performance offensively. It may be the case that Bichette could benefit from tailoring his aggressiveness more in order to get into hitters counts where he can expect fastballs and prepare accordingly. There does not appear to be a noticeable issue that can explain his issue with fastballs in 2022, but luckily the Blue Jays also have an example of a player who is showing much improved performance against heaters in 2022.
Such is the breadth of talents on a major league roster that Bichette's down year would represent a meaningful step forward in
Raimel Tapia's
career as a hitter. Well fortunately for Tapia that is exactly what he has done. He has hit .286/.309/.417 for an OPS+ of 104 on the season. Some of that is buoyed by his 10 RBI weekend in Boston, but all together he has provided a solid left-handed bat off of the bench on the whole. With the Blue Jays, one noticeable change is that he has upped his first pitch swing rate while trading some groundballs for fly balls.
This has all been a healthy development for a hitter who has historically pounded the baseball,
just into the ground instead of into the air
. It is also welcome because it is not like Tapia provides strong outfield defence that could make up for some the value lost from his past struggles at the plate. These changes do seem relatively robust given that he has notched is exit velocity up and noticeably improved his launch angle. He has gone from an average launch angle of negative 4.4 degrees in 2021 to a positive launch angle of 4.5 degrees in 2022. Interestingly, unlike Bichette Tapia has gone from putting up a negative 7 run-value against 4-seam fastballs in 2021, to having a positive run-value of 4 against 4-seam fastballs in 2022.
This version of Tapia provides real value to Blue Jays as a left-handed fourth outfielder. If it holds up it could also mean they have the requisite extra outfielder to spell George Springer and can really focus on pitching at the trade deadline. A solid left-handed bat lower in the lineup was something the Blue Jays had to go out and acquire last year after jettisoning
Rowdy Tellez
for pitching help, but if Tapia can maintain this level of play Blue Jays management may be able to devote more of its attention to pressing needs across the pitching staff. It is indeed worrying that the peak of Raimel Tapia provides an outline of the current state of Bo Bichette (league average offensively with poor defensive metrics), but one can provide the Blue Jays with what they need right now, while the other holds the potential to do the same. It is just not the way we would have envisioned it before the season.
---