Tyler Chatwood brings new and improved Cutter to Blue Jays
Photo credit:Getty Images
The Blue Jays have signed right-hander Tyler Chatwood to a one year $3M deal with incentives that can push the deal to $5.5M. Wood has made 143 starts in his career but
per Shi Davidi
, the Blue Jays plan to use him out of the pen.
Chatwood started last season really well. In 12.2 innings he struck out 19 batters, walked only four and allowed just a single run. Small sample size of course but the strikeout process he showed was enough for Dan Szymborski of
Fangraphs to write about it
. Szymborski mentions how Chatwood had moved away from his four-seamer in favour of his cutter.
Per
Baseball Savant
, prior to 2020, Chatwood threw his four-seamer roughly 30% of the time. In 2020 he dropped that to just 7.5%. Chatwood's cutter is very good, he doesn't throw it hard, averaging just 89.9 mph with it, but it's his second best pitch for whiffs due to its movement, as you can see in this gif from the Szymborski piece.
Chatwood's cutter has a spin rate of 2739 rpm, making it the fifth spiniest cutter in baseball.  As you can see it has wicked horizontal movement. The pitch moves 4.7 inches horizontally, which is 2.9 inches more than similar cutters. It was his go to put away pitch, resulting in 11 of his 25 strikeouts. Chatwood throws his cutter in pretty much the perfect location.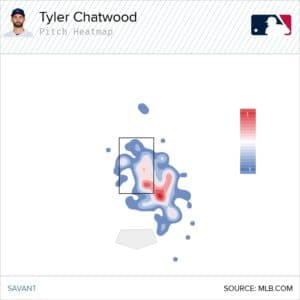 As a batter you have no choice but to swing at that pitch. It looks like it's going to be a strike until it moves and ends up just out of the zone.
On the left is the spin out of the hand and on the right is the observed spin by the batter at the plate. Chatwood's cutter and sinker have similar spin, though not quite the same at the release point. But then move in opposite directions. The cutter ends up anywhere from 1:00-5:00. As a hitter it can be very difficult to differentiate between these two pitches.
His sinker was not an effective pitch last season, despite throwing it 43.8% of the time. Batters teed off on the pitch hitting .344 and slugging .469. The pitch was hit hard 48.1% of the time, though not a single home run was hit on it. Which if you look at the location of the pitch is surprising.
Sinkers are designed to be thrown low in the zone, but this is not it. That is right in a batters wheelhouse and with launch angles and hitters swinging up at everything it's a wonder this pitch never got crushed for a homer. Now compare that to the location in 2019, when Chatwood's sinker was his best pitch.
That sinker had a run value of -9 making it one of the 20 most valuable sinkers. The location of the pitch was much better, in on the hands to right-handers and away from lefties. Other than location the biggest difference was the velocity.
Chatwood in 2019 spilt time between starting and relieving, whereas in 2020 he was just a starter. In 2019 his sinker averaged 95.6 mph and topped out at 98.6. In 2020 he averaged 94.2 mph and topped out at 96.9. If he is able to regain that velocity from 2019, and he should pitching out of the pen, he could be a very valuable sinker, cutter reliever.
Chatwood will keep hitters off balance with his curveball. The curve mirrors well with his sinker and gets elite spin at 2977 rpm. The pitch has been hit around the last two seasons, but as show me option and something he uses sparingly it can work. As for his fastball, Chatwood as a reliever can run the fastball up to 99 mph, but as mentioned he abandoned it in favour of the sinker. The fastball like the curve is a good change of pace pitch. It's a pitch he can use up in the zone to change a hitter's eye level and set them up for the cutter.
Tyler Chatwood isn't the flashy signing everyone has hoped for. He missed some time last season with injury, and if you look at just his ERA you are going to be unimpressed. Chatwood reworked his cutter and it's become a really good pitch for him. Some of his struggles last season can be attributed to a loss in velocity. Provided he is fully healthy, that velocity should bounce back, particularly if he pitches exclusively out of the bullpen. This isn't the most exciting signing but it's one that makes the Blue Jays a better team.