Vladdy breaks out of his slump, Nate Pearson goes back to Triple-A, Oakland relocation talk, and more!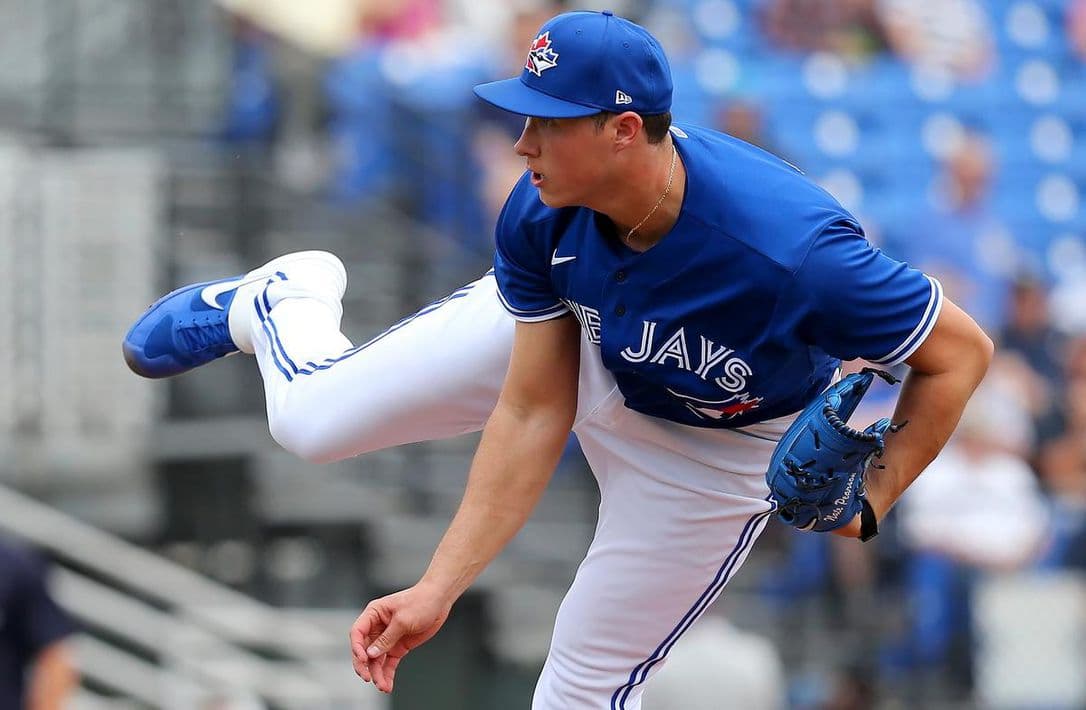 Quite a bit happened yesterday so let's go through all of it…
Before Tuesday's series-opener in Atlanta,
our good pal Paul wrote
that Vlad Jr. was going through his first slump of the 2021 season, highlighted by a 6-for-27 showing with no homers over the team's six-game strip through Oakland and Houston. Paul noted that opposing pitchers had started pounding Vladdy low in the zone resulting in a bunch of balls getting drilled on the ground.
On Tuesday, Vlad went 3-for-5 with a game-tying home run and another clutch game-tying single. The ball that he hit out of the park off of Bryse Wilson, who was cruising, was located in the lower half of the zone, which is a good sign that Vladdy has made the proper adjustment to break out of this cold snap.
The Blue Jays ended up winning thanks to a three-run rally in the eighth inning, in which Teoscar Hernandez hit a rare bases-loaded infield single that drove in a run and Cavan Biggio drew a bases-loaded walk. Also key to the win was a strong start from Robbie Ray, which featured three earned runs in six innings, and a lockdown showing from the bullpen, who scattered two hits over three innings.
Some other stuff from last night's game…
Marcus Semien continues to be productive for the Blue Jays, going 2-for-5 and setting the table for Vlad's dinger and the ninth-inning rally. Semien sits second on the Blue Jays in terms of fWAR at 1.2.
Tyler Cahtwood through yet another dominant inning in the eighth, striking out Ronald Acuna and Marcell Ozuna and getting Freddie Freeman to ground out. Chatwood has now pitched 12 1/3 innings and has allowed only one earned run. Even though it was the eighth inning, given where Atlanta was in their lineup, that really was the save situation last night. Using Chatwood, who's likely Toronto's best reliever right now, was a good play by Charlie Montoyo.
Before the game, we got the somewhat surprising news that Nate Pearson is headed back down to Triple-A. Pearson was called up ahead of Sunday's game, struggled mightily, and will now rejoin the Thunder-Bisons in order to straighten himself out.
I had thought that the Blue Jays might give Pearson a bit more time at the big-league level, especially given the fact they don't really have many other options to start games. Pearson has fared well in the minors in the past, albiet not in a huge sample size as he only 21 2/3 innings at the Triple-A level, and his command issues only seem to appear when he's in the majors.
If the reasoning for sending him back to Triple-A is because he's working on a mechanical adjustment to make his delivery more
"whippy,"
then it's sort of odd that the team opted to call him up after one start with the Thunder-Bisons in the first place. Let's hope that this time Pearson spends an adequate amount of time in the minors, gets sorted out, and comes up when he's actually ready rather than out of necessity.
Other stuff from the minors…
Josh Palacios was hit in the hand on Sunday and will apparently miss six-to-eight weeks of play. This is bad news for Toronto's outfield depth. Their current roster features Randal Grichuk, Lourdes Gurriel, Teoscar Hernandez, and Jonathan Davis as George Springer is on the Injured List. With Palacios out, there isn't another outfielder to call up on the 40-man roster in the event of an injury.
Down in Double-A, Simeon Woods Richardson made his second start of the season, allowing just one hit, a solo homer, over five innings while striking out eight. Both Austin Martin and Jordan Groshans were cold at the plate, but Gabe Moreno went 2-for-5 with a two-run homer and a walk-off walk.
Finally, we have news that Major League Baseball has given the Oakland Athletics instruction to explore relocation possibilities if they can't get a new stadium built in the Bay Area.
"MLB is concerned with the rate of progress on the A's new ballpark effort with local officials and other stakeholders in Oakland," MLB said in a statement. "The A's have worked very hard to advance a new ballpark in downtown Oakland for the last four years, investing significant resources while facing multiple roadblocks. We know they remain deeply committed to succeeding in Oakland, and with two other sports franchises recently leaving the community, their commitment to Oakland is now more important than ever."
This, of course, is a threat from the league and the organization in order to get some kind of public funding for a land development project, as we see so often in professional sports these days. Will it actually happen? Who knows. But both Montreal and Vancouver have been listed by Rob Manfred as possible places for the A's to explore.
The talk about MLB coming back to Montreal has been going on for years. The group led by Stephen Bronfman has pushed hard to bring the Expos back to life with a plan to build a new facility and possibly share the Rays with Tampa, but this plan requires a tremendous amount of financial support from the Quebec government, which isn't going to be an easy sell now that we're over a year deep into the COVID-19 pandemic.
Anyways, this will be something interesting to keep an eye on. Given the success of the Canadians as a minor-league club and the extent to which Western Canadians pack Seattle for Blue Jays games, I think Vancouver really should get more attention as a possible relocation site, but Montreal is much further ahead in terms of having a plan to build a facility that's up to MLB's standards.
More than likely, though, both the Rays and A's stick around in Tampa and Oakland. These threats to move, nearly 100% of the time, are simply threats, and local governments will eventually cave in order to fund their local team's massive land development project.