Weekend Rambling: The 2023 Bullpen
Photo credit:Dan Hamilton-USA TODAY Sports
After the random speculation two weeks ago, I think I'm going to have a little series of these speculations about the future as the season enters the home stretch. I'm not unaware of the impression that I'm looking ahead when I should be enjoying the present but the reality is a LOT of folks write about the Jays and I tend to look for a lane with fewer participants.
I've gotten the impression that during the slumpy times, a lot of Jays fans think of the off-season as a time for considerable renovation. That might happen, but I'm inclined to think that there's a good case that it's basically quite a good team that will need some mild refinement rather than something radical. Also, the financial flexibility next winter might not be quite what it has been the last couple of offseason unless they are not intimidated by the approach of the $200 million threshold for the upcoming payroll (I'm working here with actual on-field salaries, not all the other expense that add 10-15% to that figure). Contributing to this is Hyun Jin Ryu's payout to not be playing and the uncertainty around Yusei Kikuchi. But I'll get into a deeper look at the payroll in a future article. The only reason I mention it here is to frame the premise that there's a strong possibility that the 2023 roster looks a LOT like the 2022 squad  — and that's not a bad thing.
As of Sunday's loss to the Yankees, despite having ridden out three noticeable 10-game slumps (June 16-26, July 2-10, and August 5-16) in which they won, collectively, six games out of 30 the Blue Jays are on a pace to win 88 games. At the end of play on July 8, they were 16.5 back of the Yankees, now it's eight, and given there's a significant chance they could be as close as five by the time Wednesday is done. Moreover, while it's true that pace needs to improve (I think it surely will) they actually have two more wins now than they did through 120 games last season.
Also, this is in spite of two central players underperforming reasonable expectations. If you take Bo Bichette's fWAR and compare it to last season he's on a pace to put up 2.1 less this season. Put another way, if he was on a pace to match last year he would have 3.9 fWAR now, rather than 2.2 and you can do the same with Berrios. If he were on a pace to equal last year's production, he would be at 3.1, but he has 0.2 actually. While it doesn't work precisely that way in terms of translating to on-field team wins, that's 4.6 fWAR we could reasonably have expected – this year and next – left on the table. If they had those four wins in hand right now they would be four games out of first and at least three games up for the first Wild Card seed. Point of all this being that you CAN NOT build a team that is prepared for your opening day starter and arguably (in March) your second-best hitter to be ordinary or worse for no obvious reason. That's baseball.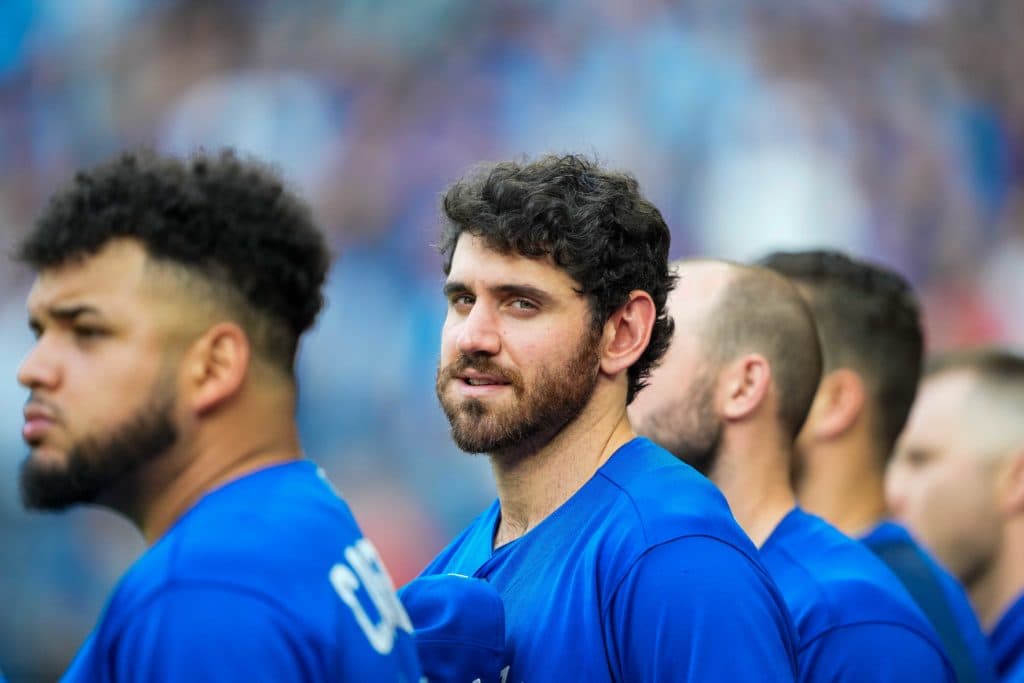 Kevin Sousa-USA TODAY Sports
So that's a rather lengthy intro for me to set up this premise: there's a strong probability that the entire 2023 bullpen is already in the organization. Consider this breakdown…
Jordan Romano – Is among the very best closers in baseball, and will be eligible for arbitration for the first time this winter. He's as secure as any pitcher on this team can be.
Yimi Garcia – Signed for next season to a reasonable deal, has been everything the Jays expected him to be when they signed him.
Anthony Bass – Just what the doctor ordered for a deadline acquisition (no Brad Hand reprise) and the team holds an option for 2023 that will certainly be picked up barring some disaster.
Adam Cimber – Key contributor, has two more years of affordable control
Tim Mayza – Invaluable over the last three of the last four seasons, three years of control left after this season.
Mitch White – A non-zero chance he's in the rotation next spring, but that would represent a significant failure to address that area so I doubt it unless injuries force the adjustment. He comes with FIVE more seasons of control so he's quite cheap and has performed well.
That's six of eight spots right there (of course I know that you actually need more than eight but you can't go out and sign a free agent or trade for someone who can't be demoted without understanding what that does to your flexibility). Six players who barring injury will be on the roster all year (in theory, any reliever can inexplicably fall apart). What then of the other two? These are spots that tend to be occupied by players you CAN option. Let's look at the candidates:
Trevor Richards  – Richards would be up for his second pass through arbitration. Richards has no options and despite a nice K rate has been a disappointment this year on the whole mostly due to his walk rate doubling from last season. However, the totals are skewed by his having had an incredibly bad month leading up to going on the DL. Since coming back he's been basically fine, if not better than fine, which poses a problem both this season and next. In the coming days, Tim Mayza will be ready to come back and Richards lacking option means you can't move him out of the way unless you DFA him (he has a 2.55 ERA over the last six weeks, I'm pretty confident that they won't risk losing him this season). By the same token, if you carry him into next season, certainly possible, now there are seven guys you aren't going to option. So just as a matter of flexibility, I could see him being part of a trade this winter.
Trent Thornton – Up for his first pass through arbitration, and does have an option, that would indicate that he could easily be part of the mix next year. Thornton takes a lot of grief from Jays fans but the reality is that he's blown up good just one time this year. Take away that 1/3 of an inning in which he was charged with five runs and you have a 3.30 ERA. On the other hand, after that outing he was not great for a couple of weeks and that stretch cemented the "he's not good" impression. I could see the team valuing the roster spot (as they adjust the 40-man before the winter meetings) more than what he brings which might lead to being traded, but I could as easily see them trying to maintain the depth of players they know can be at least average in MLB and also be optionable.
Zach Pop – Has options and four years of control. Might get squeezed out of a secure spot, but he's plenty talented and will likely see a fair portion of the work next year.
Yusei Kikuchi – I'm sure they would prefer him to work out his issues and be a fixture in the rotation but there's certainly a possible outcome where he plays up as a power lefty in the pen over the next six weeks and they change plans. While he technically has options, if he opens next year in the bullpen (which he'll only do if he seems to be a reliable go-to guy in that role) he'd be considered a fixture, not a shuttle rider.
Julian Merryweather – Will still have four years of team control next spring and as much as we're all tired of "what could he do if he could stay on the field?" it remains true. He's looked quite nice on his latest rehab stint and the main reason he's not back in Toronto is that aforementioned roster space crunch. When Mayza (presumably) bumps Pop, there's no one to option for Merryweather. Though if he keeps this up he'd be a strong candidate to be the guy when rosters slightly expand in September. If healthy, he's certainly in the 2023 mix. I'm not sure if Roster Resource updates their option column during the season, or if Merryweather has used an option this season anyway (I'm reasonably sure he hasn't) but if he comes into spring with one left, and if he's healthy, he'll be in the mix.
Nate Pearson – Four years of control left, two options, and the same problem as Merryweather. At this point even if they see a future starter here, it won't be next year, at least not early. The organization has become fascinated with the idea of "bulk relievers" which is to say a guy who can work three or four innings, more or less once through the order, and that's certainly what the idea for Pearson is if they ever get a full season out of him. Maybe that leads to starting in 2024 and after, or not, but he's certainly a part of the bullpen conversation next year, presuming health. Either Pearson or Merryweather (or Kikuchi) could add the "swing and miss" factor that some complain the current pen lacks.
That's 12 names for eight slots but I'm not done yet. Tayler Saucedo brought actual value and impressed the organization in '21, Hayden Juenger has made it to AAA while being developed for the bulk job and has climbed into the top 10 on some prospect lists, Adrian Hernandez was mused about as a possible contributor this year before an extended stint in the IL, Matt Gage has been impressive basically every time out this season no matter the level, another lefty (like Gage and Saucedo) is 24-year-old Brandon Eisert who has 60 K and 14 walks in 45 2/3 IP for Buffalo this year.
That's a deep and talented group, with twice as many candidates as slots to fill. From where I sit there seems little reason to be turning over rocks looking for someone to add to this group. They DO need to add a starting pitcher since Ross Stripling is a FA (and in future articles I'll make the case that bringing back Stripling is the right answer to that question) and potentially another (via trade?) to vie for the fifth spot with Kikuchi and White. But the bullpen? I'll argue it's fine, this year and next. Certainly not worth committing new money when there are other needs.
---