Weekend Rambling: The 2023 Offence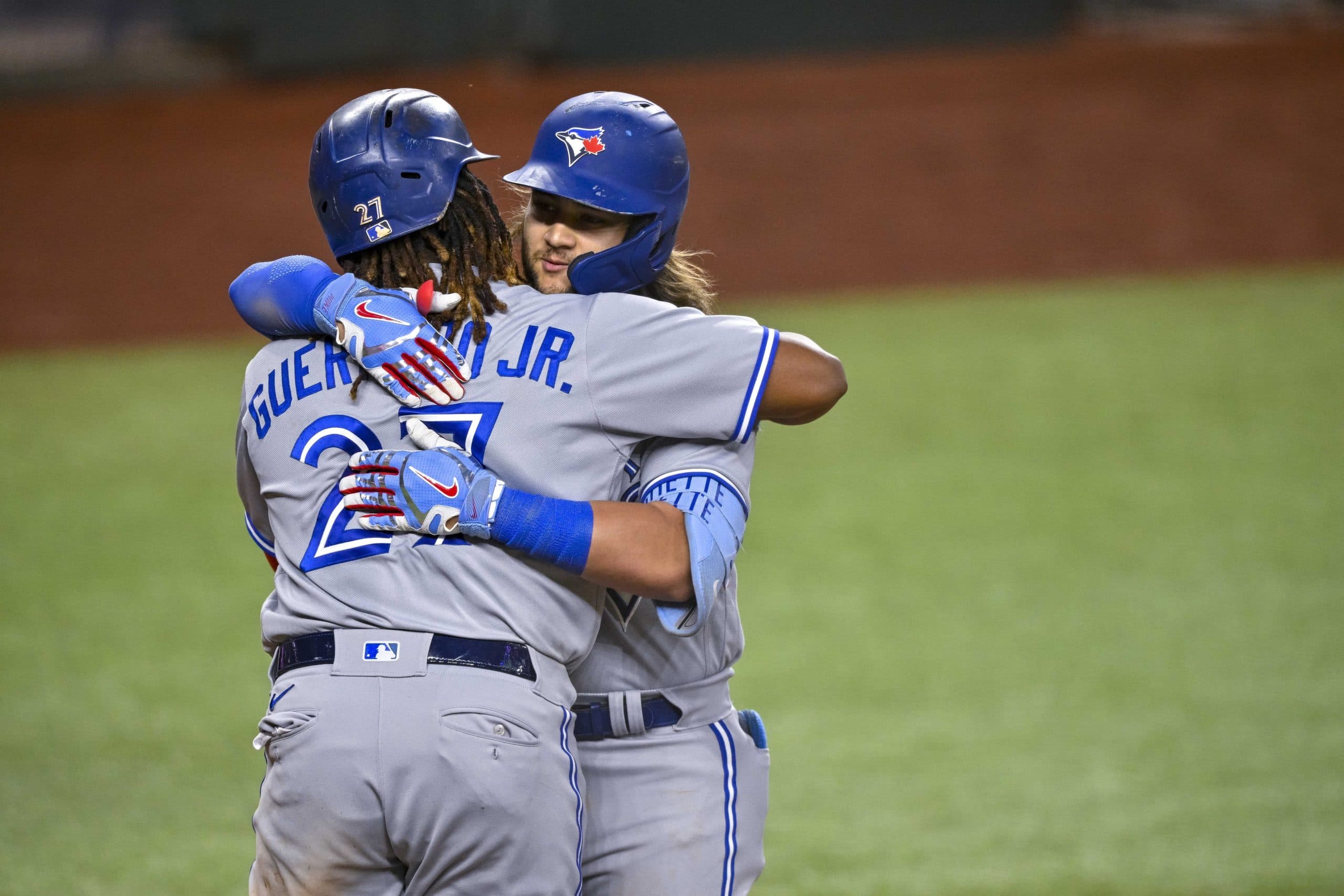 Photo credit:© Jerome Miron-USA TODAY Sports
Am I the only one who thinks it's weird that baseball doesn't have an ideal term for the non-pitcher part of the roster? You can say "the fielders" but there's also a DH, you can say "the lineup" but there are bench players, you can say "the offence" but almost every player has to be considered on the defensive spectrum as well. Anyway, you get the idea.
As the third and final installment of this mini-series, this one has a lot of just stating the obvious, the same way I did with the top three starting pitchers, but also a maybe surprising amount of caveats and qualifications to anything that you might want to firmly declare. But we need a starting place, so let me go with this: while this offense could certainly use some tweaks and no team, particularly a contender, simply rolls over the same basic roster from one season to the next, let's not misunderstand a core truth here – this team is GOOD.
As a group, you can look at both team results and also go position by position. While it's true that offence is down some from the year before in many cases, it is like that across the league (Thanks Manfred!) and it's not really necessary to be better than 2021, but to be better than the teams you are currently competing against.
Through Friday's game (all these stats will be unless otherwise noted) the team's offensive fWAR (all WAR noted here will be from Fangraphs) was the best in the American League at 83.3, and the overall WAR put them in an elite top three with the Yankees and Astros. All this with the knowledge that they have won at a remarkably better clip under John Schneider than under Charlie (I'll get to that in a sec). They lead in wRC+, wOBA, and all the traditional slash line stats. Only two teams have a lower K%, they are sixth overall in BB%, and they are second in runs scored. That's not a team that you go into the offseason thinking "We're gonna need to make big changes."
While I'm on the team-wide portion of this, let's look a bit closer at the manager splits. Since John Schneider's first game as interim manager, they lead the AL in fWAR, wRC+, wOBA, the slash stats (except for being second in BA) and are second in runs, but they were in the top three or four in all these under Charlie as well.
On the other hand, the W-L record tells a different story. In 56 games under Schneider (through Friday) are 35-21, which is third best at the moment in a tight race with Houston and Seattle. That's a 101-win pace over a full season, and 56 games represents more than one-third of a season – no small sample. I repeat, this is not the sort of offense you'd expect if you perused JaysTwitter on most nights.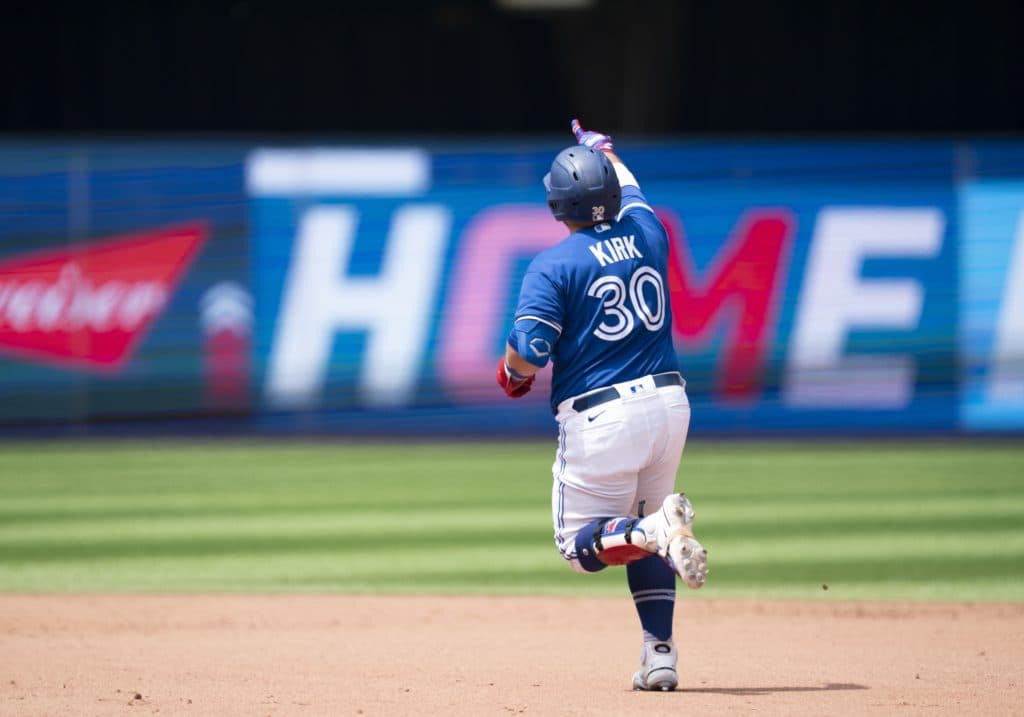 Nick Turchiaro-USA TODAY Sports
With that said, let's state the obvious: Vlad Guerrero Jr, Bo Bichette, Matt Chapman, George Springer, and some pair of the catchers currently on the roster (I'll come back to this) WILL be regulars in the 2023 lineup, barring injury. There won't be an imported everyday DH because this year and last as proved the need for a way to play a banged-up guy when he can't field his position, and on top of this it would be fairly remarkable if Teoscar Hernandez couldn't be added to the lock list.
Among catchers, Alejandro Kirk ranks third in fWAR in the AL and Danny Jansen eighth among those with at least 190 PA. Among 1B Guerrero is currently fifth, if you take out the two in front of him that are not actually full-time 1B he's third and the second guy is 0.1 ahead of him. In a year that is way down from his massive 2021, Bichette is now second in the league, Matt Chapman is fifth and would be higher without the weird fluctuation in defensive WAR, George Springer is eighth among all outfielders despite having missed 28 games and he's sixth when you filter it to CF, Teo (who's missed 31 games) sits seventh among RF. He lands 12th in the Majors overall and, of those above him, there are no obvious candidates to be acquired.
So basically our "potential upgrade?" discussion turns on two positions: Left field and second base. Let's take the latter first.
The situation at second might surprise you a bit. Santiago Espinal has 2.4 fWAR in 481 PA (heavily weighted towards his defense) and Cavan Biggio has 1.4 in 270 (weighted more towards his bat). And Biggio's offensive results are better as a 2B (.334 wOBA vs. .314 overall) so if you thought of them as a traditional platoon and added their fWAR (3.8) you're slightly underselling the value.
Speaking of the platoon, besides being a plus defender, is a perfectly desirable hitter vs. LHP. Espinal has slashed .297/.373/.450/.823 and has a wOBA of .357 and a wRC+ of 136 against lefties. If he hit that way overall he'd be the third-best offensive 2B in the AL. Biggio falls in roughly the middle of the pack, and slightly higher on the list if you ranked him by his results vs. RHP. But one of the clear opportunities for an upgrade would be to add either a better overall (preferably left-handed hitting) 2B or someone who does as well against RH and Espinal does against lefties. Still, if you simply add the fWAR and mentally adjust down a tic for Biggio's at-bats while playing other positions, you still get the fourth-highest total in the AL (again, Espinal's defense makes a BIG contribution to that).
Out of 46 players with as many PA as Biggio, he ranks 20th with his overall wRC+ of 105. 24th in wOBA at .314, and 22nd with his 1.4 WAR.  The problem is that no matter how you sort the list, the free agent list offers exactly zero in the way of potential upgrades (assuming you're not going after Bogarts or Turner or Correa – which they aren't). Speculating about trades is always throwing darts in the dark but there's not really a deal that screams to be made. A clear upgrade in a lefty-hitting 2B yields a list with exactly 5 names: Jeff McNeil, Jazz Chisolm, Gavin Lux, Ketel Marte, and Andres Gimenez.
Practically speaking, the prospect cost for any of these makes them effectively unavailable. You MIGHT talk yourself into giving up Gabby Moreno for Chisolm or Gimenez, but otherwise, well, you get the picture. It takes a fair measure of optimism to expect an external addition to improve the 2B situation. That said, there's also Otto Lopez, but he's not a lefty hitter and to my knowledge doesn't have the sort of splits that make the platooning concept appealing.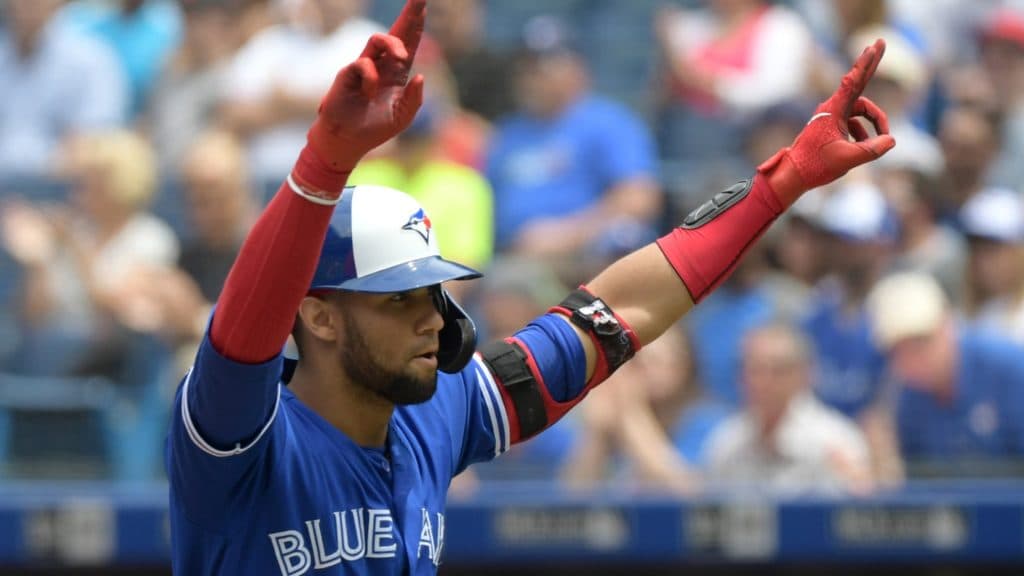 Lourdes Gurriel Jr is sitting on exactly 1 fWAR in 121 games this season. He had that much in half as many games in 2020, More in '19 and '21 but hasn't yet broken 2.0, mainly because the numbers rate him a below-average defender every year. This is easier to accept from a guy who can hit one out 20+ times a year which… what happened there? Yes, he can get incredibly hot for months at a time (even this year he hit .356, with an .880 OPS, over 65 games from late May into Mid-August) but this is clearly the position where it would be easiest for them to upgrade.
Looking at the options and again confining myself to LH or switch hitters, I came up with six potential targets but only four that you'd want to write in as your main everyday guy to go out there with Springer and Teo. The other two are free agents: Michael Brantley (who hasn't played since June and had season-ending surgery on his shoulder) and one-time (briefly) Blue Jay Corey Dickerson. Either could theoretically be a better Raimel Tapia but you'd be stretching to make them your everyday LF.
Another is Brandon Nimmo, whom you could choose to play in CF and move Springer to right and Teo to left (assuming Springer is down with it), or just have a guy who hits well and gives you what would be among the best left field defense in the AL. Nimmo is fifth in the majors in fWAR for a CF at 4.3, and his wOBA and wRC+ are effectively the same as Springer's. The issue here is that production like that doesn't come cheap.
The Jays have, depending on how you do the math, at least somewhere in the area of $160 million in projected payroll and probably would like to not go more than 20-30 over that on upgrades, one of which will need to be a starting pitcher of note. And Nimmo will rightly be thinking at least $18 million per or more (he's not as good as Springer but near enough to want to shop on the same aisle) and, well, the Mets have unlimited cash.
The other free agent is good old Joc Pederson, who would have been a helluva sign LAST winter. Pederson has 1.5 fWAR, mainly because his defense isn't any better than LGJ, but his wOBA (.366) and his wRC+ (139) would literally be the highest marks on the Blue Jays right now. Thanks to a couple of down years the Giants got him for a lousy $6 million in '22, which will surely at least double but because of the year-to-year inconsistency and the horrible defense, he won't be in the same price range as Nimmo. If you decide you can live with the glove (the numbers say it's worse than Lourdes) and you'd rather spend money as prospects, he's your guy.
I want to also briefly mention two potential trade targets. The first is actually a CF – Bryan Reynolds – but he'd be more a cover for Springer than a guy who could bump him if his down year with the glove is a genuine thing and a trend (I have to be somewhat skeptical on these because the defensive WAR on Fangraphs rates Vlad poorly too and from all accounts, he's not) rather than an outlier. If it's the latter then file it under the same scenario as Nimmo. He has 2.0 fWAR this season but it was 6.1 last year, and they extended him for an affordable contract this year and next. The prospect cost would be exorbitant and they have a number one overall choice coming behind the plate so Moreno wouldn't have the appeal here he'd have in other places even if you wanted to deal him for one year of control (which would be stupid). You would have difficulty pulling this off if they (reasonably) think he's the 6-WAR guy and not the 2-WAR guy.
The final suggestion here is Ian Happ. One would have to assume they made a run at the deadline so they likely had a feel for the ask here. Happ's 3.4 is currently the second-highest fWAR among all major league left-fielders on the chart, and the guy above him is a DH forced into the role by injuries. Offensively his line looks a lot like Matt Chapman's at some points – somewhat less homer power, somewhat better contact. He's a switch hitter and his splits are close to even this year. He has two years of control, and the contract costs won't be a burden. You could maybe get him for a package built around Orelvis Martinez if you wanted to go there, beyond that who knows what they told Ross at the deadline?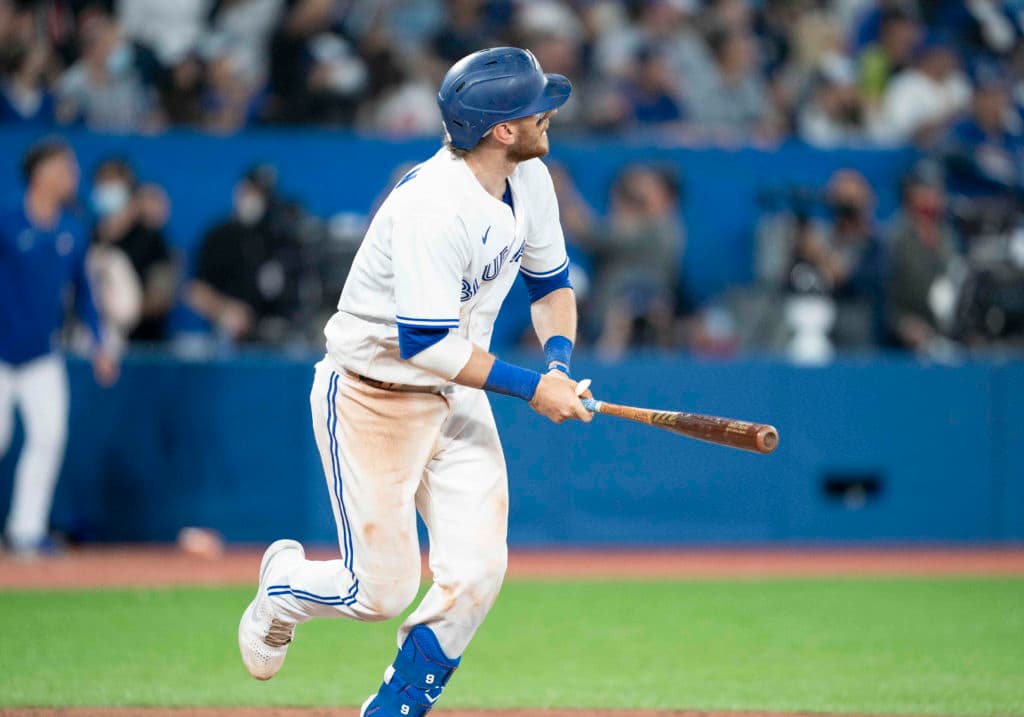 Nick Turchiaro-USA TODAY Sports
This brings me in a roundabout way to the catcher comment I promised, and this can serve as a coda. As the season has played out, it seems clear that the most secure of the three is Alejandro Kirk.
It's still not impossible that they could trade Moreno if you can find a value match but that will be TOUGH.  Assuming you don't do some kind of prospect swap (and, I mean, maybe Corbin Carroll? Such things essentially never happen) you'd need to be getting someone, likely a starting pitcher, with probably four years of control and with star potential.
In reality, the likely trade is Danny Jansen. I speculated in the previous entry of this series that he could be the ideal chip to land the much-needed new SP – someone more or less like Pablo Lopez.
He still has three years of control, has a great clubhouse reputation, and if you pro-rate his numbers to the same number of at-bats, he'd be slightly ahead of Cal Raleigh (who sits fourth in the AL in fWAR and sixth in the majors) and has slightly above average defensive fWAR. The injury history is a red flag but any team would want this kind of production over, say, 120 games.
Four catchers have a higher wRC+ (and one of those is Kirk, who leads the AL) the same four are the only catchers with a better wOBP. Point is, he has value. He's probably worth more than Happ (catcher v. LF) and you might not agree to a straight-up deal.  So while I still think the best match is a starting pitcher, I cannot rule out  Jansen being a centerpiece for someone like Reynolds.
Too long didn't read? Ross Atkins will prioritize a left-handed hitting outfielder who can play an acceptable centre field and start full time in left, and if at all possible be a left-field hitter. Most of the rest won't change much except shuffling bench players.
---
Recent articles from Tammy Rainey