Well, that was amazing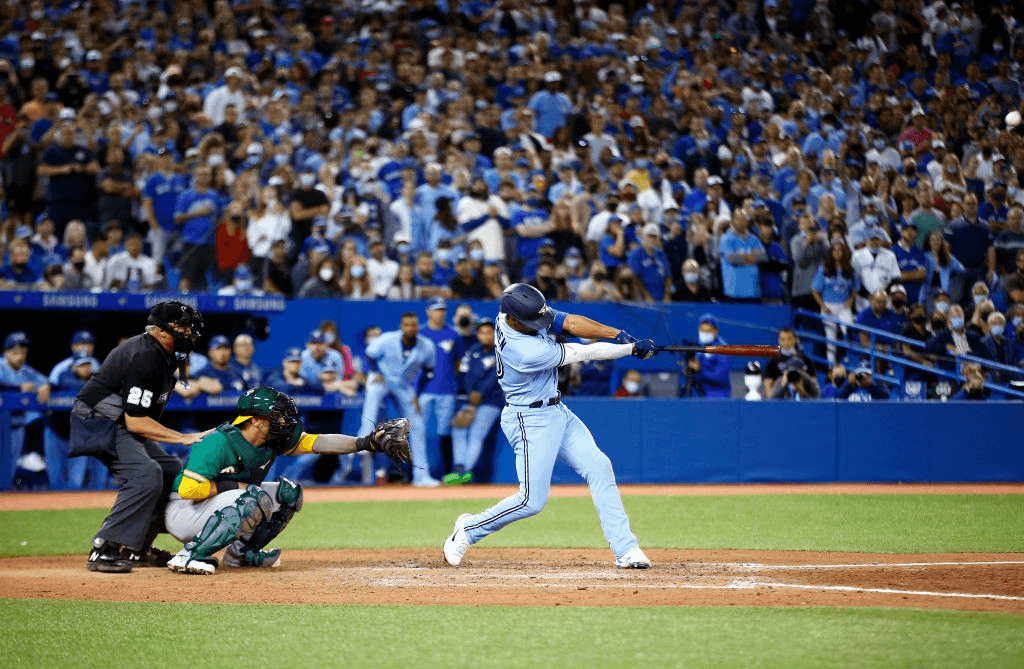 What a weekend. Holy shit.
The Blue Jays took care of business against the A's, sweeping the three-game series and ultimately made up all three games Oakland had on them in the standings.
With Boston and New York losing on Sunday, the Blue Jays are now four games back of a playoff spot. It's still a big climb, but it certainly looks a lot more doable after what went down this weekend.
Look, whatever happens this year, whether they make it or not, you really have to just sit back and enjoy competitive baseball in September, because, sometimes, it results in insane, unforgettable weekends like this one. And since this weekend was such a fuckin' blast, let's go through and talk about all of the good stuff we witnessed…
Friday's comeback…
Things looked pretty bleak in the opener of the series. Alek Manoah allowed a two-run double in the first inning and he would wing up getting tagged for six runs all told over five. In the seventh inning, Nate Pearson made his much-anticipated return and promptly got smacked around for a pair of runs. 8-2 Oakland. Not ideal!
And then the bottom of the eighth happened. Breyvic Valera got things started off with a walk and then George Springer struck out and Marcus Semien grounded out, so it looked like this thing was a formality. After that, Vladdy drove in Valera with a single, Bo Bichette got hit by a pitch, Teoscar Hernandez and Alejandro Kirk both walked, and then Lourdes Gurriel did ths…
That's one of the coolest homer celebrations you'll ever see. This team has been so anti-clutch this year that seeing Gurriel smash that game-tying grand slam was an absolutely insane experience. Him drilling the bat into the ground was cathartic.
And since it's the 2021 Blue Jays and life is never easy, Jordan Romano promptly allowed a two-run homer in the top of the ninth. Then, in the bottom of the inning, Valera yet again got things going by hitting a single, Springer doubled, and Semien smashed a three-run walk-off bomb…
All of this happened with four outs left in the game! The Blue Jays had a win probability of under one percent!!!!!
The almost meltdown on Saturday
As the chart above so conveniently suggests, baseball games are never over until the last out is recorded. We nearly had the opposite of Friday on Saturday, as the Blue Jays damn near gave away a layup.
The Blue Jays went up 4-0 early on and Jose Berrios put together a strong start, so this thing was looking good early on. In the seventh, Oakland brought the score to 4-3, but Toronto scored three of their own in the bottom half of the inning. In the bottom of the eighth, Gurriel yet again came up big, hitting a bases-clearing double that was damn near caught by Oakland's centre fielder.
In a season that seemingly hasn't featured all too many nice bounces in Toronto's favour, it was good they got that one, because those runs were the difference. Joakim Soria came in to deal with the mop-up in the ninth and he promptly allowed a walk, a single, a home run, and another single, so Romano had to come in again. Romano would allow a two-run bomb but then retire the next three batters to end the game.
Crisis averted!
Robbie Ray's mastery on Sunday
Romano pitching in Saturday's game wasn't ideal, but, thanks to Robbie Ray and the bats, it didn't matter.
Ray was yet again amazing, going six-and-two-thirds while allowing zero runs on ONE hit and three walks while striking out 10. He now has the best ERA in the American League at 2.60, he's the first Blue Jay ever to have four 10-strikeout games in a row, and he became the first pitcher ever to rock the Home Run Jacket.
Also, this game featured Nate Pearson striking out the side in the ninth inning and Bryan Baker throwing a scoreless frame in his big-league debut.
Fuck, what a weekend. Off to Yankee Stadium we go.