What could the Jays do with Ross Stripling?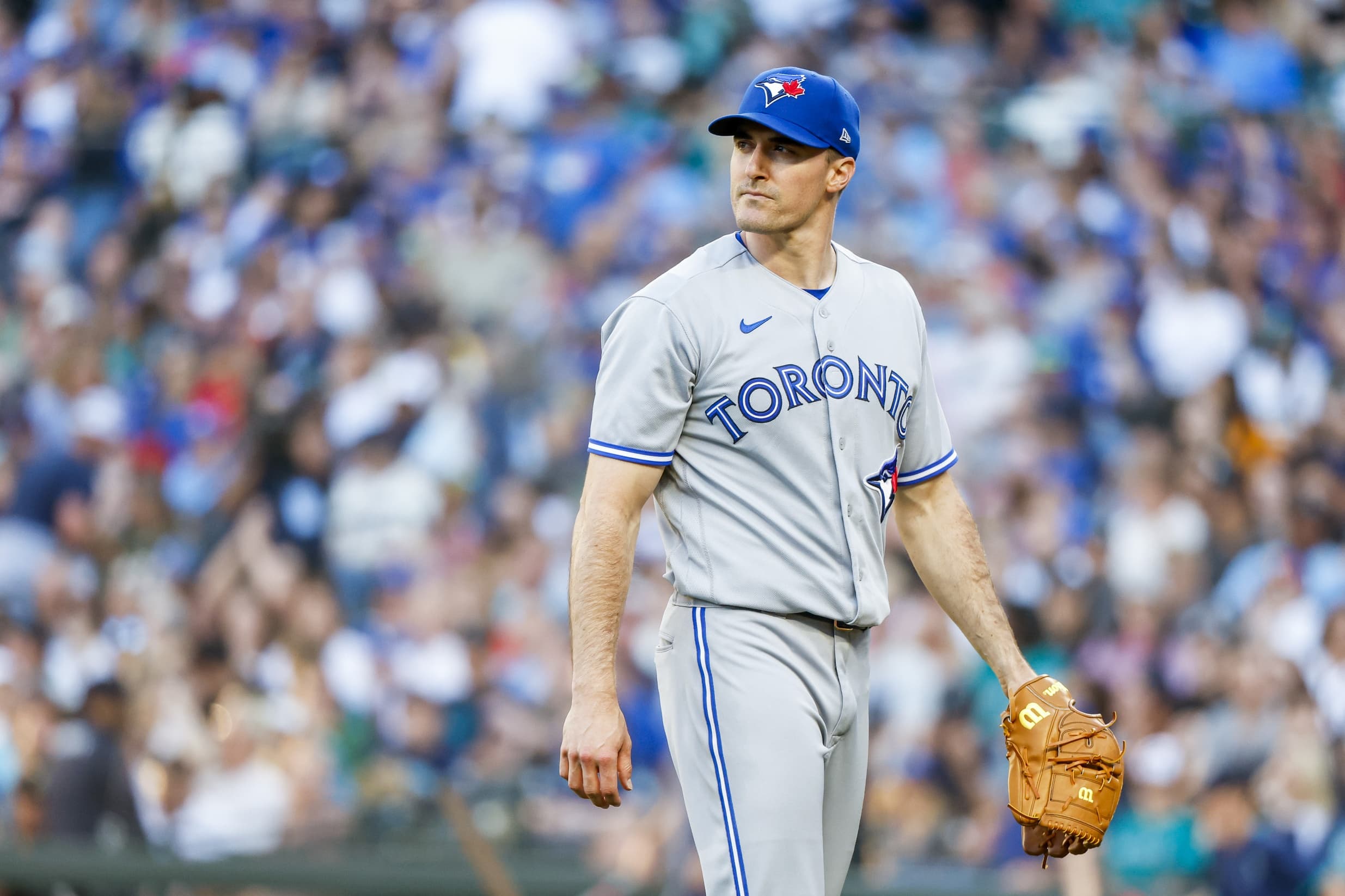 Photo credit:© Joe Nicholson-USA TODAY Sports
Ross Stripling is in his final year of his contract. What should the Jays do with him? It's a brand new series!
Sometimes, contenders will trade their main roster players. It sounds weird, but this literally happened in 2020, when the Dodgers traded the Jays Ross Stripling for two prospects.
I'm split on what the Jays should do with the 32-year-old. One half believes the Jays should do everything to re-sign him. The other half of me thinks they should trade him to a contender for a haul of prospects.
Let's be real, the Jays making the playoffs is not even close to being guaranteed. While they currently sit two games above the next team for the final wildcard spot, there have been signs that point to the team needing a lot of work.
Despite having "one of the best offenses", when it goes cold, it's enough to give you frostbite. Whether it be with the approaches at the plate, incredibly streaky hitters, or too many right handed bats in the lineup, if their bats go cold in the playoffs, they're done.
Surprisingly, starting pitching has been fine, aside from Jose Berrios and Yusei Kikuchi starts. Berrios has been the better of the two (regardless of ERA), and he's had some fantastic games. Kikuchi, on the other hand, should be a relief pitcher, as he gets a lot of swings and misses.
Which leads me to my next point – the bullpen. Aside from players who've pitched under 10 innings, it really hasn't been that bad in terms of FIP and ERA. The highest FIP of anyone with 10+ innings pitched is Casey Lawrence at 6.88 (ERA of 8.04). This is more of a depth issue.
Next up is Trent Thornton, who was absolutely blown up by the Yankees that one outing and Trevor Richards, who has been much better since returning. Most of the main core members of the bullpen have put up either a solid FIP or a solid ERA, sometimes both. For example, David Phelps has posted a 2.70 ERA and a 2.86 FIP.
They definitely could use swing and miss, but I also don't think it's as big of an issue as some think it is. So why does it seem that the team hasn't lived up to expectations?
The biggest issue really comes from none of these things being good all at the same time. Take for example the start of the season. The Blue Jays bats were pretty cold, yet the starting pitching and the bullpen helped them win a ton of one-run games.
Then you look at the series against the White Sox back in late June. They scored 22 runs in three games, yet lost the first two by a score of 7-6 and 8-7, before winning game three 9-5. These were winnable games that were dropped, despite the White Sox not being the greatest of teams.
I think the Jays can make the playoffs, I just don't know if I can call them contenders.
After around 500 words of interlude, let's look at the pitcher of discussion today, Ross Stripling:
What happens if Ross Stripling doesn't re-sign at the end of the season?:
If this is the case, the Jays would've lost Ryan Noda and Kendall Williams, two solid prospects, for two playoff games. It would be tough, right?
There was an interesting tidbit to ending the lockout regarding qualifying offers. If the MLBPA and MLB could agree on an international draft, the qualifying offer would be removed (which the players want.)
Well, we're three days away from the deadline of July 25th, and the two sides have made one proposal apiece.
The last proposal came from Major League Baseball, as they offered a bonus pool of $181 million with a hard cap. The Union wants a $260 million bonus pool with a soft cap that would see teams be taxed if they go over the $260 million.
It's safe to say, the two sides aren't even close with the deadline quickly approaching. Now, they can agree to an extension, but there is still a possibility that the qualifying offer remains.
Now that begs the question, would the Jays offer Ross Stripling a one-year, $18.5 million deal? I would, as he's put up an ERA of 3.03 and a FIP of 3.08 in his 74.1 innings pitched.
The ramifications of Stripling signing a 1 year, $18.5 million contract are incredibly minuscule. It won't impact their ability to sign their young guns and if he pitches awfully (which is unlikely), then you essentially get one year of Kikuchi.
Should the Jays trade Ross Stripling?:
However, there's also a possibility that the qualifying offer is removed, so if the Jays miss the playoffs and Stripling walks, what do you do?
Another option is to trade him. Yes, trading one of the most important players on the team
while
contending is… interesting and unprecedented, but hear me out.
If the Jays trade him to a contender for high minor players (that could help this year or next) and maybe bullpen help, how far does it set them back?
What about the hole that Stripling would leave? Well, I'm under the assumption that a team would pay a fairly big price for Stripling, meaning the Jays would add quite a few more prospects.
Perhaps they trade some prospects for Luis Castillo or Frankie Montas, who have an extra year of control and are arguably better than Stripling?
While it isn't particularly smart to trade important players at the trade deadline, the Jays could make it work by adding a pitcher of equal quality with an extra year of team control.
Should the Jays re-sign Stripling:
All of this could be put to bed if the Jays do what I believe is the right thing, and re-sign Stripling.
The results are there. This season, he's posted a 3.03 ERA and a 3.08 FIP in 74.1 innings, which I had mentioned earlier. He has a very impressive BB/9 of 1.70, strikes out a decent amount with a K/9 of 7.39, and gets a ton of ground balls with a GB% of 37.3.
Not just that, but he's a team leader. Do you know who was the Blue Jays representative during the lockout negotiations? Ross Stripling. Do you know who comes in every day and does whatever the team tells him to do? Ross Stripling. Do you know who does everyone's taxes? You guessed it, Ross Stripling.
In terms of his contract, I have no idea what his asking price would be. The 32-year-old has pitched like a #3 this season and has even shown his value in the bullpen. Could it be a deal like Steven Matz (4y/$11m) with a little less term and more money, say (3y/$13.5m?) I genuinely have no idea.
All I know is that Ross Stripling has been a pretty damn good pitcher since joining the Jays, and he'd fill the Ryu hole pretty well.
So what to do with Ross Stripling:
Although I floated the idea around in this article, I think we all agree that trading him would be counterproductive to what the Jays are trying to accomplish this season. Depending on how they play heading into the trade deadline, I think there is a
remote
possibility, but it's unlikely.
It's incredibly likely that the Jays keep Stripling until the end of the season, then there are three options available. They can re-sign him, which is the ideal option.
The other two options are out of their control, and it really depends on whether or not the MLB and the MLBPA agree on an international draft. If the two sides can't come to an agreement and the qualifying offer sticks, the Jays should extend that offer.
Either he'll sign a 1-year, $18.5 million contract and the Jays keep him, or the Jays get a compensation pick (and we saw what they did with two in this past draft).
The last option is the two sides agree and Stripling walks for free. If the Jays make the playoffs, this doesn't hurt that much. However, if they miss the playoffs
and
they can't get a draft pick in return, this could sting.
Either way, I believe the best option is to re-sign Stripling, so idiot sports writers like myself don't speculate on stuff like this.
As always, you can follow me on Twitter @Brennan_L_D. The next four articles in this series will focus on guys with term left in their contract. It'll also have more of a winning undertone, so stay tuned!
---