What does the lineup look like when George Springer and Teoscar Hernández get back?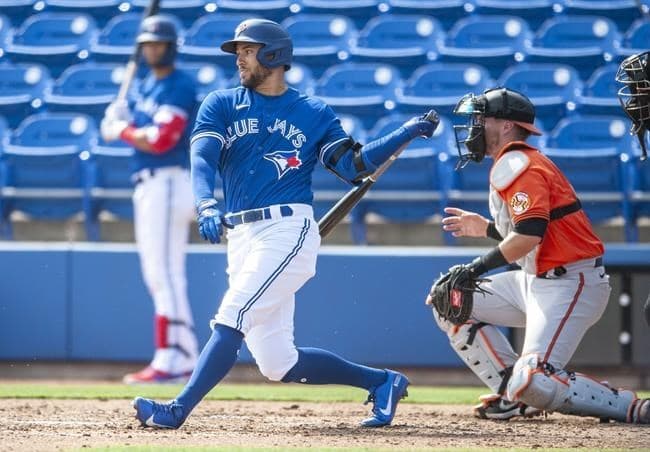 No matter how you slice it the Blue Jays have been a poor offensive team to start the season. They rank among the bottom third in runs scored, average, on-base percentage, slugging percentage, and weighted on base average. Their 88 wRC+ as a team ranks 24th, sandwiched between the Pirates and Orioles; not exactly great company for a team that was supposed to be built around offense.
The good news is that the team is expecting to get two key offensive contributors back very soon in George Springer and Teoscar Hernández.  With those two returning from injury it raises of the question of where will they hit in the line-up and who gets replaced.
Springer is going to hit leadoff. Yes his skill set might be better suited for the number 2 or 3 spot in the order, but Springer for the majority of his career has hit leadoff. For his career 77% of his plate appearances have come from the first spot in the batting order.  This is clearly a spot he's comfortable hitting in, and has been successful there.
After that Bo Bichette and Vladimir Guerrero Jr. should remain hitting second and third. Bo has struggled at times offensively this season. A .250/.297/.476 line is not what we expect from Bichette. He has hit five homers which has his wRC+ above league average at 115. His exit velocity is at 90.3 mph, right in line with his career. He
hit this ball 115.5 mph
, setting a new career high. Bo is still hitting the ball hard, but unfortunately he's hitting it on the ground. His groundball rate is up at 50.8%, and his line drive rate has been halved to 13.6%, per
Baseball Savant
. His launch angle has dropped to 4.6 degrees, well down from the 10.4 and 12.0 it was in 2019 and 2020 respectively. The other concern is as Andrew Stoeten pointed out in his
piece on the Blue Jays Statcast numbers
, is the strikeout rate. Bo's two strike approach hasn't been working for him this season. Bichette is going to figure this out, he is too good of a hitter not to.
Teoscar has hit clean-up in all seven of his games this season. I expect him to get that spot back upon his return. However, if he doesn't get
those strikeouts figured out
he will need to be moved down in the order.  I'd hit Rowdy Tellez fifth. Rowdy has recovered from his 0-for-21 start to the season. Since then he's hit .306 with a couple doubles and a homer. He hasn't taken any walks during this stretch but he's not striking out much either. Most importantly, he is crushing the ball. For the season, Rowdy's average exit velocity of 96.5 mph ranks fifth in the league. The rest of the top 10 is basically a short list of the best hitters in baseball: Pete Alonso, Giancarlo Stanton, Aaron Judge, Tyler Naquin, Fernando Tatis Jr., Evan Longoria, Ronald Acuna Jr., Mike Trout, and Nelson Cruz. Hitting the ball hard is good and Rowdy excels at that. He should be getting plenty of at bats, either at first or the as the DH.
Marcus Semien should continue to hit sixth. As Stoeten noted in his piece, it's worth keeping an eye on Semien to see if he starts hitting the ball to all fields, as he is not doing that so far. Semien is pulling everything this season, and putting the ball in the air. His launch angle is up to 22.9 degrees, well up from the 15.1 degrees he had in 2019. His fly ball rate per
Baseball Savant
has gone from 29.2% in 2020 to 41%, and his pull rate has gone from 39.1% to 52.5%. This looks like Semien is trying to tap into more power, perhaps now that he is out of Oakland. We have to wait and see if this is just a small sample or if this is something Semien is trying to do and will continue to do over the course of the season. Of note he did have his first opposite field hit on Sunday against the Rays, a grounder through the empty right side of the infield.
Everything Semien is doing, Randal Grichuk is doing as well. Grichuk has seen the
third highest increase in flyball rate
this season. Grichuk's launch angle is up eight degrees from 2020. The only difference between Grichuk and Semien is Grichuk has moved away from the pull everything approach. Grichuk for his career has pulled the ball well over 40% of the time. This season he's down to 30.9%. Grichuk has enough power he can drive the ball the other way and up the middle for doubles and home runs. Grichuk for his career has been a streaky hitter, so this very well may just be an early season hot streak. While he's hitting I'd run him out there over Lourdes Gurriel Jr., especially considering how solid Grichuk has been with the glove.
Gurriel Jr. is the odd one out for me. His wRC+ is 26, which is
third worst among qualified hitters
. He's struck out 17 times versus just two walks. He chasing more than ever and making less contact on pitches outside the zone. That jives with the eye test, a lot of his at bats have been uncompetitive. Gurriel Jr. has had poor stretches like this in the past, so he will come out of this one. For now though I would ride the Grichuk hot streak and give Gurriel Jr. some time to regroup.
I don't know what is going on with Danny Jansen. In 2020 he had the second largest decrease in pull rate, and this season he has the
highest increase in pull rate
. Per
Baseball Savant
, Jansen's pull rate of 56.7% is the fifth highest in the league. He may need to change his approach and just hit the ball where it's pitched. He's in such a funk right now; he needs a couple hits to drop to get himself going. His defence has been very good behind the plate, but it is very difficult to roster a player hitting worse than a pitcher.
Alejandro Kirk hasn't had a great start to the season, but we need to be patient. Kirk only has 61 plate appearances in the big leagues, is only 22 years old and never took an at bat in AA or AAA. If Jansen continues to struggle it will just be a matter of time before Kirk takes over as the full time catcher.
Finally, I'd hit Cavan Biggio ninth. See if he can get himself back to what made him successful. He's been chasing pitches out of the strike zone a quarter of the time, a 12% increase over last season. Only two other hitters have seen a
larger increase in chase rate
than Biggio. What worse is that he's not making contact on these pitches. His contact rate on pitches outside the zone is down 15%, the 17th largest drop off among qualified hitters. Biggio has taken a more aggressive approach at the plate and it hasn't worked out. He's still taking walks, though not as much as he was. If he can get himself on base from the nine spot, it gives Springer a chance to drive him in.