What went wrong for Yusei Kikuchi in 2021 and how the Blue Jays fix it moving forward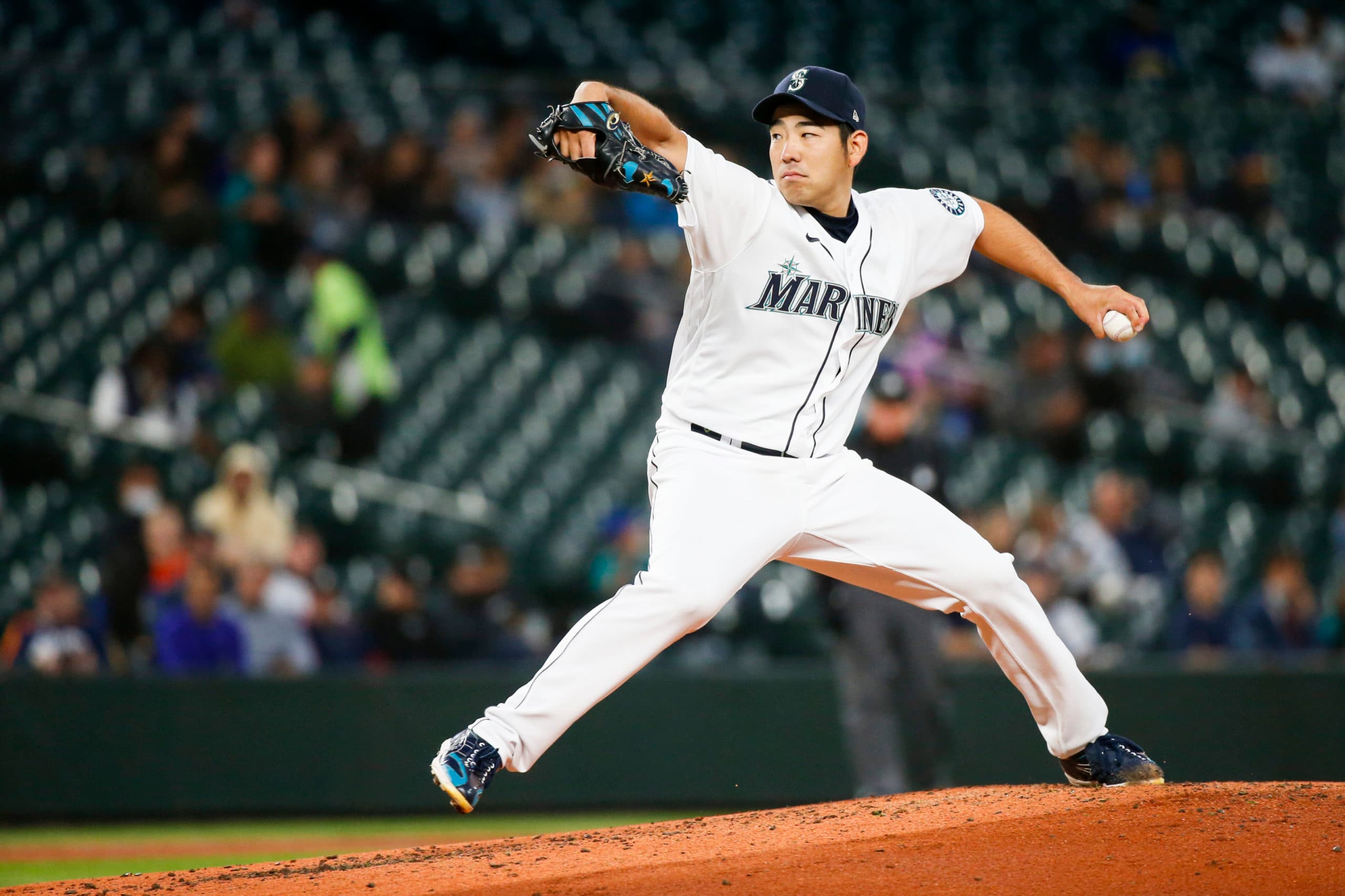 Photo credit:Joe Nicholson-USA TODAY Sports
The Blue Jays rounded out their rotation over the weekend, inking Yusei Kikuchi to a three-year $36 million deal.
Kikuchi should slot in as the fifth starter and gives the Blue Jays one of the deepest rotations one through five in the league. Coming from Seattle, Kikuchi is going to be compared to Robbie Ray. Kikuchi is not Robbie Ray and won't be "the next Robbie Ray." Kikuchi was brought in to replace the hole left by Steven Matz at the back of Toronto's rotation. Taking a look at their ZiPS projections for next season the two are practically identical.
| | | | | |
| --- | --- | --- | --- | --- |
|   | Innings | ERA | FIP | WAR |
| Kikuchi | 149.0 | 4.29 | 4.16 | 1.8 |
| Matz | 144.7 | 4.11 | 4.25 | 1.7 |
Matz is coming off a better season than Kikuchi (2.8 WAR vs 1.1) which is why he got the fourth year and more money in his deal. Kikuchi comes to the Blue Jays with some uncertainty, much like Matz did last off-season. What Kikuchi does bring to the Blue Jays is durability and stability to the rotation. Kikuchi made 29 starts and threw 157.0 innings last season. The Blue Jays appear to have emphasized this with their rotation. There were 48 starters who made at least 29 starts last season, the Blue Jays have four of them in their rotation for next season, after seeing two others depart in free agency. The only starter to not make 29 starts last season was Alek Manoah who with a full year in the majors should hit that mark this season.
Where Kikuchi differs from the other starters in the rotation is he throws really hard. Averaging 95.1 miles per hour on his fastball, per Baseball Savant, Kikuchi will be the hardest thrower in the rotation. He consistently runs his fastball up to 97 and even touched 98 five times this past season, something he had done just once the two seasons prior. When he came over from Japan in 2019 he averaged 92.5 mph, then in 2020 he made some adjustments increasing his velocity to 95 mph and he kept those gains into 2021. The new velocity for Kikuchi helped him increase his swinging strike rate to over 12% and saw his strikeout rate rise from 16.1% in 2019 to 24.5% in 2021.
99 from the left side? Yeah, that'll play.
The issue for Kikuchi is that when batters connected with his fastball they had a 92.5 mph average exit velocity. Throwing hard is great but it isn't as effective when it's right down the middle.

That is too much red right over the heart of the plate not just on the fastball but for all of his pitches (minus the change-up). When you see this it's no wonder Kikuchi had a 20.6% home run to fly ball rate, the second highest rate among pitchers who threw 140 innings. Even in a ballpark like T-Mobile Park in Seattle, that many pitches over the heart of the plate is going to lead to balls leaving the yard.  For a pitcher who threw that many strikes it's unsettling to see him also have a 9.3% walk rate. You can't be walking batters and giving up loud contact, that's a recipe for big innings and short outings.
What can Kikuchi do to fix this? Back in May, Michael Ajeto of Lookout Landing suggested Kikuchi could use his best pitch a lot better. Ajeto noted that Kikuchi was leading the league in ball percentage thrown with his fastball, and that his slider is his best pitch, provided he could throw it down and out of the strike zone. Kikuchi was able to throw more strikes with his fastball, however, I don't think anyone wants him throwing it right down the middle. Kikuchi did make a pitch mix change throughout the season, though it was the opposite of what Ajeto suggested. Kikuchi increased his fastball usage up to 40% at the expense of his cutter and slider. This pitch mix change was likely due to the fact that Kikuchi saw a noticeable decline in spin rate on all of his pitches after the sticky stuff crackdown in June.
This decline saw Kikuchi lose command and he ended up leaving way too many pitches over the heart of the plate. The following is his pitch locations from before the crackdown (on the left) and after (on the right).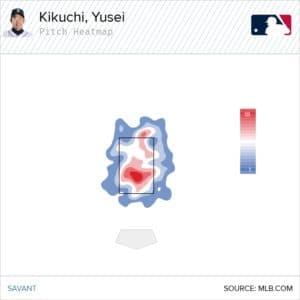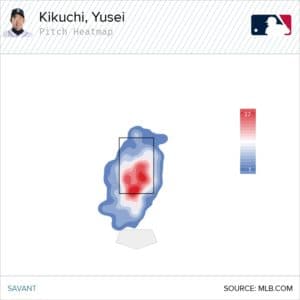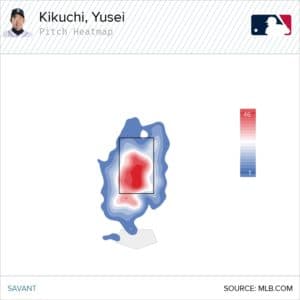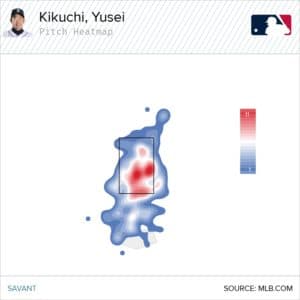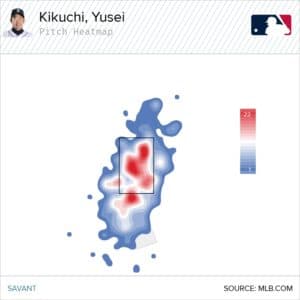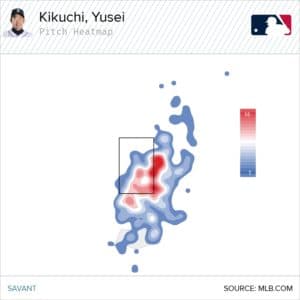 His location wasn't perfect before the crackdown but it was much more consistent. His fastball and cutter were both located down in the zone. His slider was up more than it should have been but he wasn't hanging as many. After the crackdown, his fastball is basically right down the middle and he has a ton of fastballs well off of the plate. You see the cutter again taking up way too much of the plate. The slider is up at the top of the zone. Those are hangers and again seeing these charts it's not a surprise that Kikuchi allowed the hard contact that he did.
However, there is more to this than simply sticky stuff and missing locations. Jake Mailhot of FanGraphs in his article on the signing talked about the "deterioration of [Kikuchi's] mechanics as the season wore on" which led to Kikuchi having two different release points. As the season went on his release point got lower which could be from lack of sticky stuff or could be from a pitcher fatiguing over a long season. Regardless of the reasoning, Kikuchi is a player that likes to tinker with his mechanics. 
Thankfully, fixing mechanical issues is something the Blue Jays do really really well. Just last
season we saw the coaching staff make changes with Ray, Ross Stripling, and José Berríos. It wouldn't shock me at all if the team has identified something with Kikuchi that they think they can correct. If that's the case the Blue Jays may have something really good with Yusei Kikuchi. He's durable and throws hard. His stuff is good when he can locate it. If he can get his release point and mechanics sorted out, the rest should fall into place and he could have a solid season for the Blue Jays at the backend of the rotation.