What's next for the Blue Jays and Alek Manoah?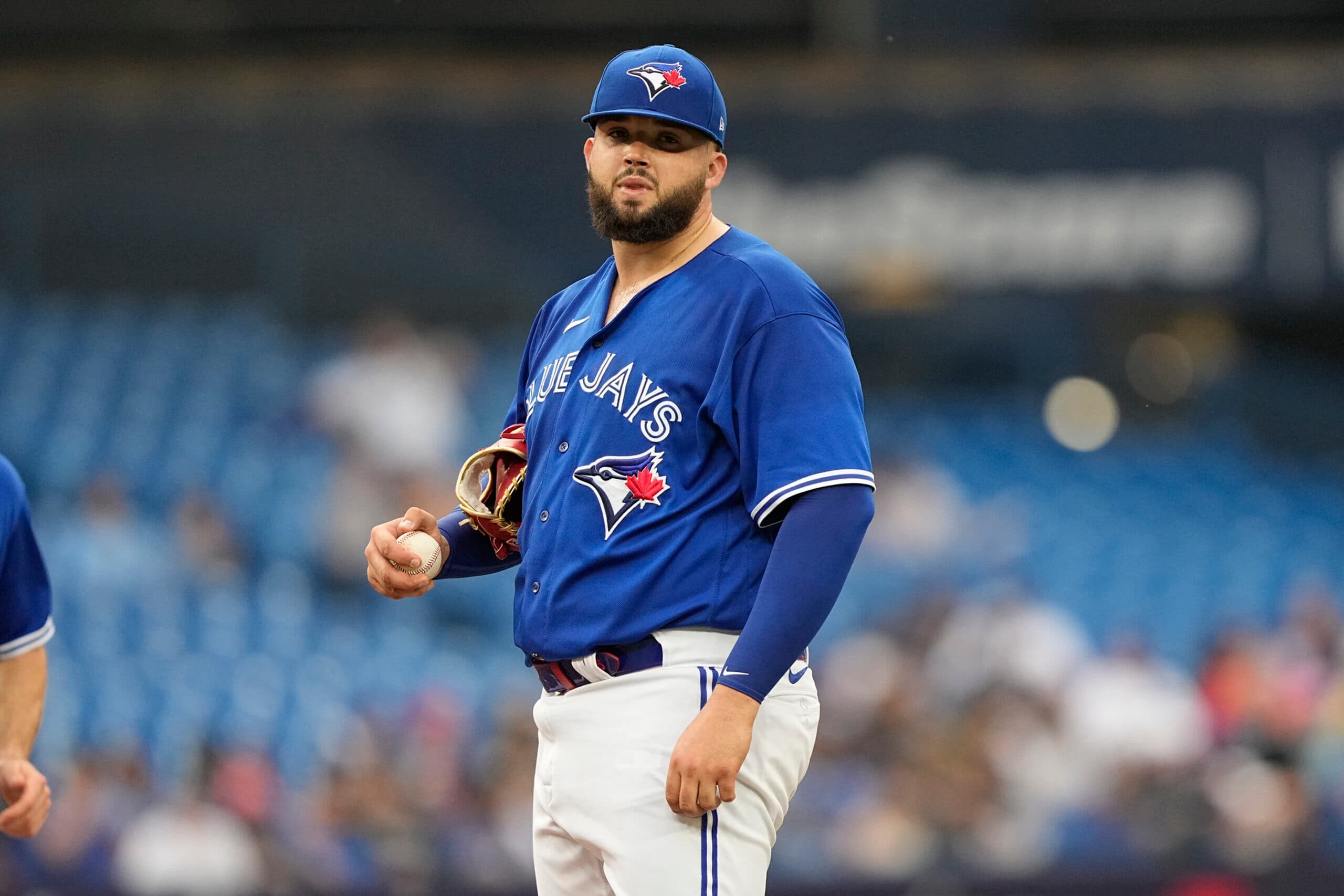 Photo credit:John E. Sokolowski-USA TODAY Sports
Well, that was a weird season for Alek Manoah.
Coming into the 2023 season, it looked like the 25-year-old was going to be his usual ace self he had been for the past two seasons, but it just wasn't meant to be. Not only did he have a dud of a season, but there looked to be some drama between him and the team.
The question has been posed numerous times of whether or not to trade Manoah this off-season, which is what we'll look to answer in this article.
Early success:
Manoah was drafted 11th overall in the 2019 draft, pitching 19 innings in Short-A. The minor league season was cancelled in 2020, and Manoah only pitched 18 more innings in the minor leagues before an early season call-up in 2021.
Manoah had a great rookie season, posting a 3.22 ERA and a 3.80 FIP in 111.2 innings with a 27.7 K% and an 8.7 BB%. After pitching just 35 innings in the minor leagues, Manoah finished eighth in the American League Rookie of the Year voting and solidified himself as a key pitcher in the Jays organization.
He was even better in 2022, posting a 2.24 ERA and a 3.35 FIP in 196.2 innings pitched. Manoah's K% dropped to 22.9%, but he ironed out his walk rate as it dropped to 6.5%. On top of making his first all-star appearance, Manoah finished third in American League Cy Young voting but also got some MVP votes as he finished 17th in voting.
The sky was the limit until the first game of 2023.
A poor 2023 performance:
In his first game of the season, Manoah was pitching well into the third inning, where he gave up a home run and finished with a line of
3.1 IP, 9 H, 5 H, 2 BB, 3 K
. Sadly, this was a trend for the right-handed pitcher
By the end of the season, he finished with a 5.87 ERA and a 6.01 FIP in 87.1 innings pitched, along with a 19 K% and a 14.2 BB%. There was bound to be some regression as he managed to power through innings with some luck in 2022, but to this extent was bewildering.
In fact, he was optioned to the minor leagues twice, including a game in the Florida Complex League where he gave up 11 earned runs in just 2.2 innings pitched – this was against teenagers.
His second stint in Toronto was "better", finishing with a 4.91 ERA and a 5.06 FIP in 29.1 innings pitched. However, he still walked way too many batters as his BB% sat at 12.8%, while his K% improved to 23.2%.
On August 11th, Manoah was optioned for the second time to the Triple-A Buffalo Bisons, where he didn't make an appearance and was eventually added to the temporarily inactive list in early September.
His second demotion had some potential drama though.
The (potential) drama:
This one is a doozy. In June, The Sports Network's Scott Mitchell reported on the OverDrive podcast that Alek Manoah came into spring training weighing 320 pounds, which the front office wasn't too happy about.
The drama continued though, as after the second time he was optioned to the minor leagues, Manoah didn't even throw any bullpens or side sessions. In August, Sportsnet's Ben Nicholson-Smith reported that Manoah underwent "a wide range of medical tests". Before later reporting in mid-September that he was not likely to pitch again.
In this September 11th article, Nicholson-Smith reported that Manoah had wear-and-tear injuries on his knee, back, and right quad, but there was no structural damage. There was also a little tidbit towards the end of the article that noted that after being demoted, Manoah missed out on Super Two eligibility, which means he won't be available for arbitration until the end of the 2024 season.
With Manoah sitting out for the rest of the season while also getting tests done, it begs the question as to why he wasn't added to the injured list. Well, had the Jays added him to the injured list, it means that he would have still gotten service time and would have potentially been eligible for four seasons of arbitration.
Neither the Blue Jays nor Alek Manoah have commented on the situation, so it's hard to know what's actually going on behind the scenes. But from an outside observer, it doesn't look great.
Should the Jays trade Manoah?:
Even if the relationship is severed, which we have no indication of, trading a player when his trade value is at its lowest is just silly. It's hard to get fair value for a player who had one of the worst ERAs for a starter despite his two fantastic seasons to start his career.
On top of that, there's a pretty good chance he will bounce back in the upcoming seasons. Look no further than what Yusei Kikuchi and José Berríos were able to do in 2023 after awful 2022 seasons.
Manoah is a pitcher who has a track record of going deep into games while pitching to an ERA of an upper rotation arm. Why would you trade that kind of player when his value is just so low? Moreover, it looks like he's taking steps to improve himself, as you can read in Thomas Hall's article here.
Next season will be a big year for Alek Manoah.
---
As always, you can follow me on Twitter, Instagram, and Threads @Brennan_L_D.
---