What's Wrong With Ryu?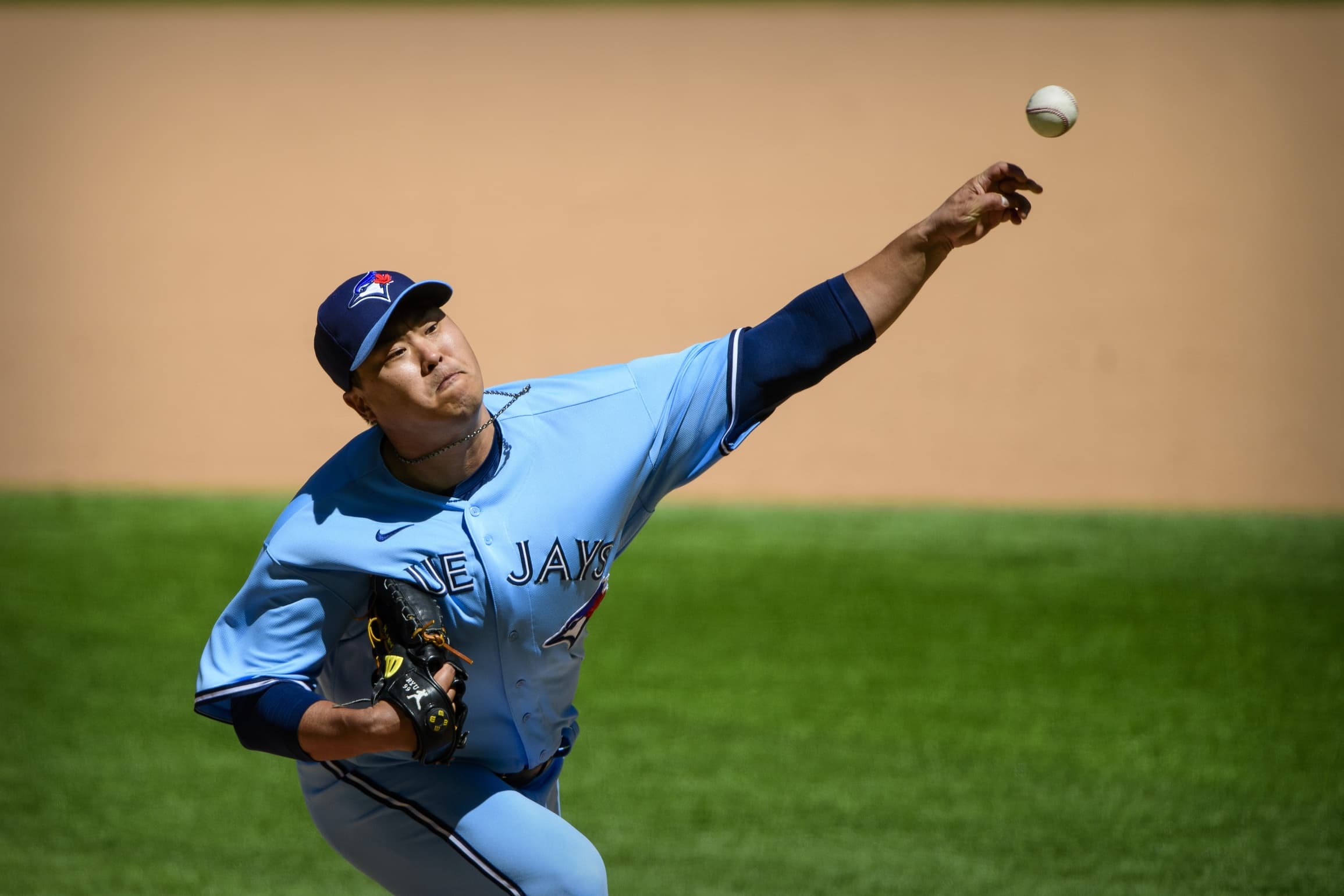 Photo credit:© Jerome Miron-USA TODAY Sports
When the Blue Jays signed Cy Young contender Hyun-Jin Ryu to a 4 years $80 million deal prior the 2020 season, it was understood that there would be some risk involved in the acquisition.
Ryu has struggled with injuries throughout his time in the big leagues, missing starts in every full season of his career, and losing basically two full campaigns in 2015 and 2016. When he came to Toronto, the general belief was that even though he wouldn't be the same guy he was in 2018 and 2019, he would continue to be valuable to the club despite entering a decline in his ability.
In the shortened 2020 season, Ryu was the undisputed ace of the Blue Jays staff, and they needed it. He was everything he'd been in the previous two seasons with the Dodgers. His season was so good last year that expectations may become a little loftier than they were originally when his four years were plotted out with the Blue Jays last winter. Now, approaching the halfway mark of the season, you might make the argument that Ryu has been a middle-of-the-rotation arm for the Blue Jays, with Robbie Ray leading the way.
So where did things go wrong? How did Ryu go from one of the best pitchers on the planet to where he is now?
First of all, I don't think things are as bad as they seem on the surface. Recency bias leads us to believe he's been a shell of his former self all season, but his most recent outing was really only his third or fourth really poor outing on the season. Prior to the month of June, he was cruising along with comparable numbers to last season's near Cy Young campaign.
The biggest change from April and May to June has been the base on balls. In his 10 starts before his June four outing against the Astros, he walked 8 batters. In the 6 starts since then, he's walked 13. Similarly, he's struck out only 16 batters in those 6 starts, compared to 58 in his first 10 starts. It translates to almost 5 K/9 and 6 K/BB. However, it isn't as simple as throwing more strikes. Ryu has also been a guy who lives on the corners and forces batters to hit his pitches, but this season, his Hard Hit Balls %(rate of balls hit with an exit velocity of 95+mph) is up almost 10% from last year.
Another puzzling change is that opponents are hitting the ball to the middle of the field 10% more often than they did last season. It could be a result of his changeup losing effectiveness. According to Fangraphs, the weighted run value of his change-up is worth eight more runs against than it was last year, supporting those results.
It's worth considering as well, one of the biggest changes in June is that Danny Jansen hit the IL. Up until Ryu's June 4 start against Houston, Danny Jansen had caught all but one start Ryu has made for the Blue Jays going back to last year. In fact, Jansen has caught all but 30.2 of Ryu's innings in a Blue Jays uniform. For a guy who likes to get in a rhythm and attack with a plan, it's likely compounded the issue, especially in the two starts caught by Riley Adams where Ryu gave up three home runs and six extra-base hits in just 12 innings.
If the club is going to make a playoff push in the back half of the season, Ryu needs to be one of their premier starters. His last strong start was in Baltimore on June 20th against the lowly Orioles, his next start is scheduled to be at Camden Yards as well. We can only hope that's where Ryu's season starts to turn back into what we know he's capable of.