Where would the Blue Jays be without Adam Cimber?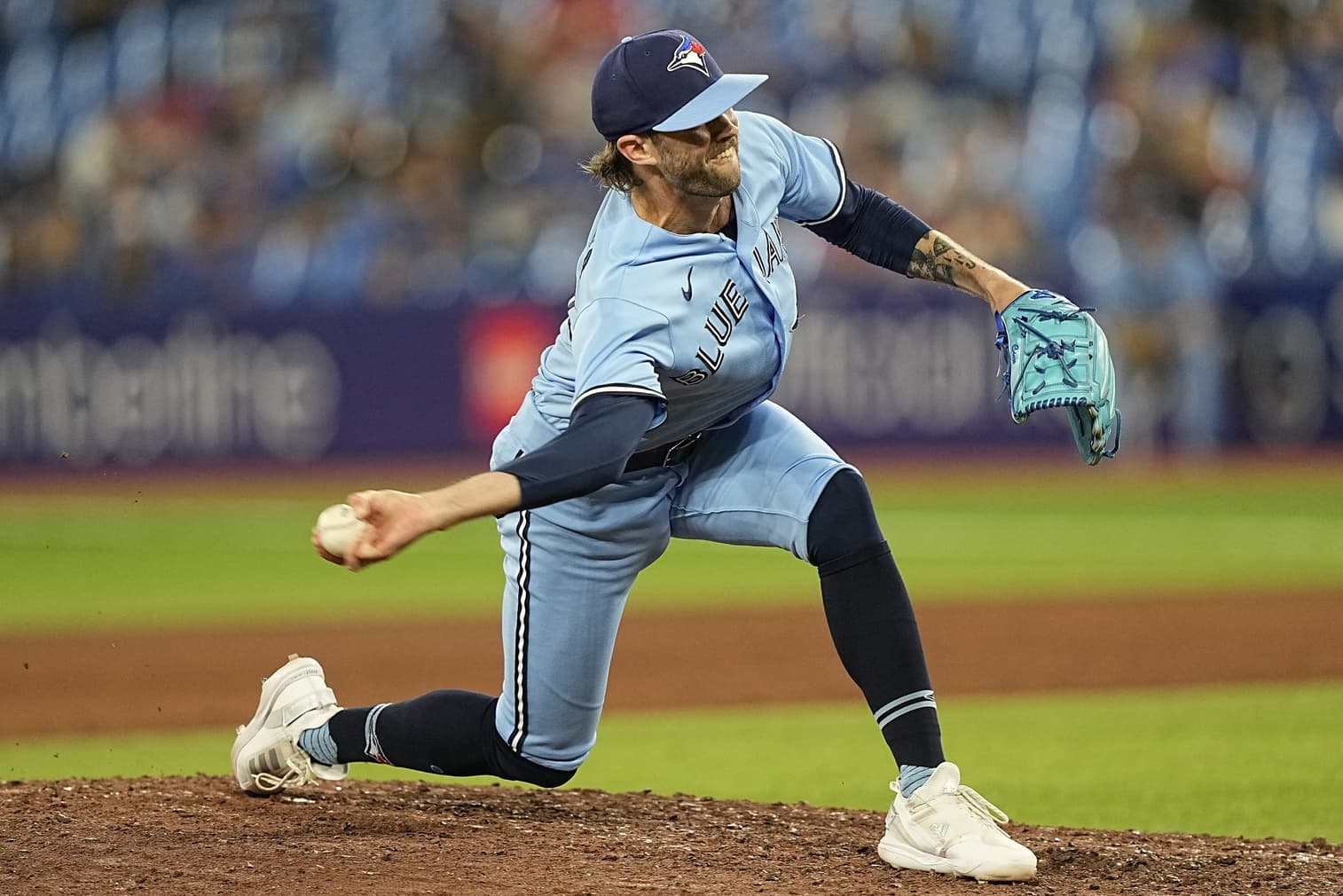 Photo credit:© John E. Sokolowski-USA TODAY Sports
Where would the Toronto Blue Jays be without reliever Adams Cimber? Given the shallow depth of the Blue Jays bullpen, I can only shudder to imagine.
He has been able to keep his place as a go-to arm in high leverage situations since establishing himself in that role after being acquired from the Marlins last season. Crucially, he has also remained steady in this role while offseason signing Yimi Garcia and closer Jordan Romano have struggled physically with the heavy workload the Blue Jays have required of them.
Cimber goes about his business by missing barrels instead of outright missing bats. The Blue Jays' resident submarine reliever, throwing the ball below his shoulder, does not wow you with strikeouts. He makes good use of his sinker, fastball, and slider mix to induce groundballs and other forms of weak contact. He simply gets a lot of outs without necessarily blowing anyone away. This can be stressful in high leverage situations or when there are runners on base. However, an improved infield defence buoyed by third-baseman Matt Chapman and second-baseman Santiago Espinal has allowed Cimber to continue to flourish. Despite only throwing his fastball in the upper 80s, Cimber is able to avoid barrels (a batted ball with the perfect combination of contact and launch angle to do real damage), and instead batters most often swing on top of or get too far underneath the offerings from the Blue Jays' submariner. In fact, Cimber's profile and approach are quite similar to the archetype of an effective reliever with a submarine or side-arm delivery.
Despite being the only submariner on the Blue Jays' pitching staff, (they do have reliever Eric Yardley with a similar pitching motion, formerly of the Milwaukee Brewers, on a minor league deal and currently playing for the AAA Buffalo Bisons) Cimber may not be as unique as you think. There are five right-handed sidearm or submarine delivery relief pitchers in the Majors in 2021 (Former Blue Jay Joe Smith,
Darren O'Day
, Tyler Rogers, Steve Cishek, and John Schreiber).
All of these pitchers tend to rely on a mix of their fastball and sinker over fifty percent of the time, with both of these pitches usually sitting in the mid-80s. They then usually have a slider as their primary breaking pitch, which usually sits in the mid to low-70s and can work well running away from right-handed batters. A sinker has similar arm-side movement to their fastball, but greater drop. It is often their primary pitch that is kept down in the zone to induce ground-balls. Finally, the fastball is usually used to run up and in on right-handed batters and can be effective at getting strikeouts. Mind you, these pitchers do not prioritize strikeouts, instead attempting to survive on weak contact and a good defence behind them. Fielding independent pitching it is not, but it does reinforce that baseball is a team sport after all. Cimber fits this profile quite well, albeit his fastball/sinker does sit in the upper 80s at around 87 MPH (Red Sox RP Schreiber actually is even more unique in that the sidearmer throws his fastball/sinker in the mid-90s).
However, despite his effectiveness for the Blue Jays last season and carrying on into this season, there have been some notable changes. He has moved away a bit from his fastball/sinker and towards his slider more. His fastball has remained effective as an up-and-in putaway pitch and in the aggregate, he is still throwing some version of a fastball (4-seam or his sinker) over 60% of the time. His sinker is principally interesting because of the way he spins it, in theory, you would expect more horizontal movement, but his lower velocity allows it to drop more reducing some of the horizontal movement in practice. This spin deception adds to the base-level deception of a relatively unique delivery in MLB, but also takes away from some of his ability to keep the sinker out of the heart of the plate.
In fact, this season his sinker has caught far too much of the plate and has been taken advantage of in a way we did not see in 2021. In 2022 his most used pitch is actually his slider running away from right-handers or down and in on lefties. Even if he was not burying his sinker all the time in 2021, Cimber was better at keeping his primary pitch out of the heart of the plate when it was in the zone. This has not been the case in 2022 and could go some ways to explain why his ground-ball rate has dipped below 50% for the first time in his career. Cimber has basically abandoned his sinker against left-handed hitters as well across both seasons. Overall, hitters have gone from hitting .297/.297/.337 on the sinker in 2021 to hitting an eye-popping .362/.383/.511 against his sinker in 2022, with their launch angle also worryingly going from -11 degrees in 2021 to -4 degrees in 2022. A pitch that is essentially designed to induce ground balls has become one-hitters that can flex their power against Cimber in 2021.
Fortunately, batters have hit a paltry .045/.082/.045 against his fastball in 2022 and his slider has been effective enough for this profile to remain very effective. This has largely been accomplished by inducing more weak contact overall, as he has increased his flyball rate in turn and survived on flyouts in a way that may be familiar if you remember watching Marco Estrada pitch for the Blue Jays. Overall, if Cimber can rediscover an effective version of his sinker he can only boost his strong first-half performance in 2022. This could involve work to ensure he is locating it side to side better or tapping into some of that theoretical horizontal movement. Otherwise, the alternative may be that some of those fly-balls begin to catch up with him and the Blue Jays' already depleted bullpen could go into further disarray. Shudder indeed.
(All data was found on
Baseball Savant
using their searchable player profiles)
---