Which Buffalo Bisons players could help the Blue Jays this season?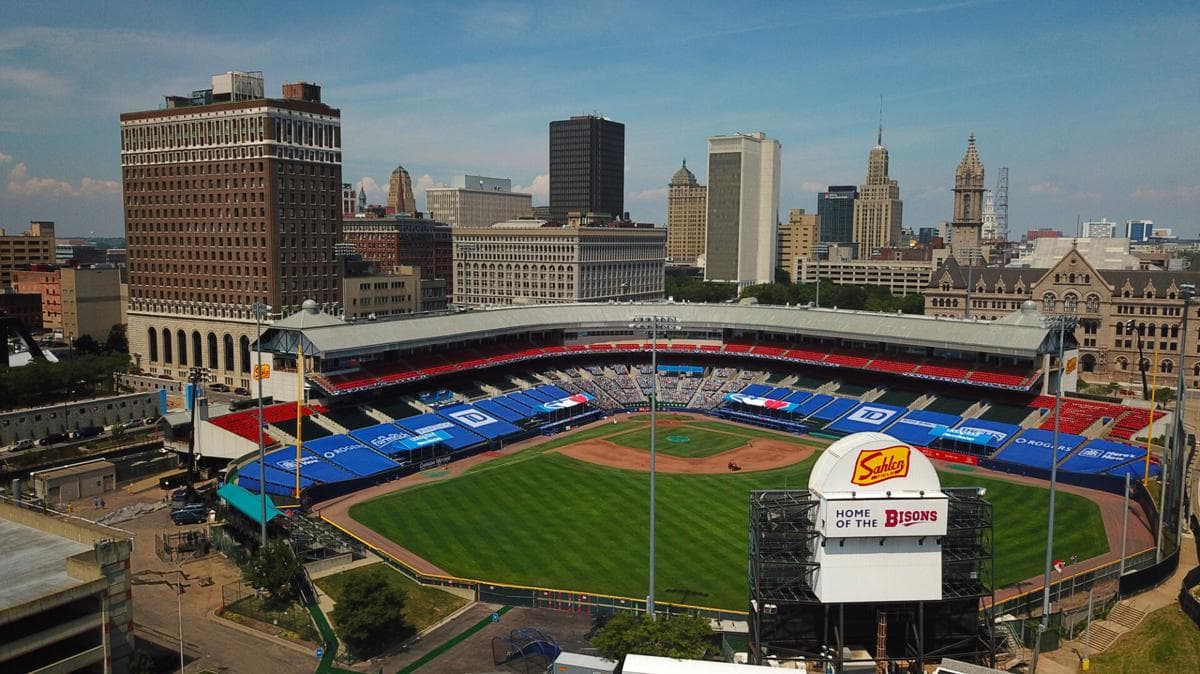 It's tough to admit, but so far this season, the team has not lived up to their lofty goals of contending for a World Series.
While it's still very early in the season and things can change, in my eyes, moves would have to be made if they want to meet those expectations.
Yes, that means trades, but there are also internal options that are currently with the Buffalo Bisons. Let's go through each of the Bisons that I believe could make an impact this season for the Jays.
Pitchers:
The bullpen has been okay, but all these one run games will tax the 'pen as the season continues. For example, Mayza has already suffered an injury, meaning they've lost their set-up man.
That begs the question, which pitchers on the Bisons roster could help the Blue Jays pen if need be.
Hernandez ranked as my #14 best Jays prospect heading into the 2022 season. He has not disappointed in his brief stint in the upper minors. 
He started the 2022 season in New Hampshire, pitching 4 innings in relief. During that time, he posted a 2.25 ERA and 2.66 FIP. Most impressively, his K/9 sat at 13.50, while his BB/9 sat at 6.75, which is rather high. However, context matters, as two of those walks were when it was raining fairly heavily.
It didn't take long for Hernandez to be promoted to Triple A, where he's improved his numbers, despite facing batters who have big league experience. In his 13 innings pitched, he has a K/9 of 14.54 and BB/9 of 4.15.
While 13 innings is a "small sample size" (although not so much for a reliever), it's important to note that wherever he's pitched, he's always had an incredibly high strikeout rate due to his 70 grade changeup.
While his fastball only sits around 92 mph, his changeup has so much movement that it's already considered MLB ready. He is one of many relievers who could help the Blue Jays.
Jeremy Beasley:
Remember Beasley last season? Yeah, he wasn't very good, in fact, he struggled in the minor leagues in 2021. With Toronto, he  pitched 9.1 innings and registered a 7.71 ERA and 8.10 FIP with a K/9 of 15.4 and BB/9 of 8.68. 
Pitching mainly with the Bisons to finish out the season, he had a solid ERA of 2.89 and a FIP of 3.15. His K/9 was exactly the same as the minors at 12.54, but walks still plagued him, as he had a BB/9 of 7.23.
So that begs the question, why is Beasley's name mentioned here? Well, that's because he's ready to be called up. His walk rate has dropped significantly in his 21.2 innings pitched, as it currently sits at 2.55. That's not all, as his ERA is at a rather impressive 1.09 with a FIP of 3.09 while still striking out plenty of batters (10.22 K/9).
While he won't ever be a high leverage reliever in the bigs, he'd be a perfect fit to be brought in when the team is losing by a couple of runs.
Since his transition to the bullpen, the 25-year- old has put up a solid ERA. This includes an ERA of 2.16 with Buffalo this season. While his FIP of 4.54 is on the rather high side, it was just as high last season when he posted a 1.74 ERA in Double A and 1.04 ERA in Triple A.
In his 16.2 innings pitched this season, his K/9 has increased to 7.56, which is the third highest at any level he's pitched at. However, his BB/9 has jumped to 4.32, which contributes to his high FIP. It's a worrisome sign as his BB/9 sat at 1.56 in 17.1 innings pitched with the Bisons last season.
Despite that, it is my belief that Johnston could be a useful middle relief pitcher, despite being a high leverage reliever with the Bisons.
Graham Spraker:
Selected in the 31st round of the 2017 draft, Spraker is not someone I've mentioned a lot in my articles. Spending the majority of his professional career as a reliever, I overlooked him quite a lot, despite the 27-year-old never having an ERA over 3.26 while pitching more than five innings.
After breaking out in 2021, Spraker ranked as Fangraphs' 29th best prospect in the Jays organization. His 60 grade fastball sits at 93-96 mph as he's moved away from his Sinker that he had in previous seasons.
This season, the righty has pitched 16.2 innings and has an ERA of 2.70 and a FIP of 4.18. Furthermore, his K/9 sits at 11.34, much higher than his pre-pandemic totals. While not on the 40-man roster, it's possible he sees some time with the Jays depending on the circumstances.
Brandon Eisert:
There is certainly less of a chance of Eisert getting the promotion to the bigs, but he's a reliever to keep an eye on. The 24-year-old lefty was drafted in the 18th round of the 2019 draft and has been successful out of the pen.
Eisert started his 2021 with the Vancouver Canadians, posting a 4.05 ERA and 3.96 FIP in 46.2 innings pitched. He also had a K/9 of 11.57 and a BB/9 of 3.09.
He was promoted to Double A, where he posted a 2.63 ERA and 1.47 FIP in 13.2 innings pitched with the New Hampshire Fisher Cats. He also had a rather impressive K/9 of 11.20 and had a very low BB/9 of 1.32.
The Blue Jays obviously see something in Eisert, as they fast tracked the 24-year-old to the Bisons this season. He has been rather successful, posting a 3.31 ERA and 4.38 FIP in 16.1 innings pitched. Despite facing former big leaguers, his K/9 has only dropped a fraction to 9.92 while his BB/9 is a solid 2.20, lower than his total with the Canadians.
I don't think we'll see him with the Jays unless a bunch of injuries happen, but there's a good chance he could be promoted as early as next season.
Position Players:
"I just got frostbite thinking about how cold the bats are. How could the Jays get them going?" is what I was originally going to write in this article. While the bats have heated up in the past week since I wrote the bulk of this article, there is always room for improvement.
I wasn't always high on the 22-year-old infielder, but he has put together a solid season thus far. In 66 plate appearances, he's slashing .333/.424/.370 and is hitting .458 with runners in scoring position with the Bisons. He missed the start of the season with an injury that happened during spring training.
Groshans has played 72 innings at shortstop making three errors and 42 innings at third with two errors. However, his versatility could be useful with the Blue Jays.
The only knock the scouts have against him is that he's an average over power hitter. In his 66 plate appearances with the Bisons, he has yet to hit a home run. His career high is only 7 in 316 plate appearances, which came last season with the Fisher Cats.
An encouraging sign of his game is his increase in walks (15.2% of the time) while striking out only 7.6% of the time. It's a small sample size, but if Groshans can continue his hot stretch, we may see him on the Blue Jays roster sooner rather than later.
Much like Groshans, Lopez missed the start of the MiLB season due to injury. The two rehabbed with the Dunedin Blue Jays at the same time and were activated in the same week.
In 55 plate appearances, Lopez is slashing .200/.315/.422 with a homer. Last season with the Bisons, he slashed .289/.347/.405, so there has been quite the drop off, at least in terms of his batting average.
Lopez's K% sits at a very low 10.9%, while he has walked 9.1% of the time, his highest total since 2018. Lopez also has a 92 wRC+, which is below average. However, there is still plenty of time to turn it around for the 23-year-old.
Lopez is on the forty man roster and it's possible that he's called up to the bigs at some point this season. He's incredibly versatile, playing at left field, centre field, second base and shortstop. He could be incredibly useful for the Blue Jays.
This may be an unpopular opinion, but I don't think the 22-year-old is ready for the big leagues. That doesn't mean we can't take a look at his numbers.
In 102 plate appearances with the Bisons, the catcher is slashing .323/.392/.398 for a wRC+ of 117. He also has a rather low strikeout rate of 18.6% and a BB% of 7.8%. Moreno also has a great arm, throwing out 10 would-be base stealers in 22 attempts, good enough for a caught stealing percentage of 45.45%.
There are some concerns, however. While his CS% is great, there are worrisome signs with his defense, as he has allowed 3 passed balls this season. He didn't allow one in his 237 innings catching last season, but it was a noticeable issue early in his professional career. 
In his first three seasons (prior to 2021), he allowed 26 passed balls in only 938.1 innings fielded at the position. That's only around 104 games.
There's also been a noticeable drop in his power numbers, as he's yet to hit a home run in 2022. In just 145 plate appearances with the Fisher Cats in 2021, he hit 8 home runs before a pitcher beaned him in the thumb with a pitch.
While Moreno is racking up singles (23 of his 30 hits), he only has seven extra base hits, which is a worrisome sign for the 22-year-old.
Furthermore, he is blocked by both Alejandro Kirk and Danny Jansen, two catchers who've had success with both the bat and behind the plate in 2022.
This isn't to say that he doesn't have the potential to become a multiple-time all-star, as he's certainly still that guy. However, one more year in the minors should help him find his game prior to the injury. 
Lastly, we have 23-year-old Samad Taylor. The versatile player has been an absolute menace to start the 2022 season. He's slashing .266/.357/.435 and has added 5 homers in 143 plate appearances.
He has it all, he can steal bases (17/19), he has power (5 homers, 16 last season), he can hit for a solid average (.266, .294 last season) and hasn't committed an error in the field all season long (there's not DRS available for the minor leagues, sorry).
Out of anyone on this list, I think Samad Taylor could be the most impactful player for the Blue Jays this season. Stay tuned, because I'll be writing another article on him in the near future!
As always, you can follow me on Twitter @Brennan_L_D.
---