Whit Merrifield, the Blue Jays' emerging on-base star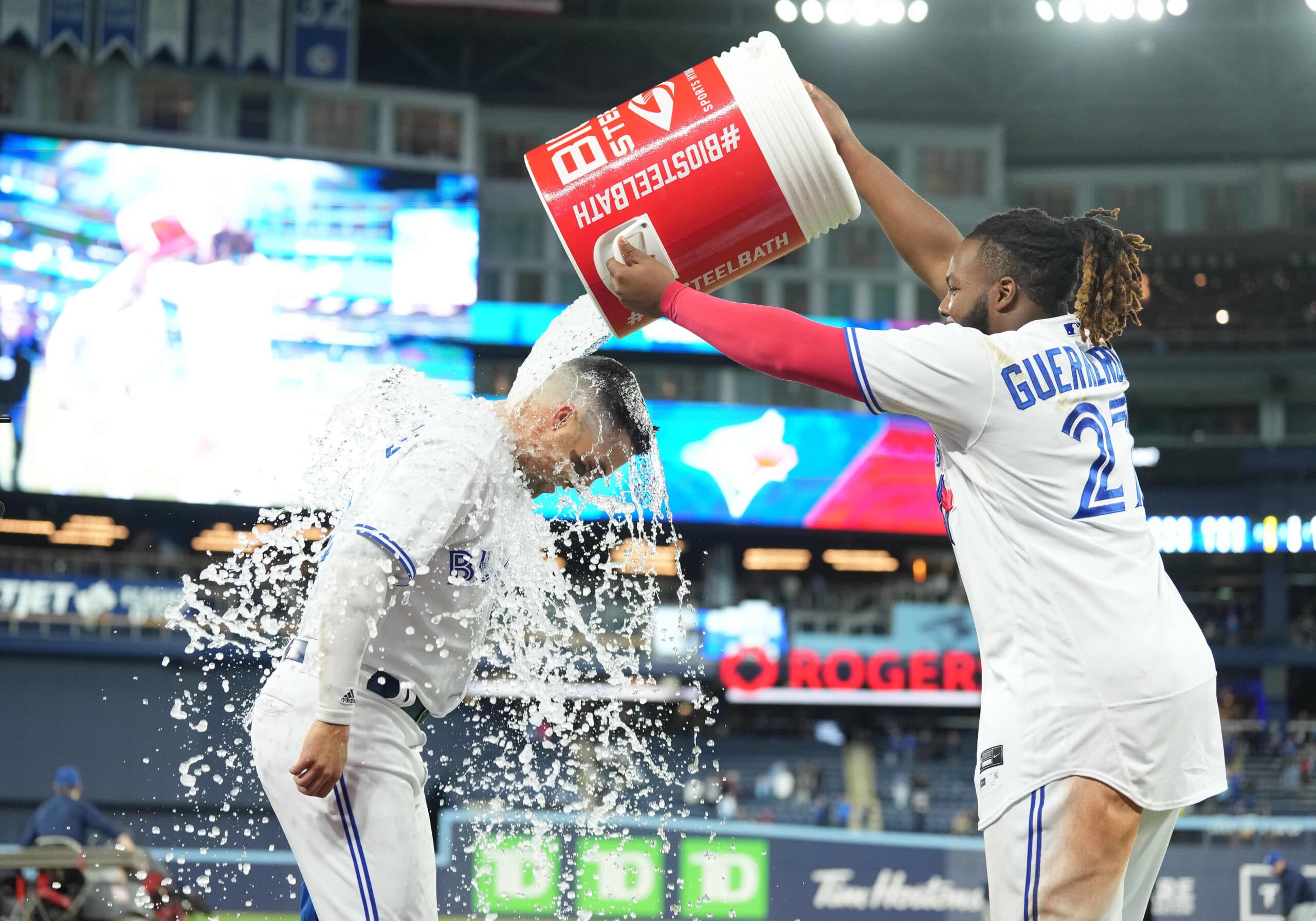 Photo credit:Nick Turchiaro-USA TODAY Sports
Whit Merrifield isn't the most threatening hitter within the Toronto Blue Jays lineup, and how could he be? But he has quietly been among their most reliable contributors this season, particularly with reaching base consistently.
The Blue Jays, who acquired Merrifield from the Kansas City Royals at last summer's trade deadline, were extremely pleased with the two-time All-Star's production post-trade, resulting in a .281/.323/.446 slash line and a 119 wRC+ across 44 games. And they would've been more than happy to receive similar results in 2023.
So far, however, Merrifield has looked even closer to his 2018-19 version, which saw him lead the majors in hits during back-to-back seasons and produce a combined 8.0 fWAR rating. The formula for his recent success: hit for average while earning a respectable amount of free passes.
The 34-year-old's sample size only spans 69 plate appearances over 17 games, although he has made the most of his early-season opportunities, hitting .317/.377/.417 with a 125 wRC+. He has also produced a .380 BABIP with an 8.7 per cent walk rate – both of which would be the highest of his career over a full season's worth of results.
This production has positioned Merrifield amongst the Blue Jays' on-base leaders, ranking him
fourth in OBP and wOBA (.349)
heading into Tuesday's contest versus the Chicago White Sox. While he hasn't displayed much power, sitting with six extra-base hits, one came during a critical moment during Monday night's affair.
With Toronto trailing 2-0 in the bottom of the fourth, Alejandro Kirk and Brandon Belt each kept the inning alive by earning a walk and a single, respectively, creating a run-scoring situation as Merrifield stepped to the plate. And he didn't disappoint, blasting a 104.6-m.p.h. double into the left-field corner, allowing Kirk to score from second base.
Merrifield accomplished something much of the Blue Jays' offence has struggled with all month: scoring with runners in scoring position and two outs. But he wasn't alone in that success, either, as Cavan Biggio followed him by sending a three-run home run just above the cutout in right field, capping off the team's four-run inning.
Despite going 1-for-4 on the night, the former Royal's double extended his hitting streak to 10 games, tying Tampa Bay's Harold Ramirez – a former Blue Jays prospect – for the second-longest active streak behind Mauricio Dubón's (18 games).
It also continued a trend that has seen Merrifield reach base safely in all 17 games this season, tied for the fifth-longest on-base streak in Blue Jays history to begin a campaign. He can move into a tie for fourth with Lloyd Moseby (1981) and Alex Gonzalez (1997) by recording a hit or walk in his next game.
Among the reasons Merrifield has been successful early on has been his batted-ball distribution, mainly his ability to generate line drives. His 19.7 per cent LD rate in 2022 was a career-low. This season, however, he has increased that percentage by over 10 per cent, as it's climbed to a 30.0 per cent clip.
The 6-foot-1 righty hasn't been hitting to the opposite field more like some of his teammates have, namely Matt Chapman and Vladimir Guerrero Jr. Nor is he hitting balls harder. But by producing more line drives, recording outs against him have been much tougher, especially when he is spraying balls to all three fields.
After slashing .282/.275/.365 with a 74 wRC+ on non-pulled balls last season, Merrifield's production level has risen substantially in 2023, hitting .393/.367/.429 with a 118 wRC+. Of course, the sample size is small, but keeping balls off the ground in those directions has certainly played a factor thus far.
It has seen 11 of Merrifield's 19 hits this season directed straightaway or to right field. That total also ranks fifth among Blue Jays hitters in non-pulled hits, with Bo Bichette's 26 leading by a considerable margin.
Strikeouts (17.4 per cent), whiffs (23.6 per cent) and chases (37.9 per cent) are all on the rise for Toronto's versatile defender, though, which will make sustaining his production quite challenging. So, too, will his poor hard-hit (18.0 per cent) and barrel rates (2.0 per cent), as they're positioned in the
second and ninth percentiles
, respectively.
Luck has undoubtedly been in Merrifield's favour out of the gate, pairing with his high line-drive output to create a successful outcome. If he doesn't start swinging and missing less or hitting balls harder, his batted-ball fortune will eventually self-correct. And, at which point, his results could take a major nosedive, as evidenced by his xAVG (.241), xSLG (.297) and xwOBA (.280).
All these line drives are great, but Merrifield controlled the strike zone much more effectively when he was at his best in 2018-19, as his whiff rate ranked in the 78th percentile in consecutive seasons. The same goes for his chase rate, which didn't drop below the 34th percentile and finished as high as the 45th.
Rediscovering that level of plate discipline will be key – with his chase and whiff rates currently sitting in the ninth and 58th percentiles this season, respectively – so that when his contact metrics regress, he'll remain a productive on-base threat.
The version of Whit Merrifield we've seen so far probably won't stick around for much longer. But if he can locate a middle ground between last year's production and his previous All-Star form, it'd continue to lengthen the Blue Jays' lineup throughout the marathon of a 162-game schedule and beyond.
---