Why Have The Blue Jays Struggled To Hit?
Photo credit:Kevin Sousa-USA TODAY Sports
These Toronto Blue Jays were supposed to be one of the best hitting teams in baseball.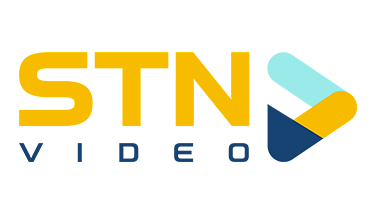 Instead, nearly two months into the season, they've tallied the 7th fewest runs in the league. Though the team
wRC+
ranks 17th, possibly some reason for optimism, the Blue Jays have still failed to perform as expected at the plate. But
why
?
While everyone has their opinions, perhaps the most prominent is that the team has failed to perform in the clutch in 2022. The Blue Jays have certainly struggled to hit with RISP, however, it's hard to see this as the source of their problems. Toronto's
Expected Weighted On-Base Average (xwOBA)
with runners on second or third is poor. As a matter of fact, it's 8th lowest in MLB. However, they've only managed to accumulate 377 PAs in those situations, (less than offensive bottom feeders like Cincinnati) which is the 6th least in baseball, and indicative of the fact that they aren't really hitting in any situation, though, there's no doubt that they've been especially bad with runners on.
The secret to the Blue Jays' success, or more accurately, lack thereof, in 2022 is due to plate discipline. Here's why.
Most would consider Guerrero Jr., Bichette, Hernández, and Springer to be the 4 best hitters on the Jays, and they frequently hit top four in the lineup. When evaluating their Swing/Take profiles, we uncover the heart of the issue. When looking at the chase rates, or O-Swing%, 3/4 of the Jays' big boppers are posting below average marks in 2022.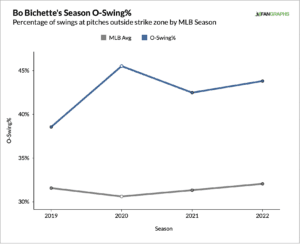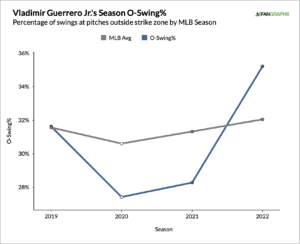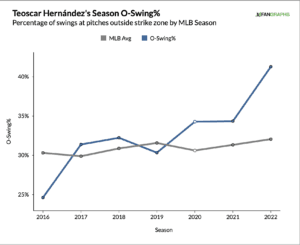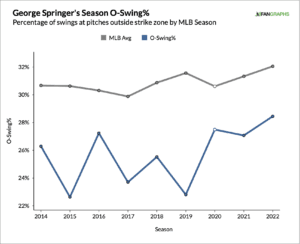 But it doesn't get better from there. The same top hitters are not only chasing more than ever, but they're also missing on said chases more than ever.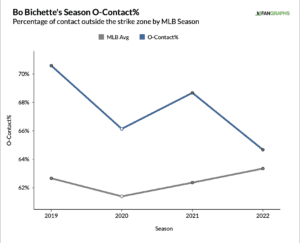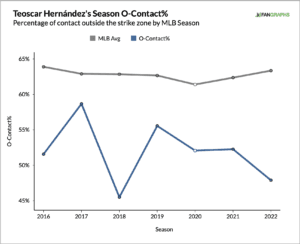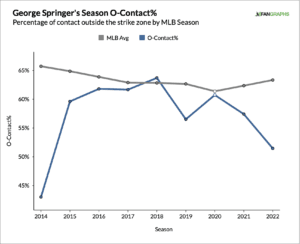 As a team, the Blue Jays aren't particularly disciplined either. They own the 19th best chase rate in baseball (bad, not horrific), and they own the 18th best contact rate on chases in baseball (bad, not horrific). However, the issue truly stems from the fact that Toronto's been one of the worst teams in the league when they DO swing. Let me tell you what I mean.
Baseball Savant houses a
Swing/Take Value leaderboard
that I believe to be one of the most interesting leaderboards you'll be able to find. Each pitch is assigned a value, and the Swing/Take leaderboard not only depicts which players have accumulated the most Run Value, but in what manner they do so most often (swing, take, vs. FB, vs. CB, etc).
When you break down Run Value to swings vs. takes, you'll see that a mere 47 qualified hitters have managed a positive run value when swinging. However, every single qualified hitter in baseball (no, that's not a mistake) has produced a positive run value when taking. Plate discipline is absolutely VITAL to the success of hitting, and this stat might just be the most demonstrative of that fact.
The Blue Jays specifically have been especially horrible when they choose to swing the bat. Not a single qualified hitter on the team has posted a positive (or even neutral) run value when swinging. That can only be said of 5 other teams, not a single one of which has posted a record of .500 or better (Rangers, Athletics, Royals, Tigers, Pirates). Much has been made of Alejandro Kirk's evolution into one of the best two-way catchers in baseball this year, but it's also not gone without notice that he's struggled immensely when he swings. The numbers do back this up, as his RV on swings is a horrendous -9. However, he's got a great eye, and has taken pitches to the tune of a +8 run value, good for 3rd on the team.
Alejandro Kirk, however, may as well be Max Muncy-lite when it comes to swing/take disparities. For
really no apparent reason
, Muncy's hit .150 to start the season. However, he's somehow managed a .327 OBP, and though he's not qualified, his 20.2% walk rate this season would be the 71st best season by BB% in Major League Baseball's history. When he swings, Muncy produces an absolutely horrific -17 RV, 6th worst among qualified hitters. His RV when taking? +13, 6th best among the very same qualified hitters. Muncy and Kirk are two of many good "hitters" in baseball who really play much better when they're not hitting at all.
Something particularly interesting about the team's hitting, in general, is the absolutely massive disparity between the way the team hits in wins vs. losses. When they win, the Blue Jays average 4.50 runs, 3.42 walks, and a .750 OPS. When they lose, the Blue Jays average 2.80 runs, 2.25 walks, and a .603 OPS. Walking more DOES translate to wins for the Blue Jays. They've seen the 4th fewest pitches of any team in MLB this season, and have the 7th highest swing rate. They have to be more disciplined because it works for them.
So, it's time to dispel the narratives about RISP, or clutch hitting, or Dante Bichette. The Jays struggles have been propelled by poor discipline, and even poorer results when swinging. In order to sustain hitting success, the Blue Jays need a systematic change to their approach at the plate. In the last week or so, they've shown some signs of that change. Can they sustain it? We'll see.