Why is Teoscar Hernández Striking out so much?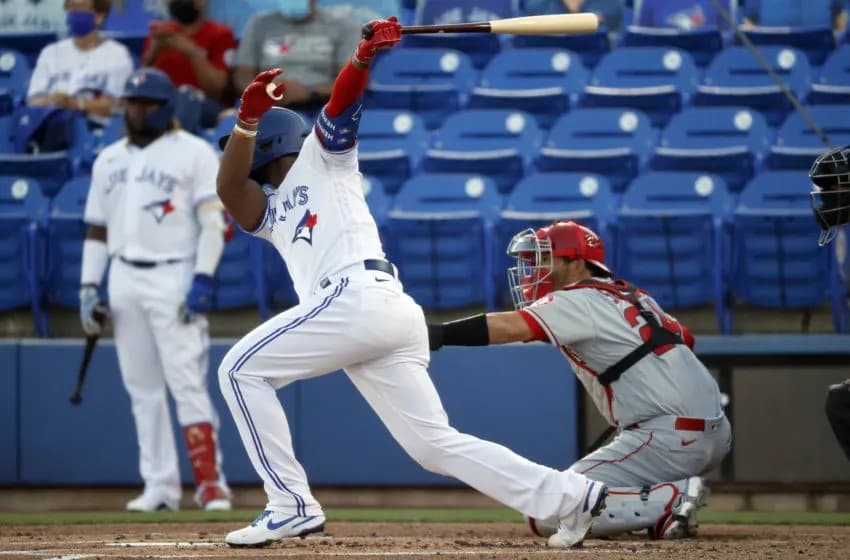 The Blue Jays record of 3-4 feels a little disappointing after they took two of three from the Yankees in New York to start the year. The pitching and defence which was of concern for everyone, has been solid, it's the offense or lack thereof that has hurt them.
The Blue Jays aren't quite as bad as Baltimore who lead the league with 91 strikeouts, but for a team that wants to contend they need to improve. It would be one thing if Gerrit Cole got them for 12 strikeouts in the opener, you could tip your cap to one of the best pitchers in the league. But seeing the hitters get mowed down by arms like Dane Dunning and Kyle Gibson is slightly alarming.
The biggest culprit of this is Teoscar Hernández. Hernández has struck out 14 times this season, tied with Tyler O'Neill and Miguel Sano for the league lead. Teoscar has had 29 plate appearances and has struck out in just under half of them. Hernández is a player who is prone to strikeouts but not like this. He hasn't had a stretch of games like this
since 2018
.
To get an idea what's going on with Teoscar lets go through his at bat from the fourth inning last night.
Canning starts him off with a slider which misses badly up. The catcher, Kurt Suzuki wanted that pitch on the outside corner.
Second pitch is a belt high fastball Teoscar just misses. This is the first fastball he has seen all night. His first at bat he took a slider for a strike, swung through a slider, and then hit another slider for an RBI single.
Third pitch, and Canning goes right back to the slider. It's down and away just enough that Teoscar lays off.
Canning has a good slider. It has a spin rate of 2600 RPM and batters hit just .185 while whiffing 46.6% of the time last season. per
Baseball Savant
. The location for this pitch is excellent. Teoscar likes the ball up in the zone. For his career he's slugged .532 on pitches in the bottom third of the zone compared to .647 for the middle third and .636 for the upper third. That slider is down but in the strike zone and Teoscar swings through it for strike two.
Canning goes back to the fastball, up in the zone trying for the strikeout. Hernández lays off and the count goes full.
Canning goes right back to the slider, it's down and away and Teoscar can't lay off.
Canning's game plan is pretty simple, sliders down and away, fastballs up. As you can see in the following images this is exactly how the Yankees (left) and Rangers (right) pitched Hernández.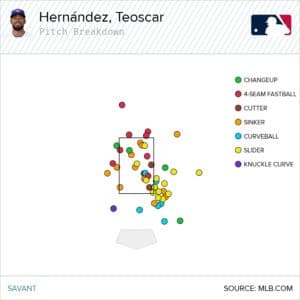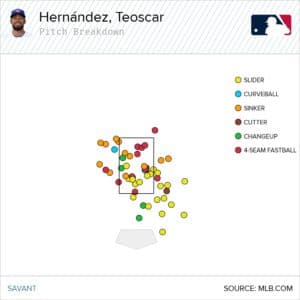 Pitchers have identified a weakness and are attacking it. Per
Baseball Savant,
no hitter has seen more sliders than the 49 Teoscar has seen. No hitter has seen a higher percentage of sliders than the 39.2% Teoscar has seen and that is a full 5% higher than anyone else in the league. Eight of his 14 strikeouts have come via the slider and they have predominantly been down and away.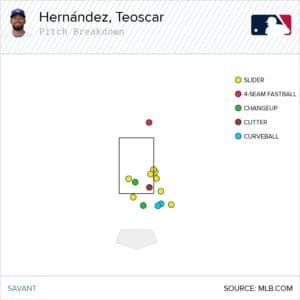 Teoscar has never been a very good at hitting sliders, but in prior seasons he was able to lay off the slider down and away and attack the ones in the strike zone.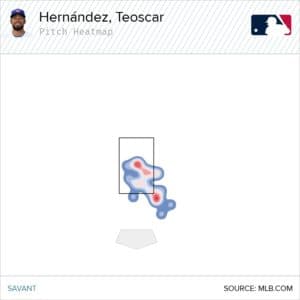 The image on the left is from 2019 and 2020 and the right in 2021.  What stands out here is that in 2019 and 2020 Teoscar was swinging at sliders that were down and away in the strike zone. This season he is not only chasing outside the zone more but letting sliders in the zone go by. Four of his strikeouts have been called strikeouts on sliders. Look at the image above it's easy to guess which sliders those were.
Pitchers have identified a weakness in Teoscar's approach and have attacked it. He now needs to make the adjustment and better identify which sliders are breaking out of the zone and which ones are staying in. If he can lay off the slider down and away and take a couple walks (he currently has zero) that will force pitchers to throw more strikes, which he can capitalize on. Until that happens we will be seeing more pitchers take the same approach that Canning did.