Why Kevin Gausman can survive the AL East the second time around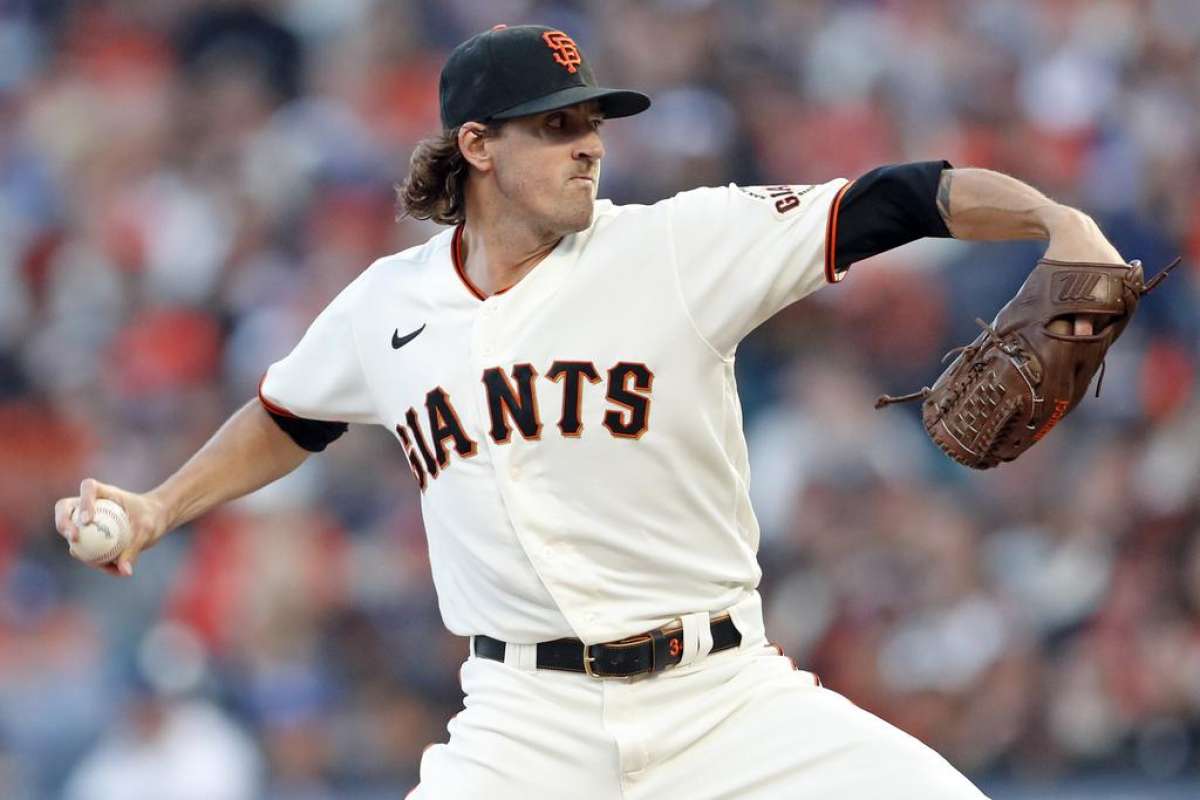 Photo credit:Scott Strazzante - The Chronicle
They have finally done it. The Blue Jays have been after Kevin Gausman forever it seems and on Sunday they landed their guy signing Gausman to a 5-Year $110 million contract.
It's not hard to see why the Blue Jays coveted Gausman, he checks off so many boxes for this front office. First of all he is an ace. Gausman had a 2.81 ERA last season, supported by a 3.00 FIP and 3.28 xFIP. By
FanGraphs
WAR he was worth 4.8 wins, ranking 10th among pitchers who threw at least 50 innings.
He struck out 227 batters against just 50 walks. He has swing and miss stuff, his 15.3% swinging-strike rate, was basically the same as Robbie Ray's last season. Second, he is durable, having made at least 30 starts in four of the last five full seasons. His 192.0 innings pitched last year were the sixth most in baseball. This is something I think the Blue Jays have focused on. In a league where starters are pitching less and less the Blue Jays will have two pitchers (of just seven) in their rotation next season who threw 190 innings last season in Gausman and José Berríos.
Third, Gausman seems like a really good person.
The Blue Jays have put a huge emphasis on culture and having good people in the room. With every acquisition they have made you see these types of reactions from players, or see stories written about how great the players are off the field. Gausman is going to be a great fit for this team.
On the mound Gausman's approach is pretty straightforward; pound the zone with fastballs and get you out with the spilt-finger down.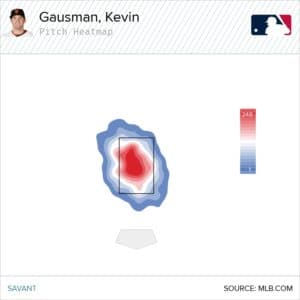 Gausman throws these two pitches over 85% of the time. He has dabbled with a  slider and a change-up in the past, but for how good these two pitches are, he doesn't need to throw anything else.
Gausman's splitter is one of the best pitches in all of baseball.
Batters hit just .133 against the splitter with a 45.9% whiff rate, per
Baseball Savant
. From the gif above you can see the type of movement Gausman gets with that pitch. The splitter drops 37 inches as it comes to the plate and has another 12.8 inches of break. Both of which are well above average for a splitter. Per
Baseball Savant's
run value, Gausman's splitter was worth -23 runs, putting it in a tie for second for the most valuable pitch in baseball last season. Dan Szymborski at
FanGraphs wrote about Gausman's splitter
in June and how it had changed and what that did to Gausman's future projections. Spoiler they improved.
The big question on the minds of Blue Jays fans is how Gausman's stuff will play in the AL East. When Gausman was last in the division from 2013-2018, he pitched to a 4.22 ERA with Baltimore, failing to live up to his prospect pedigree. Home runs were an issue during his time with the Orioles allowing well over one homer per nine during his time there.
With the Giants, Gausman started throwing his fastball higher in the zone. This led to a 36.5% fly-ball rate last season, the highest rate for Gausman since 2015. Here is a spray chart of those fly balls overlaid on Rogers Centre.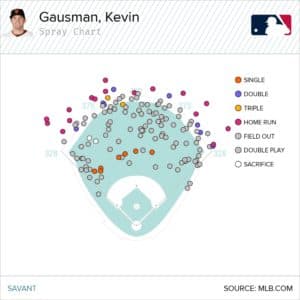 That's quite a few flyouts that would have been home runs in Toronto. Obviously, he is not going to be pitching every game at home, but it's clear pitching in the AL East is much tougher on pitchers than the NL West.

These are the
park factors from Baseball Savant
for the two divisions. The Giants play in one of the most pitcher-friendly park in the league. It has the lowest park factor for home runs and tied for the lowest for runs scored. Toronto on the other hand, due its smaller dimensions is a great place to hit homers but actually has the lowest park factor for singles. Gausman is going to give up more home runs pitching in this division. As we saw with Ray giving up home runs isn't the end of the world if you can limit the number of base runners you put on.
This was Gausman's issue in Baltimore. He had a high batting average on balls in play. Hits were dropping and he didn't have enough strikeout acumen to get himself out of jams. Gausman is a much better pitcher now than he was with the Orioles.
Back with the Orioles Gausman threw his fastball well over 60% of the time while mixing in his splitter and a slider. When he got traded to Atlanta in 2018, he ditched the slider, and decreased his fastball usage in favour of the splitter. With that increased usage came better location. As Arden Zwelling
showed over at Sportsnet
, Gausman used to throw his splitter on the edge of the strike zone down and in on a right-handed batter. Now he throws the pitch directly under the strike zone. What this has done is make his fastball and splitter tunnel almost perfectly, making it extremely difficult for hitters to pick up.
Gausman gives nothing away to the hitters. He releases each pitch from the same release point and out the hand the pitches appear to have a similar spin.
When they get to the plate however the spin on the splitter has taken the ball down giving it separation from the fastball. You can see if the gif above where it pauses slightly, that is essentially the decision-making point for the hitter. They need to decide at that moment whether to swing or not and at that moment, given the spin of the ball and where the ball is, you have very little indication whether the pitch is going to be a fastball or splitter. This is why when you watch Gausman you see so many hitters swinging over and under the ball.
To answer the question will Gausman's stuff be able to play in the American League East? The answer is an astounding yes. His stuff is elite and can get anyone out. Pitching in the AL East will certainly be a challenge but it's not like the NL West is a pushover. Having to face the Dodgers, and Padres, and pitch in Colorado is no simple task. Did Oracle Park help suppress home runs, certainly, but the Rogers Centre will help Gausman as well.
The Dome suppresses base hits which should help keep Gausman's BABIP down. When he does get into trouble he can bail himself out with a strikeout. He will allow home runs but we all just saw firsthand home runs don't hurt you if they are solo shots. Kevin Gausman is an elite starting pitcher and will anchor the Blue Jays rotation for the next five seasons.