Why Playing Story at Second Base is a bad idea for the Red Sox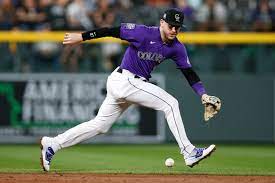 Photo credit:https://roxpile.com/2021/11/19/texas-rangers-colorado-rockies-trevor-story/
In the late article last night, I clowned the New York Yankees for essentially taking on the Twins' high earner, allowing the team from Minnesota to sign Carlos Correa.
Today, I'll be clowning the Boston Red Sox for signing Trevor Story.
In terms of his bat, this is actually a wonderful signing, as it's a 6 year, $150 million contract with a few opt outs. The issue is the fact that they plan to continue to play Xander Bogarets at shortstop, while moving Trevor Story to second base.
I actually proposed something like this last season when I wrote an article about why the Blue Jays should trade for German Marquez and Trevor Story. In my proposal, the latter would have been playing third base, as it was a problem area for the team. 
However, playing Bogarets at shortstop over Story is a dumb idea.
Defense is just as important as offense:
I use the advanced stat, Defensive Runs Saved (DRS) quite often in my articles. Basically it's a fancy way of saying how many runs did a defender save if 0 is the average.
In Story's 6304.2 innings played at short, he has a total DRS of 69 (nice), with a DRS of 9 last season. His Ultimate Zone Rating, which factors in range, errors and double plays above average, sits at 15.4 for his career and a 3.6 last season.
Contrast this to Bogaerts, who's played 9140.1 innings at short and has posted a DRS of -55 with an UZR of 2.5. Last season, he had a -5 DRS and 2.3 UZR; however, Bogaerts' issue is range. His range factor for the position sits at a -20.6, which is not good.
Another defensive metric is Outs Above Average. I don't use it often in my articles, but I think it's important in this context.
Trevor Story's OAA sits at 18, despite the fact that he struggled with the metric in 2021 (-7) as well as 2018 (-6). Against right handed batters, this sits at 16.  Bogaerts on the other hand, has an OAA of -38, with an OAA of -39 against righties. However, righties tend to pull the ball to the left side, while the righties pull the ball to the left side.
This isn't a long-term fix:
Story may only play one season at second base, as Xander Bogaerts could potentially opt out of his contact after 2022. Even if that's the case, playing Bogaerts over Story could potentially hurt the Red Sox's chances at making the post season, which isn't a problem for us.
As always, you can follow me on Twitter @Brennan_L_D. Story's splits are better at Coors, but he'll settle in nicely at Coors due to the Green Monster.